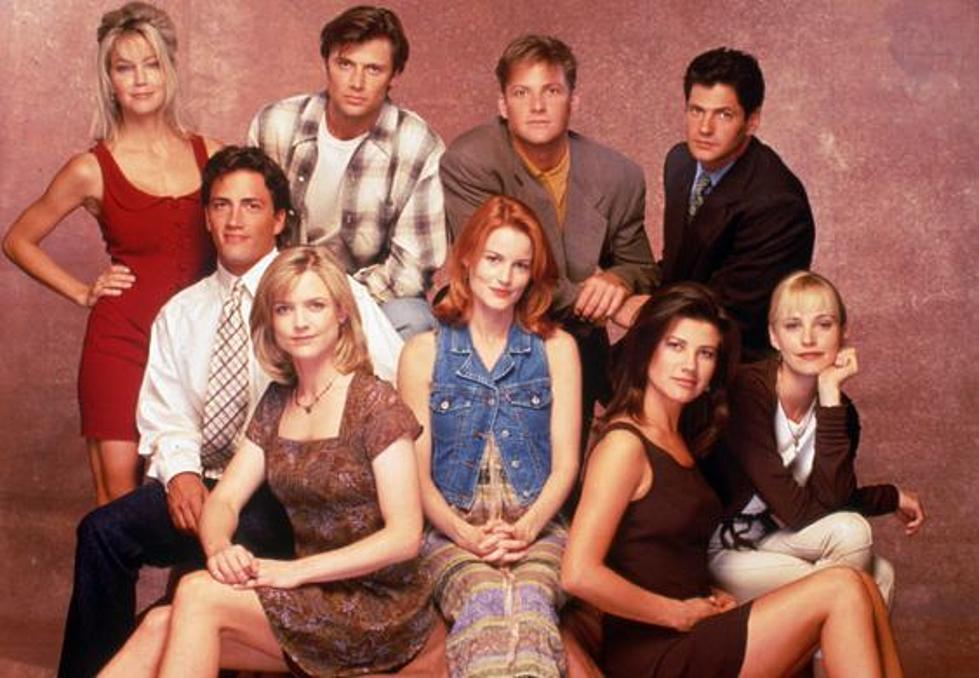 See The Cast of 'Melrose Place' Then And Now
Fox
In 1992, 'Melrose Place,' the second series in the 'Beverly Hills 90210' franchise, debuted on Fox's Thursday night lineup. 'Melrose Place' was more adult and became much sleazier than the posh L.A. cousin that birthed it, and featured some pretty out-there plot lines. Let's see what the stars of the beloved nighttime soap are up to these days.
Thomas Calabro -- Dr. Michael Mancini

Fox/Amanda Edwards, Getty Images

Then: Calabro played the increasingly evil Dr. Michael Mancini. He was the only original cast member to stay on the show for its entire run. Prior to the Fox drama, his biggest role was on the short-lived TV series 'Drama Street.'

Now: Calabro revived his Mancini character for the 2009 'Melrose Place' reboot. After that show was quickly canceled, he's popped up on 'Castle' and 'NCIS' and most recently played Mr. Puckerman on 'Glee.'

Heather Locklear -- Amanda Woodward

Fox/Jason Merritt, Getty Images

Then: Locklear was one of the '90s most memorable villains as Amanda Woodward, a scheming advertising exec who caused trouble on 'Melrose Place.' Locklear was brought in while the show struggled in the ratings and was the show's biggest star, thanks to long runs on 'T.J. Hooker' and 'Dynasty.'

Now: Locklear has a recurring role on 'Hot In Cleveland,' stars in 'Franklin & Bash' and appeared in 'Scary Movie 5.' She was engaged to fellow 'Melrose' alum Jack Wagner, but they broke it off in late 2011.

Andrew Shue -- Billy Campbell

Albert Ortega/Taylor Hill, Getty Images

Then: Female viewers surely remember Shue as struggling writer Billy Campbell. Shue was a professional soccer player in Zimbabwe before 'Melrose Place' and during the show he spent two years on the roster of the Los Angeles Galaxy.

Now: Andrew, who is the brother of actress Elisabeth Shue, hasn't done much acting since 'Melrose Place,' but he's been busy, co-founding both the youth charity Do Something and the social networking site CaféMom.

Josie Bissett -- Jane Andrews Mancini

Fox/Jason Merritt, Getty Images

Then: Bissett broke hearts as Jane Mancini, who watched her marriage to Michael crumble. Originally a model, TV audiences got their first real taste of Bissett when she played recurring character Cara on the sitcom 'The Hogan Family.'

Now: Bissett moved on to play Kathleen on 'The Secret Life of an American Teenager.' The mother of two also published a children's book, 'Tickle Monster,' in 2008.

Doug Savant -- Matt Fielding

Fox/Jason Merritt, Getty Images

Then: Doug Savant played Matt Fielding, one of the first openly gay characters on American television. While 'Melrose Place' was Savant's big break, he had already logged a long TV career, most prominently as young Mack Mackenzie on 'Knots Landing.'

Now: Savant moved on to Wisteria Lane and played Tom Scavo on all eight seasons of 'Desperate Housewives.' Since then, he's popped up on 'Rizzoli & Isles,' 'Drop Dead Viva' and 'Criminal Minds.' Since 1998, he has been married to 'Melrose' co-star Laura Leighton.

Grant Show -- Jake Hanson

Fox/Frazer Harrison, Getty Images

Then: Show added some rugged blue collar-ness to 'Melrose Place' as motorcycle-driving manual laborer Jake Hanson. His first major role was on the daytime soap 'Ryan's Hope,' after paying his dues with a couple episodes of 'The Love Boat' and an 'ABC After School Special.'

Now: Show continues to crank out TV appearances. Over the last several years, he has played recurring roles on 'Big Love,' 'Private Practice,' 'Burn Notice' and 'CSI: Crime Scene Investigation,' as well as a regular role on Lifetime's 'Devious Maids.'

Courtney Thorne-Smith -- Allison Parker

Albert Ortega/Scott Gries, Getty Images

Then: Thorne-Smith brought her girl-next-door quality to receptionist Allison Parker. She got her start on the short-lived 'Fast Times At Ridgemont High' TV adaptation and went on to star alongside Julia Louis-Dreyfus on the 'Family Ties' spin-off 'Day by Day.'

Now: Thorne-Smith has been a TV mainstay over the years. After 'Melrose Place,' she landed on 'Ally McBeal' and was notoriously too good-looking for her TV husband Jim Belushi on 'According to Jim' before going on to play Lyndsey McElroy on 'Two and a Half Man.'

Daphne Zuniga -- Jo Reynolds

Fox/Fernando Leon, Getty Images

Then: Prior to playing Jo Reynolds on 'Melrose Place,' Zuniga had a pretty good run in the '80s, appearing in 'Spaceballs,' 'Modern Girls' and 'The Sure Thing.' And who could forget her putting on the 'Night Moves' with Matt LeBlanc in the video for the Bob Seger song. (Or as Alex P. Keaton's girlfriend on 'Family Ties.')

Now: Zuniga was Victoria Davis on the last five seasons of 'One Tree Hill' and has kept busy with roles in small films.

Jack Wagner -- Dr. Peter Burns

Fox/Michael Buckner, Getty Images

Then: Jack Wagner was introduced in the third season of 'Melrose' as ruthless hospital chief of staff Peter Burns. Prior to that, he starred as Frisco Jones on 'General Hospital.' Also a singer, his single 'All I Need' topped the Billboard charts in 1985.

Now: Wagner returned to his daytime soap roots and played Dominick Monroe on 'The Bold and Beautiful' between 2003 and 2012. He also returned to 'General Hospital for a brief spell in 2013. He is generally considered the world's best celebrity golfer who doesn't come from a pro sports background.

Laura Leighton -- Sydney Andrews

Fox/Toby Canham, Getty Images

Then: Laura Leighton played Sydney Andrews, who caused a lot of drama and then seemingly dies in a car accident. 'Melrose Place' was the screen debut for Leighton, who was 25 at the time.

Now: Sydney was somehow resurrected for the 2009 'Melrose' revival. When that show quickly died Leighton turned to 'Pretty Little Liars,' playing Ashley Marin.

Marcia Cross -- Dr. Kimberly Shaw

Fox/Frederick M. Brown, Getty Images

Then: Like most of the characters on 'Melrose Place,' Cross' Dr. Kimberly Shaw was devious, scheming and lacking any moral core. Before hamming it up on 'Melrose Place,' Cross was on TV shows such as 'Knots Landing,' 'One Life to Live' and 'Another World.'

Now: Cross starred as Bree Van de Kamp for eight seasons on 'Desperate Housewives,' a role which earned her an Emmy nod in 2005. Since 'Desperate Housewives' signed off, Cross has kept a relatively low profile and not done much on-camera work.