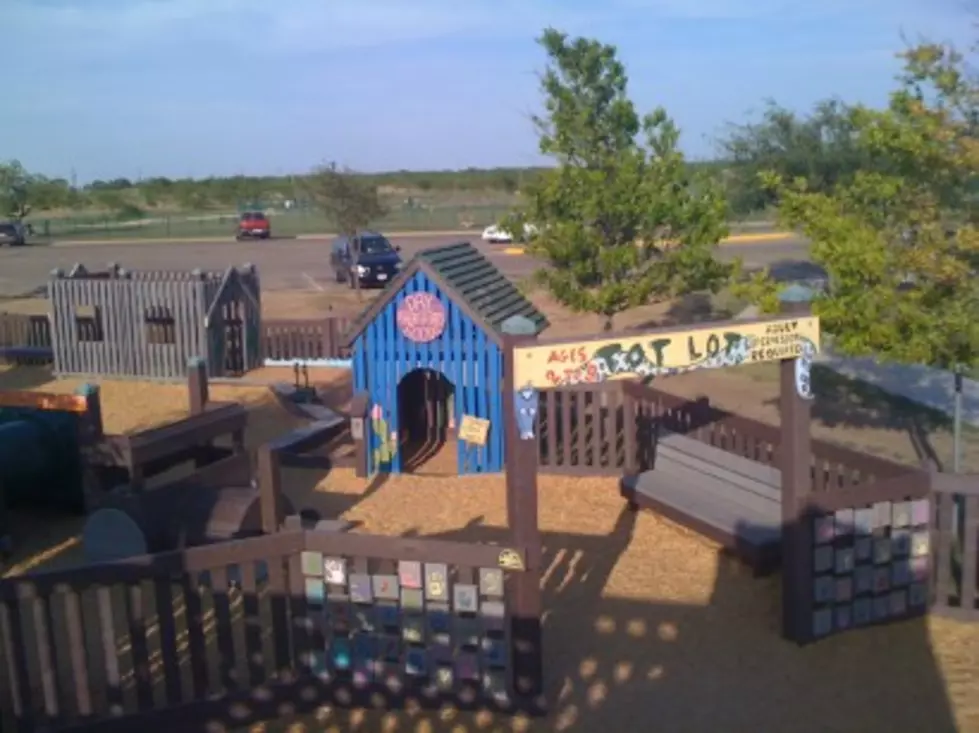 Best Playgrounds in Abilene – Rudy's Top Five
photo: Rudy F.
With 27 parks in Abilene that cover over 1,000 acres, I knew I had better wear some comfortable shoes for this task. For the sake of this blog I'll clear the air on this, Abilene has playgrounds for young and old alike. and not all the playgrounds have swings, teeter-totters, merry-go-rounds and slides. Some feature water works and/or statuary or large art sculptures and areas that offer a place to relax. There is even a playground for dogs.
1. Grover - NELSON PARK
The first thing I led is arnethat if you want to have a playground or park all to yourself, you can. You  just can't take over any park or playground, Abilene has several facilities you can rent, one particular facility is in Nelson Park.  Festival Gardens is an outdoor playground and facility available for private rentals. It is well illuminated for night time events this facility has picnic seating for 160, indoor kitchen facilities, sand volleyball court, three different horseshoe and washer pits, outdoor basketball court, and a playground. The outdoor facility is open to the public when it's not rented out . However this playground didn't make it into the top five although it could have, but the top five offer a lot more for every one.
Nelson Park as it's known 'round these here neck of the woods is located on
East-South 11th & Loop 322. Nelson ranked #1 because it has 5 playgrounds the highlight is Fort Imagination. It's made of a high-tech recycled plastic composite material that looks like wood but never needs painting and never has splinters. The other four play areas all have the same "super-safety" monkey-bars, slides and swings.
---
2. OSCAR ROSE PARK
Located smack dab in the center of Abilene in in my opinion the most diversified playground. This one is home the Abilene Senior Citizen Center, The City Swimming Pool, Abilene Tennis Complex, several softball fields, basketball courts let us not forget the extreme sports skateboard and BMX bike course.
Rose park is next door to the Abilene Police Department and Abilene Fire Department's Safety City for kids. It too has just
been updated within the past year with all new playground equipment. Rose park has wide open spaces for tossing a Frisbee or a football. You can even take in a play if your timing is right also located at Oscar Rose Park is the Abilene Community Theater Play-House.
---
3. RED-BUD PARK
The big claim to fame for Red-Bud in South-West Abilene, has to be the prairie-dogs. Abilene actually pays city employees for the upkeep of Prairie-Dog Park where grownups and children alike can watch the "Dawgs" go about their little city in the park. I asked this couple how long they'd been there he simply
answered "well over twenty years we come here after supper every evening weather permitting." Red-Bud too has recently seen an up-grade to all it's playground equipment. I also spoke with the city's top Parks and Recreation guy Bob Cheatam, he says  "most" of the sand at the playgrounds has now, been removed and
replaced with a new space aged "engineered wood fiber". Looks like something that came out of my chipper shredder but it's not, this stuff is tough, light weight but not so lightweight that it blows away in the wind and is impervious to the elements.
One final cautionary thought, please be
aware that while I was researching the "Top 5 Playgrounds" I spotted camel-toe tracks at Red-Bud Park. Yep! it's true you'll find camel-toes at this playground.
---
4. VAUGHN-CAMP PARK
This is Abilene's best kept secret. Vaughn-Camp park is nestled in the Canyon
Rock edition and can be seen from the Winters Freeway and is not from Button-Willow Parkway. This playground is very rarely full. It has the new updated playground equipment, tennis courts, basketball courts, volleyball pit, picnic benches and barbecue pits.  Vaughn Park has a breath-taking view of the private, Canyon Rock lake.
---
5 . JOHNSON PARK
Johnson Park could have very easily taken the #1 spot as The Best Playground period. However it is not open to the public just yet. the construction fences are still up keeping the curious out. However (thanks to Mr. Cheatam at the city) I'm taking you on the inside on the New and Improved Johnson Park at Fort
Phantom Lake. It is in the final days of completion and is due to open around the first of June. Here goes, if you like: mountain-biking, jogging, walking, swimming, fishing, sail surfing, four-wheeling, volleyball, soft/baseball,
basketball, cooking/grilling and/or just having fun on the most up-to-date playground in West Texas, you will love Johnson park when it opens. Johnson Park cost the city over one million dollars to renovate. It looks like someone put some thought into it's design. Awesome lake views and plenty of facilities for every occasion.
---
.