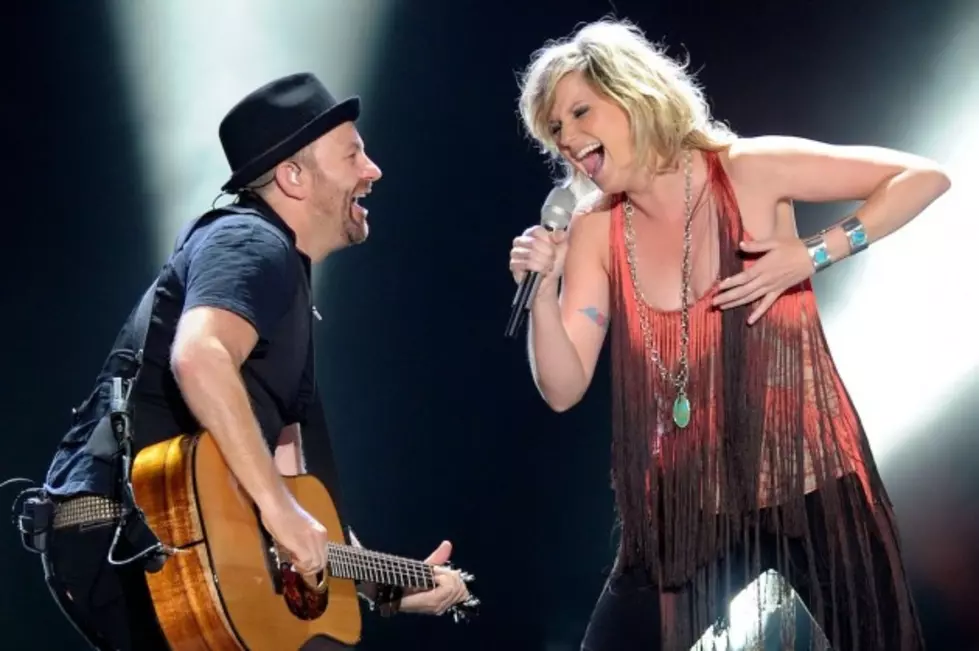 Ethan Miller, Getty Images
Jennifer Nettles and Kristian Bush combine into a perfect force of sweet and sassy, feminine and masculine, emotive and strong as the Grammys-nominated duo Sugarland. Since their debut single "Baby Girl," they have been a mainstay in country music, with radio hits, awards show performances and over 14 million records sold.
The duo's songs touch on a variety of topics, from infidelity to true love, life lessons to teenage tragedy, looking at the bright side and so much more that has resonated with millions of fans over the years. Here's our list of the Top 10 Sugarland Songs, bringing together the very best across their entire career thus far.
10

"Already Gone"

From: 'Love on the Inside' (2008)

Bittersweet and nostalgic, with regret tinting the edges of the song, "Already Gone" is the perfect tune for a long drive in the open countryside, with nothing but your thoughts and the stars above. Bush and Nettles penned this song with Bobby Pinson, who also co-wrote "Want To" and "All I Want to Do." It has some heart-zinging lyrics too: "Pictures, dishes and socks / It's our whole life down to one box / There he was waving goodbye / On the front porch alone."

9

"Want To"

From: 'Enjoy the Ride' (2006)

Some fans may not know that Sugarland used to be a trio -- Kristen Hall was originally the third member. "Want To," an ultra-romantic, mid-tempo hit, was the first single to not feature Hall and was from Enjoy the Ride, which dropped in 2006. It was also their first No. 1 hit in the U.S.

8

"Settlin'"

From: 'Enjoy the Ride' (2006)

Sugarland's second consecutive No. 1 hit, "Settlin'" is a confidence booster for anyone who's settled in their life -- especially in love. Nettles and Bush are masters at upbeat songs, and this song is enough to inspire any country fan to get up, grab life by the reigns and jump in, all in. "I ain't settling for just getting by / I've had enough so-so for the rest of my life / Tired of shooting too low, so raise the bar high / Just enough ain't enough this time," the anthem goes, and we nod our heads in full-fledged agreement.

7

"Just Might (Make Me Believe)"

From: 'Twice the Speed of Life' (2004)

There's something so comforting about having a companion who can look into your eyes and tell you it's going to be alright. And, even better, helps you believe it. That's what "Just Might (Make Me Believe)" is focused on, and it's the only song in Sugarland's history that was written solely by ex-member Hall.

6

"Something More"

From: 'Twice the Speed of Life' (2004)

Anyone who's been in a job they hate or feels burnt out by work or life in general will be singing along at the top of their lungs with "Something More." It brings a key message about living life to the fullest -- and not for a paycheck -- in an upbeat, utterly catchy way. Key lyrics: "Five years and there's no doubt / That I'm burnt out, I've had enough / So now boss man, here's my two weeks / I'll make it short and sweet, so listen up / Well, I could work my life away, but why? / I got things to do before die."

5

"It Happens"

From: 'Love on the Inside' (2008)

Everyone can relate to this spot-on track, from the descriptive lyrics about waking up late and showing up at work with two different shoes on, to the carefree chorus: "Life don't go quite like you planned it / We try so hard to understand it / Irrefutable, indisputable / The fact is, psssh, it happens." The fact that Nettles was going through a divorce while writing it just makes it all the more applicable to the downfalls life brings, and the playful attitude she embodies.

4

"Joey"

From 'Love on the Inside' (2008)

"What if?" That's the premise of Sugarland's "Joey." And it's a rather heartbreaking scenario. The narrator's boyfriend dies in a car accident, and she's racked with guilt and questions, wondering if things would have been different if she had taken the keys, driven him home, gone out that night ... would he still be alive?

3

"Baby Girl"

From: 'Twice the Speed of Life' (2004)

"Baby Girl" was the duo's debut single -- and it helped their career start off with a bang, becoming the highest-peaking debut single for a country group in 14 years. It's an autobiographical song for Nettles, who sings about having a dream, going after it and wanting to make her parents proud.

2

"Stay"

From: 'Enjoy the Ride' (2006)

"Stay" was Sugarland's first single to earn platinum status, and was inspired by Reba McEntire's "Whoever's in New England." It's sung from the point of view of a man's mistress. At first, she begs him to stay, hopes that he'll call, is tired of being lonely -- until she realizes the strength she has inside ... and what she has to do.

1

"Stuck Like Glue"

From: 'The Incredible Machine' (2010)

Quirky enough to be memorable, catchy enough to for a dance party, and sweet enough to be classified as a love song, "Stuck Like Glue," the first single from The Incredible Machine, is utterly irresistible. It became the 11th most downloaded country music song of all time, because after hearing it once, you want to hear it hundreds of times over.