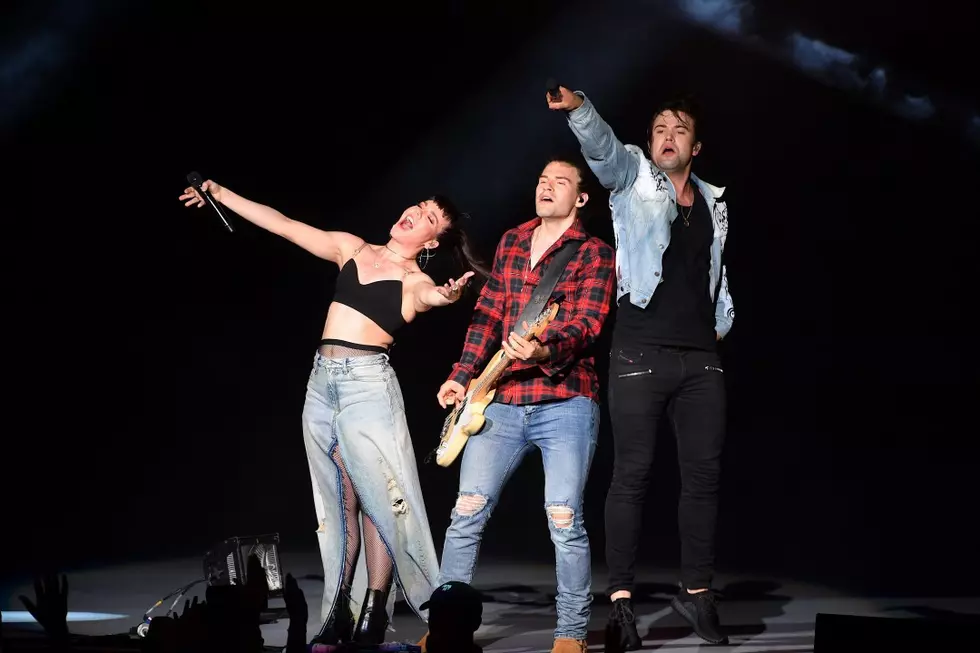 The Band Perry Announce 2019 'The Good Life' North American Tour
Jason Davis, Getty Images for St. Jude
The Band Perry have announced the cities and dates for a fall 2019 tour. The group will hit the road beginning in October for their headlining "The Good Life" North American Tour.
The tour will kick off on Oct. 12 in Charlotte, N.C., and it will visit more than 20 cities before concluding in Nashville on Nov. 14. The sibling trio will bring along up-and-coming Nashville-based pop artist Phangs as their support act on select dates.
The tour takes its name from the band's new single, "The Good Life," which Kimberly, Neil and Reid Perry co-wrote along with Owen Thomas. The song is a brutal kiss-off to a cheating ex, and Kimberly Perry turned to Instagram to tell fans that the song was inspired by her own experience. Though she did not name her ex-husband, former MLB player J.P. Arencibia, it was widely interpreted as a brutal dig at him.
Arencibia denied cheating in a statement to People, saying, "While matters of our relationship and what led to the demise of our marriage should remain between us, I will say there was no infidelity. It's a shame that all of this is now being made up to promote an album, I have moved on and hopefully one day she can as well."
The trio expect to release more new music all the way into 2020, and they'll be previewing some of the new tracks on the upcoming tour.
The Band Perry shot to fame in 2010 with "If I Die Young," and they placed a subsequent string of country hits with "You Lie," "All Your Life," "Postcard From Paris," "Better Dig Two," "Done" and more. In recent years the group have switched from country music to pop music, then back to country, then gone full pop and split from their pop label home, Interscope Records. The band released an EP of electronic music, Coordinates, in September of 2018.
During their time in country music, the Band Perry won a Grammy Award, scored five No. 1 singles, sold two-and-a-half million albums and more than 13 million singles.
Shows on the upcoming "The Good Life" North American Tour are all general admission, with tickets going on sale July 19 at 10AM local time through each individual venue's website.
The Band Perry's 2019 "The Good Life" North American Tour Dates:
Oct. 12 – Charlotte, N.C. @ The Underground
Oct. 14 – Richmond, Virg. @ The National
Oct. 15 – Washington, D.C. @ Lincoln Theatre
Oct. 16 – Brooklyn, NY @ Brooklyn Steel
Oct. 18 – Philadelphia, Penn. @ Union Transfer
Oct. 19 – Boston, Mass. @ Paradise Rock Club
Oct. 21 – Toronto, Ontario, Canada @ The Phoenix Concert Theatre
Oct. 22 – Columbus, Ohio @ Newport Music Hall
Oct. 24 – Detroit, Mich. @ Majestic Theatre
Oct. 25 – Chicago, Ill. @ The Vic Theatre
Oct. 26 – Des Moines, Iowa @ Wooly's
Oct. 28 – Denver, Colo. @ Summit
Oct. 29 – Salt Lake City, Utah @ The Complex
Oct. 31 – Seattle, Wash. @ Neptune Theatre
Nov. 1 – Vancouver, B.C., Canada @ Vogue Theatre
Nov. 2 – Portland, Oreg. @ Wonder Ballroom
Nov. 4 – San Francisco, Calif. @ Great American Music Hall
Nov. 5 – Los Angeles, Calif. @ Regent Theatre
Nov. 8 – Dallas, Texas @ Gas Monkey Bar N' Grill
Nov. 9 – Austin, Texas @ The Parish
Nov. 10 – Houston, Texas @ The Studio at Warehouse Live
Nov. 12 – Atlanta, Ga.. @ Center Stage
Nov. 14 – Nashville, Tenn. @ Cannery Ballroom
We Didn't See These Breakups Coming!
Country Women Who Married Pro Athletes