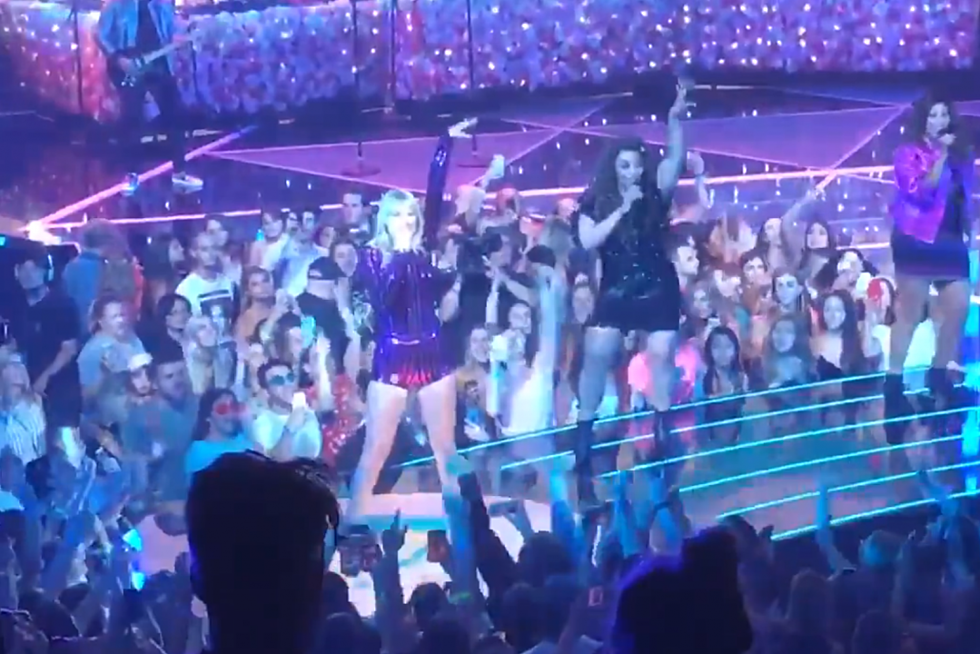 Taylor Swift Performs 'You Need to Calm Down' Live for the First Time at Amazon Prime Day Concert [Watch]
Twitter video
Taylor Swift gave the live debut of her new song "You Need to Calm Down" at Amazon's Prime Day concert on Wednesday (July 10), later thanking fans "so much for watching it online or being there."
The live version came with Swift in sparkles, some new dance moves and background graphics to amp up the performance. The crowd went absolutely wild when Swift asked the live audience if they'd like for her to perform the new single for the first time ever.
"I have a new album coming out, I'm so excited about it and so excited to share it with you," the superstar introduced the song by saying. "The album is a love letter to love itself. I think love is such an inspiring thing to write about. Love is complexity, love is hope, love is equality."
The Sexiest Female Voices in All of Country Music
"You are somebody that I don't know / But you're takin' shots at me like it's Patrón / And I'm just like, damn, it's 7 AM / Say it in the street, that's a knock-out / But you say it in a Tweet, that's a cop-out / And I'm just like, "Hey, are you okay?" Swift sings in the first verse of "You Need to Calm Down."
The catwalk lit up into a rainbow of colors while she performed the song, and the crowd notably screamed so loud that the stream picked up their vocals during the line "Cause shade never made anybody less gay."
"You Need to Calm Down" is the second single off of Swift's upcoming seventh studio album, Lover. The new album will release on Aug. 23 with four deluxe versions available from Target. Fans can pre-save the album on streaming platforms and pre-order the physical album now.
Taylor Swift Among Highest Paid Celebrities of 2019 — See Who Else: