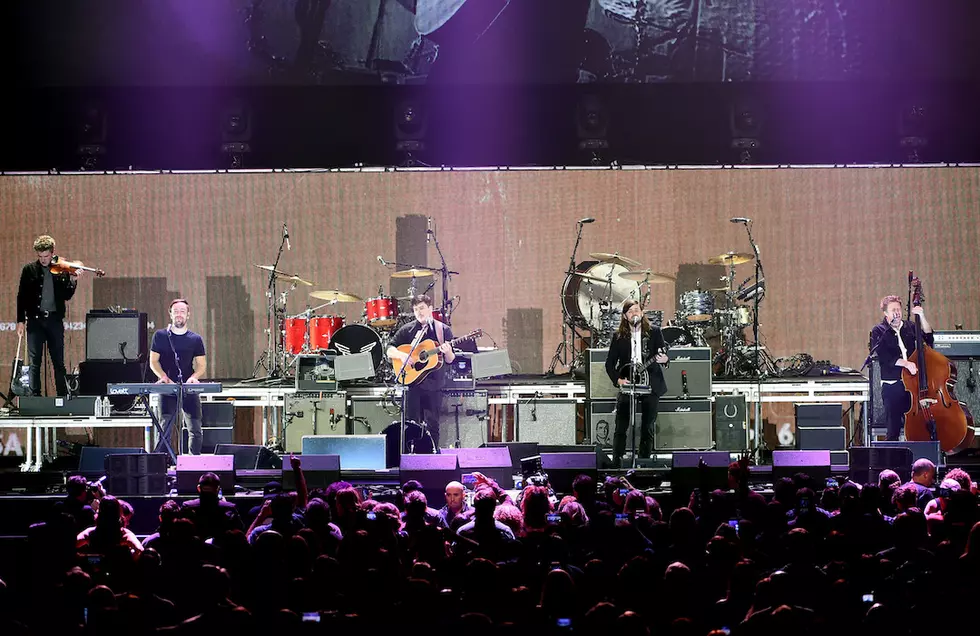 Mumford and Sons' 'Guiding Light' + 2 More Music Videos You Need to Watch
Kevin Winter, Getty Images
Read on to get all caught up on the latest music videos released by country artists! 
Mumford & Sons, "Guiding Light":
When Mumford & Sons announced Delta, their first album since 2015 (due Nov. 16), fans were overjoyed. And now, good news keeps coming with their new single "Guiding Light," a 60-date tour planned and now a music video revealed.
According to a press release, the black and white video was directed by Joe Connor and shot at London's The Tate Modern the day after the band's album and single were announced. It "features the band up close and personal, interacting with their fans." The video captures the buoyancy and electricity of the crowd, comprised of people young and adult, all deeply enjoying the music as the band stands on level ground with their fans.
Kelleigh Bannen, "Happy Birthday":
Country newcomer Kelleigh Bannen's song, "Happy Birthday," is incredibly relatable, and the accompanying music video is the same. She says in a press release, "There's something about birthdays that are so nostalgic… even if it's just in an 'I wonder how they're doing' kind of way. The details of this song are really personal, and I think that is why this song has connected with so many people. It's just a really truthful song."
Shot in black and white, the Evan Kaufmann-directed video gives imagery to the gray area of an ex's birthday. It follows a three-year period in which Bannen calls her ex, played by singer-songwriter Dallas Wilson (of The Morrison Brothers Band), on his birthday. The clip captures exactly what her ex is doing when she calls, and the decision of whether or not to answer the call. Be sure to watch all the way to the end for a little surprise...
Riley Green, "There Was This Girl":
Even though country singer Riley Green tells Taste of Country he's "not a big actor," he did a darn good job in the music video for "There Was This Girl." It helped that there was only a little acting in the beginning, and he didn't need to go out of character for it. "I just wanted to be myself. It was less cheesy that way," he says.
The music video, directed by Peter Zavadil, is simple; it's documentation of the music video being recorded while Green performs "There Was This Girl." "We invited a few hundred fans to the video shoot," Green says. "We actually let the fans shoot the video, and literally passed the camera from fan to fan." It was filmed in Green's home state of Alabama.