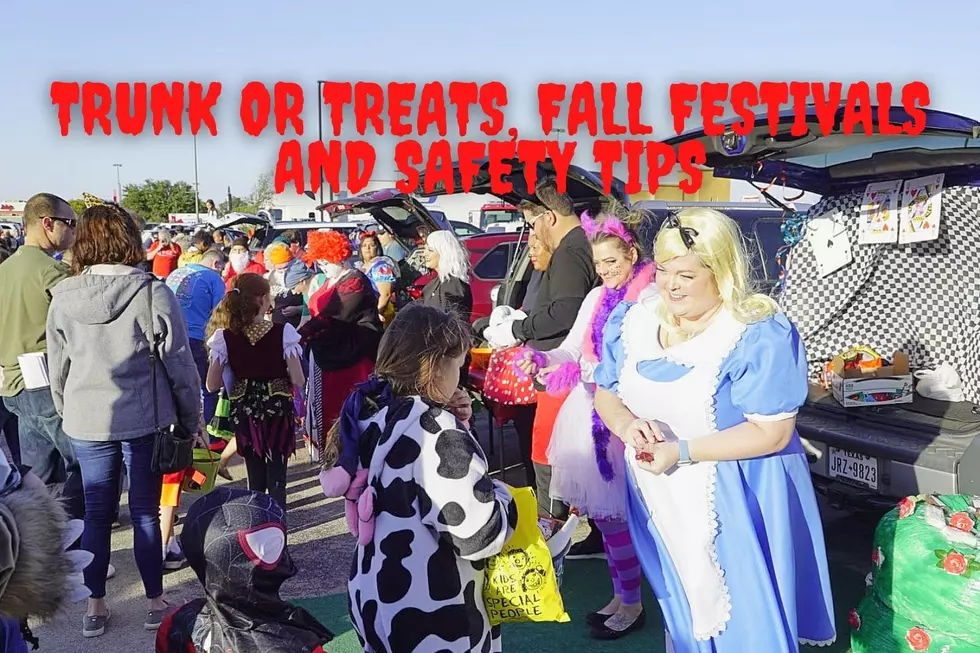 Fun Fall Festivals, Trunk or Treats, and Halloween Events for 2022 in Abilene
Photo Facebook / Abilene Police Dept.
Fall is in the air and it's time to start making plans to attend one of the many fall festivals, Halloween events, and or trunk or treats in the Big Country. While it's still early and many Churches and civic organizations are still in the planning stages. Many have already committed to having some Fall fun this year.
What I love about living here in Abilene and the Big Country is that there is always something going on. Below is a great example, here's a list of places to go things to see, and fun Fall stuff to take in.
Church Trunk-or-Treating -or- Fall Festival
4:30-6:30 pm Saturday, Oct. 30th Fall Fest Highland Church of Christ 425 Highland Ave
4-6 pm Saturday, Oct. 29th First Christian Church 5125 Antilley Road
4-6 pm Saturday, Oct. 29th Wylie United Methodist Church 3430 Antilley Road
6-8 pm Sunday, Oct 30th Lytle South Baptist Church 1125 E. Industrial Blvd.
11-2 pm Saturday, Oct 29th Center for Transformational Development 300 N. Judge Ely
5-7 pm Saturday, Oct 29th Team Chip Martial Arts 2218 South 14th St
Haunted Houses
 Boo at the Zoo
The Abilene Zoo is hosting its annual Boo at the Zoo event featuring the pumpkin patch, the pumpkin chunkin', a hay maze, and so much more. Admission is $10 per person, $5 for members, and children 2 and under get in free with a paying adult. The best part of Boo at the Zoo in 2022 is that it's being extended to four days total this year, October 15th, 22nd, 29th, and 30th. Tickets are available online.
Halloween in the Park
This will be held at the Abilene State Park Buffalo Gap at 150 Park Road 32, Tuscola, Texas, on Saturday, October 29th from 6 PM till 9 PM. Come for some safe trick-or-treating throughout our campsites, learn about creatures of the night, and have a few screams on the haunted trail walk. Tickets are park entrance.
Taylor County Health District (TCHD) Top 5 Safety Tips
First off, the Director of the TCHD Annette Lerna says "these are simply recommendations only, and none of these are required.
That said, here are the top 5 simple guidelines you may want to follow:
Not feeling that good, stay home
Choose outdoor events over indoor events
Stay in small groups of 4 or fewer when trick-or-treating house to house
While facemasks are not required decorate masks and have kids wear them
Clean and sanitize yourself and all children as soon as you get home
The Best advice is, to be safe and have fun and remember before consuming any treats, inspect all candies collected. If I missed an event, please leave a comment below. Happy Halloween y'all!
LOOK: How Halloween has changed in the past 100 years
Stacker
compiled a list of ways that Halloween has changed over the last 100 years, from how we celebrate it on the day to the costumes we wear trick-or-treating. We've included events, inventions, and trends that changed the ways that Halloween was celebrated over time. Many of these traditions were phased out over time. But just like fake blood in a carpet, every bit of Halloween's history left an impression we can see traces of today.