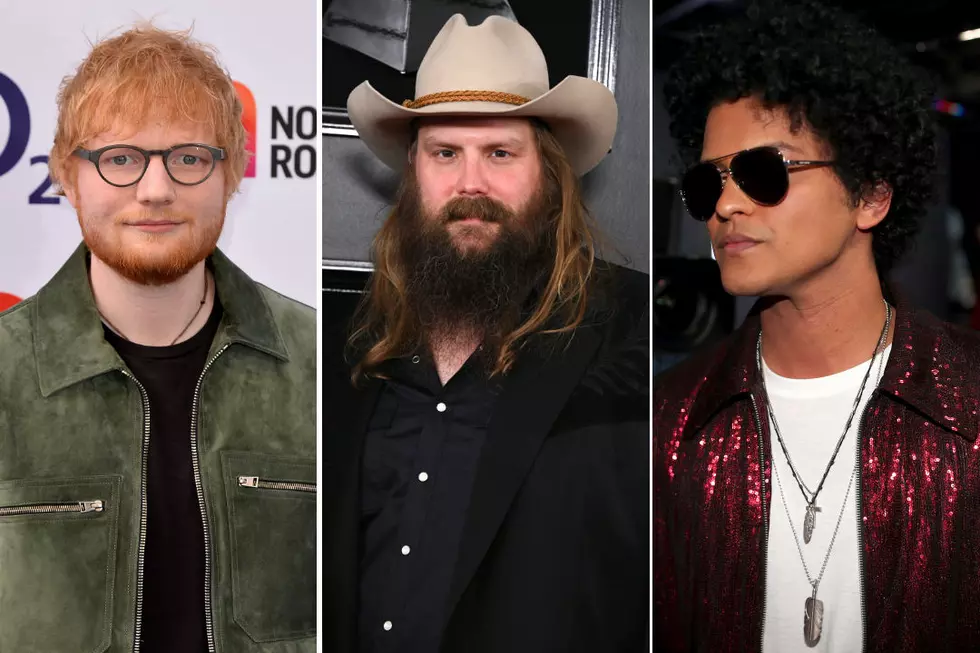 Ed Sheeran, Bruno Mars + Chris Stapleton's 'Blow' + 3 More New Music Videos
Jeff Spicer, Jon Kopaloff, Christopher Polk, Getty Images
The list of new country music videos may be relatively short this week, but they pack a punch. From full-throttle backwoods parties (complete with real beer for the actors!) to a storyline inspired by a popular television show, there's something for everyone in this week's batch. Read on to get all caught up on the newest videos!
Chris Stapleton, Ed Sheeran and Bruno Mars, "Blow":
Chris Stapleton joins Ed Sheeran for a sexy, rockstar collaboration in "Blow." The music video, directed by Bruno Mars (who also joins the cross-genre collab), was shot in the sultry Viper Room in Los Angeles and features a female trio of rockers lip-syncing the recognizable vocals of Sheeran, Stapleton and Mars for a wildly enthusiastic audience of headbanging fans, in keeping with the hard-rocking sound of the song. -- LS
Kassi Ashton, "Field Party": 
Kassi Ashton ditches the gritty streets of the city to throw a dance-off in the music video for "Field Party," her latest single. Filmed in an empty lot in Nashville, the video was directed by Kristin Barlowe, a frequent collaborator of Ashton's.
"We all celebrate the same. We all want to be with people we love, get loose without judgement, and be happy." Ashton says in a press release. "That's what I wanted - the trippiest field party that anyone has ever seen, with people of all colors, styles, and backgrounds celebrating each other." Ashton says she and her crew threw down for a real field party and captured it for the video.  "We actually had a party and filmed it. There was beer in my hair and the fun you see wasn't staged. We might even do it again next year and invite y'all." -- LS
Caroline Spence, "Who's Gonna Make My Mistakes":
Caroline Spence shows off her sense of humor in her new music video for "Who's Gonna Make My Mistakes." Directed by Steve Voss, the video features a man and woman fumbling and bumbling through life's everyday mistakes: Eating leftover takeout a little too late, throwing a red shirt into a white laundry load or getting a really (and we mean really) bad haircut. They each live life messily, but with great heart. Eventually, the two endearing individuals meet after unfortunate injuries. Spence doesn't limit the mess to the actors; she pokes fun at herself a few times, too -- and be sure to watch all the way to the end.
"This is a song for a moment in your life when you are scrambling for just one thing to feel right," Spence tells Rolling Stone. "It's a song to sing loudly when you need to forgive yourself for messing up. Life is continuously funny in its way of always having your missteps lead you to your biggest steps and I wanted the video to make light of and embrace those messy moments that eventually get us to where we are supposed to be." -- CV
Emily Hackett, "Easy":
"Why was it easy / To do the wrong thing / Why does the wrong thing / Always have its way with me / Where is the good girl / The one who knew better / Well she picked the apple off the tree / And now it just comes easy," Emily Hackett sings in "Easy." In her new Preston Weatherman-directed music video, Hackett explores these questions in a unique way. It was partially inspired by the last season of True Detective, making it a uniquely creative video to watch.
'"Easy" is written in the form of questioning myself," Hackett explains in a press release. "So when I was conceptualizing the video, my mind went to a questioning room at a police station. I loved the last season of True Detective, so I thought it would be cool to take that idea and give it the '70s feel of much of that season. We allude to me being two characters in the video, but we don't reveal that I'm both detective and the one in question until the end. I wanted a cinematic feel to match the eerie tone of the song." As the video unfolds, viewers will see exactly what she's talking about! -- CV