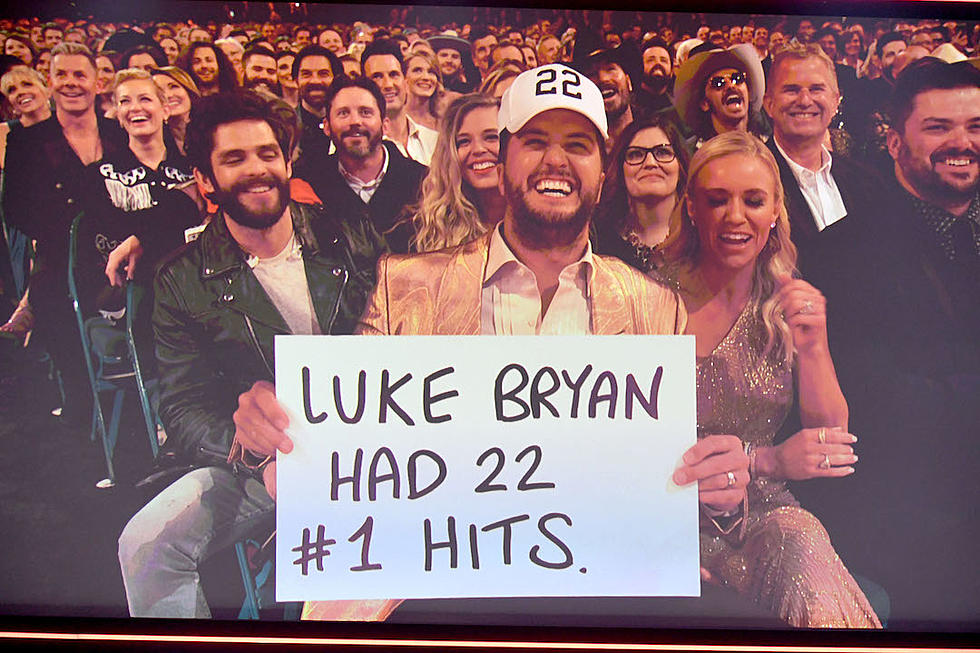 2019 ACM Awards: The Best Reactions, One-Liners + Little Moments
Kevin Winter, Getty Images
Some of the best moments of the 2019 ACM Awards didn't come in the form of big wins, flashy performances and epic speeches. They were little moments, whether onstage or in the audience, that you might not even have noticed the first time around.
Whether sweet, sincere, tear-jerking or downright goofy, we're betting that some of these little snippets from the annual awards show weren't even planned! Read on for a look back at some of the evening's greatest reactions, one-liners and silly moments.
Keith Urban and Nicole Kidman Groove Hard to Miranda Lambert's Medley
You can't ride in their little red wagon! When Miranda Lambert stepped up to share her action-packed medley of hits, there were plenty of A-list fans rocking out in the audience. Still, none went quite as hard as Keith Urban and Nicole Kidman during Lambert's "Gunpowder and Lead" segment of her hit mash-up. Later on in the ceremony, Urban's night reached a whole new level when he took home the Entertainer of the Year trophy. Even before his name was called, however, it was clear that the superstar showed up to party, as evidenced by his killer dance moves.
Dan Smyers' Wife Beams With Pride After Dan + Shay Win Duo of the Year
Dan + Shay had one heck of a night at the 2019 ACM Awards, taking home wins in the categories of Single of the Year, Song of the Year and Duo of the Year. Fans saw the emotional speech the pair gave onstage as they accepted their Duo of the Year trophy, but what they might not have seen is the sweet reaction from their wives. Dan Smyers' wife, Abby Law, was bursting with pride as she hugged her husband after the pair's names were called.
Karen Fairchild Tears Up During Little Big Town's "The Daughters" Performance
When they took the stage to perform during the 2019 ACM Awards ceremony, Little Big Town debuted an emotional new ballad called "The Daughters." The song, which will be the group's next single, takes on the topic of helping young women understand their worth in a society that prioritizes their physical appearance over more substantial attributes. The song's subject matter was clearly personal for the band, and especially for Karen Fairchild, who held back tears as she sang.
... And Brandi Carlile Gets Misty-Eyed Watching LBT Perform
In addition to Fairchild becoming emotional as she sang the song, "The Daughters" struck a chord with the country stars in the audience. Brandi Carlile dabbed away a few tears as she watched the group sing. Carlile has a personal connection to the song's subject matter, too: Her recent hit, "The Joke," grapples with similar topics of knowing your own worth, despite what anyone else might say.
Reba McEntire Pokes Fun at Luke Bryan -- and He Was in on the Joke
During host Reba McEntire's opening monologue, she looked back at exciting list of happenings within the country music industry this year ... and one exception.
"Grammy Award wins, fantastic collaborations, inspiring new voices, Luke Bryan had 22 No. 1 hits ... How did that get in there?!" McEntire quipped. Cut to Bryan holding up a cue card in the audience, with a cheesy smile and a baseball cap bearing the number 22 on his head.
"Aw, Luke, look at you using all your numbers and letters, just like they taught you!" McEntire continued. For his part, Bryan cracked up, blowing a kiss toward the stage and waving the sign.
McEntire Gets Snarky About the Exclusion of Women
Before the 2019 ACM Awards ceremony, McEntire made clear that some things -- namely, politics -- were off the table when it came to subject material for her monologue. However, she was more forthcoming about her feelings regarding the fact that no women were nominated in the category of Entertainer of the Year this year.
"Do you know it snowed in Las Vegas just a few weeks ago?" she asked the crowd. "Yeah. It was so cold, it froze us women out of Entertainer of the Year."
McEntire had previously shared that she wasn't thrilled to see the lack of women on the nominees list; however, as she added in her speech, the lack of recognition hasn't kept country's talented female artists from succeeding: "But you know what? That didn't bother Kacey Musgraves, because she's been too busy carrying all her Grammys around!"
Kacey Musgraves Dedicates Her Win to Those Who Dare to Be Different
Speaking of Musgraves, the Golden Hour star added two more trophies to her collection on Sunday evening (April 7), taking home awards in the categories of Female Artist of the Year and Album of the Year. In one of her speeches, Musgraves dedicated the win to anyone who thinks their style might be too different or outside of the mainstream to make an impact; in fact, Musgraves added backstage, it is because her sound is so unusual that Golden Hour has resonated with fans the way it has.
Miranda Lambert 'Gets the Hell Out of Oklahoma' in Song Lyric Switch-Up
When Lambert performed a verse of "Little Red Wagon" during her hits medley, the singer swapped out a lyric in the song from "I live in Oklahoma" to "I got the hell out of Oklahoma," inspiring gasps from the crowd. Lambert has swapped in the new lyric in live performances for quite a while now -- since about the time she got divorced from fellow country star (and Oklahoma native and resident) Blake Shelton. Whether or not the new lyric was an intentional side-eye to her ex, who was in the crowd on Sunday night, Lambert brought an unstoppable, fiery energy to the stage.
Florida Georgia Line Have a Blast Cheering on Their Buddies
Aside from teaming with Jason Aldean for a performance of "Can't Hide Red" at the top of the show, Florida Georgia Line had a pretty quiet night on Sunday, and didn't take home any trophies of their own. However, the pair didn't seem at all disappointed; rather, they had a blast cheering on their pals from the sidelines. Whether singing along to Thomas Rhett's performance, applauding Aldean as he received the ACM Dick Clark Artist of the Decade award or congratulating Dan + Shay on their Duo of the Year win -- an award that FGL were up for, too -- the superstar pair was perfectly happy to support their pals' achievements this time around. What a class act!
Luke Bryan Tests Out His Rapping Skills During Jason Aldean's Set
The ACMs' resident goofball, Bryan wasn't done hamming it up for the cameras after McEntire finished her monologue. As Aldean performed a medley of his career hits during a segment honoring him as the ACM Dick Clark Artist of the Decade, Bryan rapped along from his seat in the audience. Bryan got through a bar or two of "Dirt Road Anthem" before cracking up.
Top 10 2019 ACM Awards Moments
The Secret History of the 2019 ACM Awards