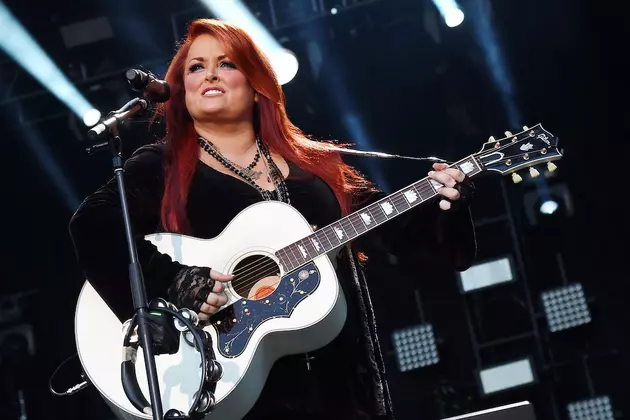 Top 10 Wynonna Judd Solo Songs
Getty Images
Wynonna Judd first rose to popularity with the music she made with her mother, Naomi Judd, as the Judds. The mother-daughter duo cultivated a large fan following and a massively successful career, releasing five studio albums and landing more than a dozen hits at the top of the country charts.
But Judd has also had a long-lasting career as a solo artist. After the Judds disbanded when her mother was diagnosed with Hepatitis C in 1991, Judd launched out alone and found immediate success. Since the early '90s, she's notched three platinum albums, a number of successful duets (with non-maternal duet partners) and hit after hit.
Later this year, Wynonna and Naomi will reunite for their first tour together 10 years. The Final Tour is set to visit 10 cities across the U.S. beginning Sept. 30.
In honor of this exciting news, lets take a look back at Wynonna's biggest and best solo songs, so far:
10

"My Strongest Weakness"

From 'Wynonna' (1992)

You might recognize the name of one of this song's co-writers: It's Naomi Judd, Wynonna Judd's mother and former musical partner. Fittingly, this song was the final single released from Judd's solo debut, Wynonna. The winsome power ballad climbed to No. 4 on the charts.

9

"Rock Bottom"

From 'Tell Me Why' (1993)

In "Rock Bottom," Judd strikes a determined and hopeful tone: "When you hit rock bottom, you got two ways to go," she sings. "Straight up and sideways." Musically, "Rock Bottom" leans closer to her more upbeat, dance-driven songs, but lyrically, it deals with heavier topics. "Rock Bottom" was a No. 2 hit from the album Tell Me Why.

8

"Girl Thang"

From Tammy Wynette's 'Without Walls' (1994)

It's impossible to resist a duet between Judd and Tammy Wynette, and that's especially true when they're having as much as they clearly are on "Girl Thang," featured on Wynette's Without Walls. You can practically hear the two country powerhouses rolling their eyes as they sing the lines "Excuse me if we expected you / To mean what you say and follow through / I don't know why love's so hard to explain to a man of the world / I guess it's just a girl thang."

7

"I Saw the Light"

From 'Wynonna' (1992)

"I Saw the Light" was Judd's second single from her solo debut, and proved that her instant success with "She Is His Only Need" was no fluke. The misleadingly musically upbeat song about a woman discovering her man cheating on her was not only Judd's second No. 1 solo hit, but it was also the winner of the 1992 Billboard Music Awards' Top Country Song title.

6

"She Is His Only Need"

From 'Wynonna' (1992)

"She Is His Only Need" was Judd's first venture into solo performance after nine years with her mother as part of the Judds. To say that she was successful branching out would be an understatement: Not only was "She Is His Only Need" her first solo No. 1 hit, but it also earned her a Grammys nomination for Best Country Song.

5

"Girls With Guitars"

From 'Tell Me Why' (1993)

"Girls with Guitars" was written by prolific songwriter and musician Mary Chapin Carpenter; it's a one-two punch of Carpenter's stellar writing and Judd celebrating "girls with guitars" going after their dreams of rock musicianship. The song reached No. 10 on the charts and takes its guitar licks seriously: There are musical references to famous riffs from Deep Purple and Cream scattered throughout the song.

4

"A Bad Goodbye"

From Clint Black's 'No Time to Kill' (1993)

Judd teams up with Clint Black on "A Bad Goodbye," and the results are powerful: a heartbreaking ballad about the difficulty of leaving a relationship. The duet climbed to No. 2 on the charts and was showered with awards nominations: the ACM for Single Record of the Year; the AMA for Favorite Country Single; the CMA for Vocal Event of the Year; and the Grammys trophy for Best Country Collaboration With Vocals.

3

"Only Love"

From 'Tell Me Why' (1993)

"Only Love" is a bittersweet, mid-tempo song about trusting in love above all else: "Only love sails straight from the harbor," Judd sings. "And only love will lead us to the other shore." The second single from Tell Me Why, "Only Love" reached No. 3 on the charts and earned Judd a Grammys nomination for Best Country Vocal Performance.

2

"Is It Over Yet"

From 'Tell Me Why' (1993)

If you want a good Judd song to cry to, "Is It Over Yet" just may fit the bill. It's a power ballad about trying and failing to get through a heartbreak: "I should lie and say it's all for the best," Judd mourns. "Wish you luck and say I have no regrets / But I'm not up to being strong." She may not have been up to being strong, but she was up for delivering a performance that earned a Grammys nomination for Best Female Country Vocal Performance.

1

"No One Else on Earth"

From 'Wynonna' (1992)

Three for three: "No One Else on Earth" was the third single from Judd's debut solo album, and her third consecutive No. 1 hit. The funky, mid-tempo song is driven forward by a danceable beat that explodes into the chorus with Judd's half-growling delivery of the lyric "How did you get to me?" Unsurprisingly, this song found a second life internationally with a dance remix.