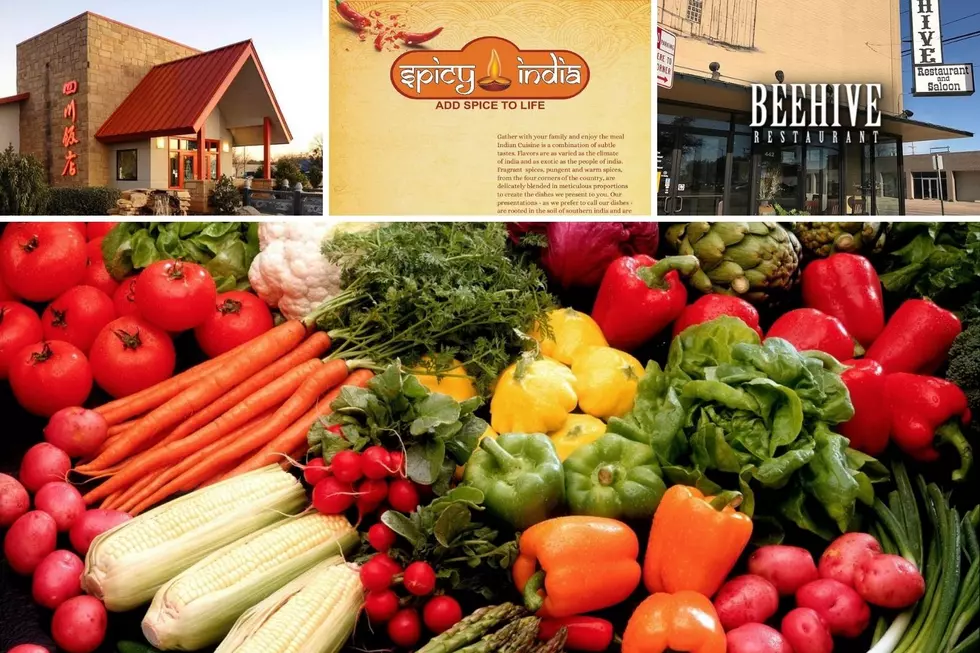 Top 8 Vegetarian Friendly Restaurants in Abilene According to Trip Advisor
Photo: Getty Images/Szechuan/The Beehive/Spicy India/Facebook/Canva
Yes indeed, we're in Texas where barbeque is king. A big ol' juicy steak. Jerky made from this, sausage casings stuffed with that. Texas is serious when it comes to meats but what if meat is not your thing.
Yes, even in the heart of Texas there are vegetarians. Let's face it, whether you eat meat or not, we all enjoy great food. I think we can all agree on that. You'd be surprised (I know I was) how many delicious dishes contain no meat. There are many great choices right here in Abilene that are vegetarian friendly with dishes either already on their menu or easily adaptable. Let's check out the top 8 vegetarian-friendly restaurants in Abilene according to Trip Advisor.
LOOK: TOP 8 VEGETARIAN-FRIENDLY RESTAURANTS IN ABILENE ACCORDING TO TRIP ADVISOR
You can view the full menu, contact the restaurant with questions about their vegetarian options, and more on their website.
---
Plenty of options here. Look at their menu and order online on their website.
---
Known for its juicy steaks, the Beehive also has delicious vegetarian choices. View more.
---
Fine Texas dining with good non-meat alternatives. Look at more here.
---
There's nothing wrong with a vegetarian pie from time to time. Check out everything they offer.
---
A local fan favorite. Explore all their vegetarian options.
---
Many delicious vegetarian dishes here. Discover something new.
---
Personally, I can get full on chips and queso. No meat involved. But they do have great meatless dishes. Check out more here.
I was really surprised by how flavorful vegetarian dishes can be after putting several to the test. The bottom line is, no meat in Abilene...no problem. If meat is not for you, there are plenty of excellent options out and about the city.
After looking at some tasty food, what better than checking out some delectable sweets. Feast your eyes on these Little Debbie rankings.
Little Debbie Snack Cake Ice Cream Rankings
Here is my personal ranking from one to nine of the Little Debbie Snack Cake Ice Cream flavors.