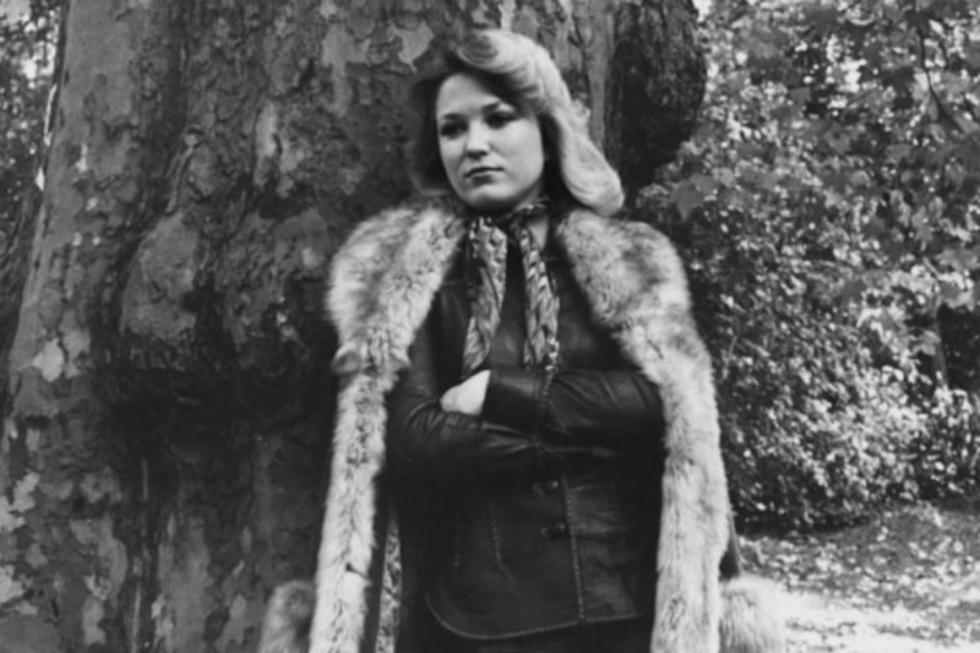 Top 10 Tanya Tucker Songs
Keystone / Stringer, Getty Images
Many country singers would give anything to have a hit like Tanya Tucker's "Delta Dawn" in their repertoire. But the crazy thing about Tucker's discography isn't just that she repeated the success of "Delta Dawn" over and over again: It's that her career kicked off with that song when she was just 13 years old.
Tucker never gave anyone the chance to accuse her of being a child star or a one-hit wonder: She started with "Delta Dawn" and never really stopped. Since her 1972 debut, she has released 25 studio albums -- including 2019's While I'm Livin' -- that have resulted in dozens of crossover hits, awards nominations and wins, and songs that have become enduring classics.
From her pure country beginnings to her adult contemporary years (and everything in between), The Boot scoured Tucker's song list to come up with her 10 best tunes. Scroll on to see our picks:
10

"Here's Some Love"

From 'Here's Some Love' (1976)

"Here's Some Love" was the first single from Tucker's 1976 album of the same name. Here's Some Love, Tucker's sixth studio album, would turn out to be her only No. 1 album, and in many ways, the title track is its thesis statement: It's a mid-tempo love song with a sound that rests somewhere between classic country and adult contemporary, reflective of Tucker's sound at that time. "Here's Some Love" was a No. 1 in country music, and one of Tucker's many crossover hits.

9

Tucker's vocal performance on "Soon" feels equally inspired by hope, heartbreak and bitterness. The piano- and guitar-driven ballad is a love song gone bad, all about broken promises and what happens when "someday turns to never" and "tears and champagne offer no solution." The title track from Tucker's 1993 album went to No. 2 on the charts and earned Tucker a Grammy Awards nomination for Best Female Country Vocal Performance.

8

"Strong Enough to Bend"

From 'Strong Enough to Bend' (1988)

"Strong Enough to Bend" kicked off three consecutive No. 1 hits for Tucker, all from her 1988 album of the same name. The song makes something special from simple, restrained verses that get twangier and more inspired when they lean into something a little more unexpectedly bluegrass-sounding. The song is for anyone who believes in the power of lasting love and finds themselves buoyed by Tucker's delivery of lyrics including "Like a tree out in the backyard / That has never been broken by the wind / Our love will last forever / If we're strong enough to bend."

7

"Dream Lover"

From 'Dreamlovers' (1980)

"Dream Lover" may have only peaked at No. 59 on the charts following its 1980 debut, but it remains a memorable entry in Tucker's catalog. It was one of two duets she recorded with Glen Campbell on her Dreamlovers album, and the tumultuous couple's rendition of this Bobby Darrin song gave listeners a bit of a peak into their brief, intense and sometimes-controversial relationship. "Dream Lover" was overshadowed at the time by the album's bigger hits, such as "Can I See You Tonight," but the vocal teaming of Tucker and Campbell earned a Grammy Awards nomination for Best Country Performance By a Duo or Group.

6

'San Antonio Stroll'

From 'Tanya Tucker' (1975)

"San Antonio Stroll" sounds just like it should: The narrator in it sings about her folks going to "that big square dance in town" while she stays at home, listening to "that old opry show" so that she doesn't "get lonesome or blue." Tucker's recording lands perfectly, somewhere between opry and square dance and childhood simplicity (which makes sense, since Tucker was 17 when the song was released). The upbeat toe-tapper was the second single from Tucker's fourth album, and it became her fifth No. 1 hit.

5

"Would You Lay With Me (in a Field of Stone)"

From 'Would You Lay With Me (in a Field of Stone)' (1974)

"Would You Lay With Me (in a Field of Stone)" was the debut single from Tucker's 1973 album of the same name. It was her third consecutive No. 1 hit on country radio, but it was also the second-biggest crossover hit of her career, owed in part to Tucker's full-throated commitment to the over-the-top love ballad. Tucker goes big in her delivery of lines such as "Would you go away to another land / Walk a thousand miles through the burning sand?" and the payoff showed in the song's lasting popularity.

4

"Blood Red and Goin' Down"

From 'What's Your Mama's Name' (1973)

Tucker released "Blood Red and Goin' Down" as the second single from What's Your Mama's Name, her sophomore album. Typical of early Tucker, it's a tragic narrative, bolstered by introductory gang vocals and a catchy, simple chorus. Tucker's performance and delivery are mature and confident -- almost beyond belief when you remember that she was only 15 when she first recorded it.

3

"What's Your Mama's Name"

From 'What's Your Mama's Name' (1973)

After a handful of decent chart successes, "What's Your Mama's Name" was Tucker's first No. 1 smash. The song is Tucker in all of her early glory: a traditional, story-driven song delivered in an unforgettable, pure country voice. Even then, with a song that was unashamedly country, Tucker achieved crossover chart success, setting up a career during which her songs would delight a variety of audiences.

2

"Delta Dawn"

From 'Delta Dawn' (1972)

"Delta Dawn" may be the song for which Tucker is best known, but she was just one of many who recorded it in a short period in the early '70s. Tucker recorded the tune for her 1972 debut album ... right around the time that Helen Reddy, Bette Midler, Tammy Wynette, Loretta Lynn, Waylon Jennings and more were doing their own versions. But it was Tucker who put the song in the first slot on her first album (titled, appropriately, Delta Dawn) and, in that way, used the beloved recording to launch her own career. Oh, yeah: When this all happened, she was 13 years old.

1

"Lizzie and the Rain Man"

From 'Tanya Tucker' (1975)

Tucker's "Lizzie and the Rain Man" was actually inspired by a movie: The Rainmaker. After various other artists recorded it, Tucker put the song on her self-titled disc and made a hit out of it. Not only was the song -- a meandering narrative about a rainmaker in a small Texas town -- a No. 1 on country radio, it was also Tucker's first and biggest crossover pop hit. In some ways, "Lizzie and the Rain Man" is proof that Tucker was at her most universally accessible when her sound was most clearly country.