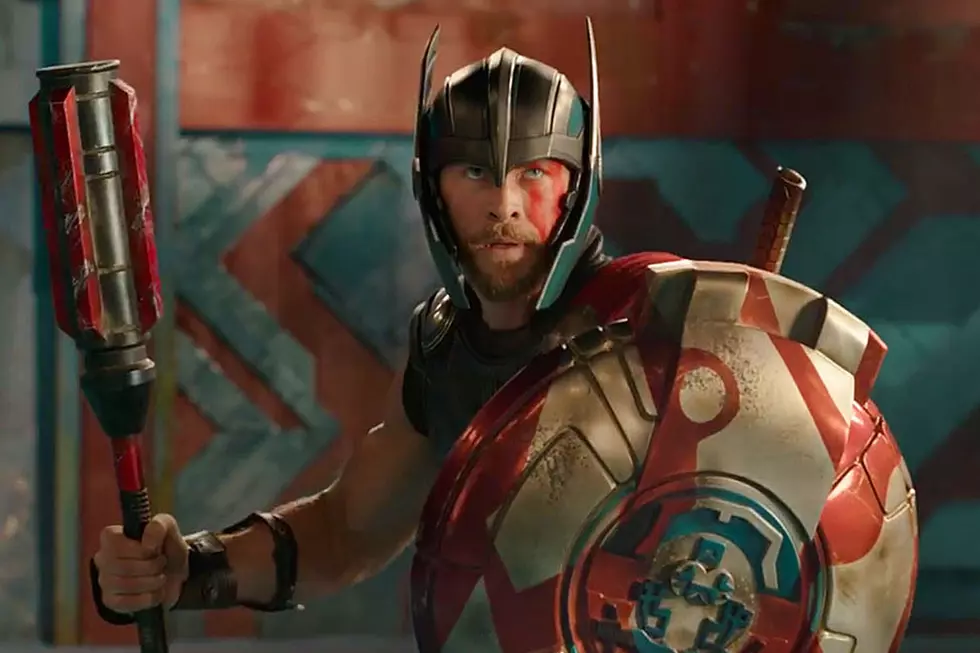 Get Hammered With the Comic-Con 'Thor: Ragnarok' Trailer
Marvel Studios
When the first trailer for Thor: Ragnarok dropped it, rightfully, blew the internet's damn mind. Chris Hemsworth's God of Thunder was in the gladiator pit with the Hulk, Jeff Goldblum donning shiny blue makeup, Tessa Thompson as a warrior, and Cate Blanchett as an antlered Marvel villain – it was incredible.  Which left us thinking, is it even possible to get us more hyped about the Taika Waititi movie? As the new trailer at Marvel's Comic-Con panel proved, yes, indeed, it actually is possible.
The cast of Ragnarok took the stage with Waititi in Hall H during the Marvel panel to introduce the latest trailer.
Comic-Con also featured the debut of two new Ragnarok posters. Earlier on Saturday, Marvel Visual Development Supervisor Andy Park unveiled a new concept poster with Tom Hiddleston's Loki and Thor facing off but understandably distracted by Blachett's Hela.
The other poster features Thor, the Goddess of Death and Mark Ruffalo's the Hulk in casual Come At Me Bro poses alongside the rest of the cast, including Idris Elba, Anthony Hopkins, Thompson, and Goldblum.
We already know Ragnarok will have a shake up the future of the Marvel Cinematic Universe. MCU president Kevin Feige recently revealed that the third film in the Thor trilogy will change things "drastically" and lead directly into Infinity War. Prepare for the impending Asgardian Apocalypse when Thor: Ragnarok hits theaters November 3.