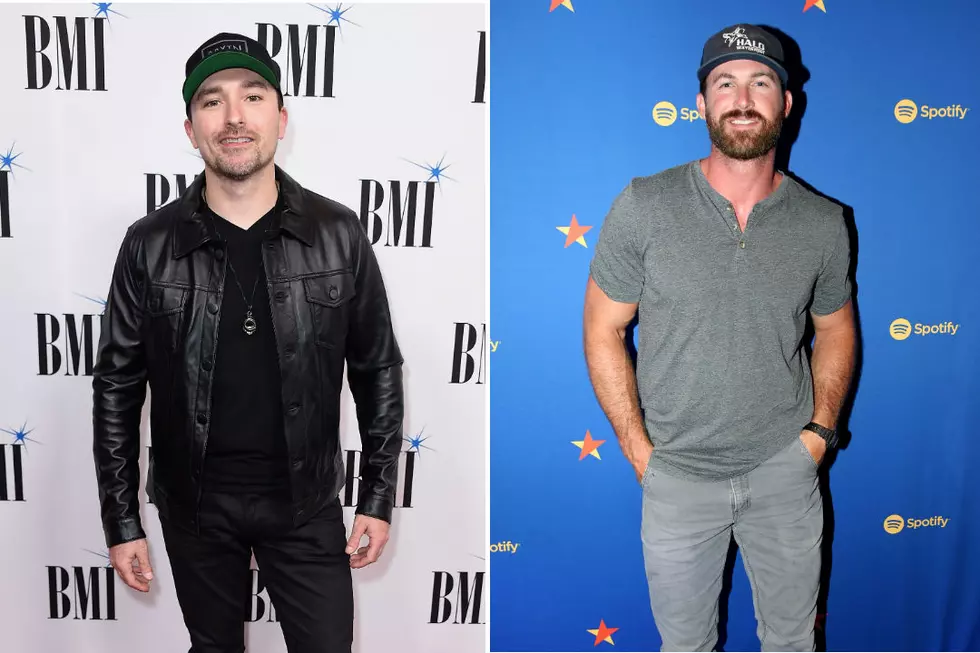 Riley Green + 'There Was This Girl' Writer Erik Dylan Understood Each Other 'Instantly'
Michael Loccisano, Terry Wyatt, Getty Images
Riley Green knows exactly how much he owes Erik Dylan, his longtime friend and the co-writer on his first No. 1 hit, "There Was This Girl." Before Green had gained any traction at all in the country music industry, Dylan went the extra mile for the budding singer -- literally.
"I remember he came down to Jacksonville, Ala. We set up mattresses out in the extra bedroom to make a sound booth," Green recalls. "He bought a microphone, and we sang vocals on these songs in my house, in the kitchen."
That batch of tracks -- which included "There Was This Girl," along with 6-8 others -- ended up being Green's demo recordings. "That was what we played for record labels, and that was kinda how I signed a record deal," the singer adds.
"There Was This Girl" was Dylan's first No. 1, too. The songwriter -- who has released three albums of his own as well -- says he attributes that success to the connection he and Green share, and have ever since the day they met.
"The first time I wrote with Riley, I felt like I'd been waiting for years for him to walk through my door and write songs," Dylan explains. "I instantly understood who he was as an artist. I think we grew up with similar backgrounds, in small towns -- I'm from Kansas, he's from Alabama -- and we just hit it off instantly. We liked writing about the same stuff and had the same values. There wasn't a whole lot of effort, other than trying to write a song."
"Yeah, your yard was just flatter than mine," jokes Green, explaining that, before meeting Dylan, he'd been a fan of his music. "If me and Erik had never met, I'd still be listening to his music, so that's a cool thing. [He] writes from a different place than other folks, and that's kinda where I wanna live -- somewhere a little different."
The pair of artists were friends back when they were both new and green in the industry, and they've got plenty of stories to share about the early days. "Before I signed a record deal, I built houses for a living, and I built my house," Green recounts. "I remember telling Erik, 'Man, as soon as I figure out what record label I'm gonna sign with, I'm gonna go home and just not do anything for a few months. I really wanna relax.'
"He was like, 'You have no idea what you're getting into,'" Green continues. "And that's really how it is! I felt like George Strait's song, "A Showman's Life": 'Nobody told me about this part ...'? That's kind of how I felt. I had no idea we were gonna fly all over the country."
"The look of seriousness on your face when you told me!" Dylan adds, cackling. "You were driving down the road, and I said, 'You have no clue what's about to happen.'"
WATCH: Riley Green's "I Wish Grandpas Never Died" Will Hit You in the Feels
What's It Like Having a Country Star Sing Your Song? We Asked Some Writers ...