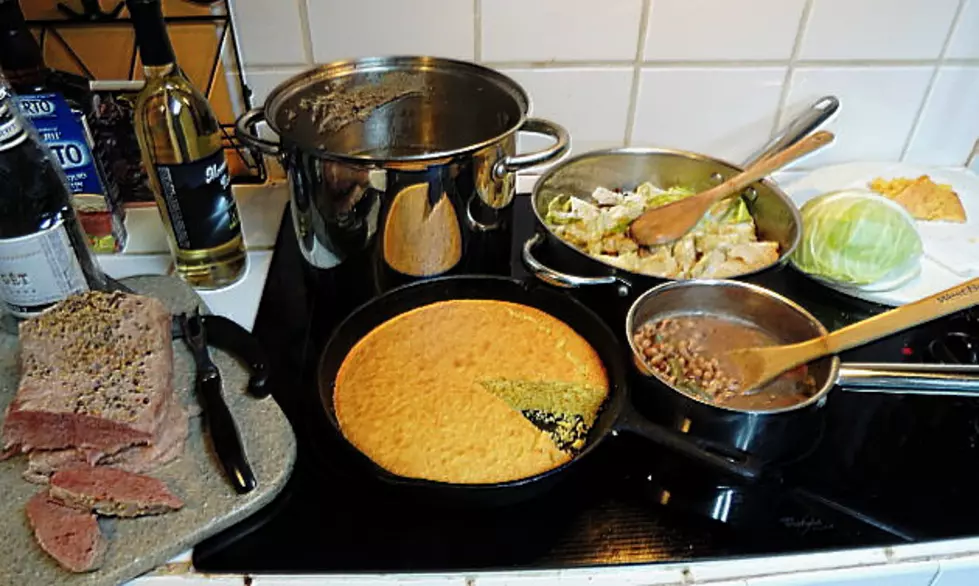 Foods That May Bring Luck, Love and or Money Around the New Year
Photo by: Rudy Fernandez
Many people believe that consuming certain things, at the beginning of the year, will bring us love, luck, good health, and/or money. Here are a few of the most popular food superstitions to kick off the New Year.
Black Eyed Peas & Cornbread

The most popular New Years food is Black Eyed Peas and cornbread. Eating black eyed peas is said to bring a person good fortune.

It originated from an Italian green lentils New Years dish that represented money for the forthcoming year. It's believed that Black eyed peas replaced the lentils, cornbread was added as a traditional American Southern dish to represent good health.

Cabbage or Collard Greens

Cabbage, collard greens, spinach and/or kale are all said to represent green folding money, and it's not hard to see why these leafy green foods are paralleled to a New Year's superstition of bringing you something.

Good luck on this one.

Sauerkraut for Fortune and Fame

This one was told to me by different people one of polish decent and the other of German heritage. They said, that consuming sauerkraut is said to bring you "fame and fortune" together.

Nonetheless, the correlation between the sauerkraut and the "fame and fortune" is derived from the fact that cabbage is green and leafy and the sauerkraut takes practice and patients to perfect.

I'll have mine with a good Polish dog please.

Corned Beef or Pork Roast

In an effort to show the symbolism of America's opulence eating meat showed you believed the year to come is bringing you prosperity and happiness.

If you partake of any meat let it be pork instead of chicken or beef. It is fact that when a pig has it's snout to the ground, it is searching for something new to eat and is always moving in a forward motion.

Chickens represent moving backwards and cows are symbolic of stagnation. Many others believe that eating pork's fatty meat is symbolic of fattening of wallets in the coming year.

Bunuelos For Love, Luck and Money

This dish is from my Hispanic heritage. As long as I can remember my late mom and all my Tia's (aunts) would slave in a kitchen preparing a grand feast.

All us kids wanted to make sure we got our hands on the Bunuelos. A Latin treat that is much like a crispy sopapilla covered in sugar, cinnamon and other Mexican spices.

It's believed that consuming Bunuelos brings money and a change of luck.