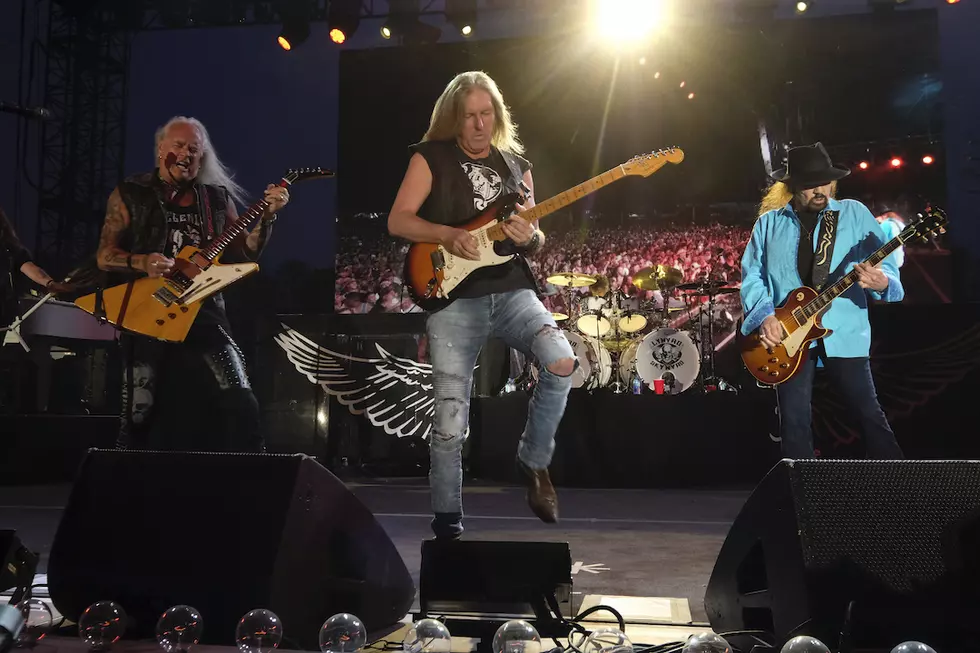 Interview: Lynyrd Skynyrd Celebrate Musical Family, 'Bittersweet' Final Hometown Show in New Film
Frazer Harrison, Getty Images
"I remember, sidestage, right before we were going out, looking out over the stadium, and it was just very, very surreal," says Lynyrd Skynyrd guitar Rickey Medlocke, recalling the iconic southern rock group's final hometown show in Jacksonville, Fla., in 2018. A particularly momentous stop on the band's Last of the Street Survivors Farewell Tour, the show was being filmed for a new live concert movie that is set to premiere in 850 theaters across the country on Thursday (Nov. 7).
"I just couldn't believe that many people showed up for the show. And especially that it was being filmed," Medlocke remembers (the band played to a crowd of about 50,000 fans that night). "I urge everybody to pick a ticket up. If you haven't seen the band, and you can't get out and see us live, go see this. It's the next best thing."
Though their Jacksonville stop wasn't the end of Skynyrd's farewell tour -- in fact, they've already made plans to continue with 40-50 more dates in 2020 -- it did feel like the end of an era in a lot of ways.
"It's interesting going back to Jacksonville, where the band first started. Gary [Rossington], Johnny [Van Zant] and myself were born and raised there," Medlocke continues. "To be honest with you, it was just kind of a bittersweet thing, you know? To know that was our last show in Jacksonville. It will be stamped in my memory, of course, for the rest of my life. My significant other, [vocalist Stacy Michelle], was there. My daughter was there. It was really overwhelming."
The farewell tour and its accompanying film, Lynyrd Skynyrd: Last of the Street Survivors Farewell Tour, is, for the group, a celebration of life. Interview footage with the band points out that Rossington's shaky health and longtime heart issues were an important part of their decision to embark on the tour now, while they can still make memories together as a group.
Lynyrd Skynyrd, of course, are no strangers to loss, from the infamous 1977 plane crash that claimed the lives of six Skynyrd band and crew members, including lead singer Ronnie Van Zant, to more recent losses in their musical family. The cameras at Skynyrd's Jacksonville concert captured a particularly poignant moment, when former bassist Larry Junstrom was able to stand up and wave to the crowd from his spot in the audience. Junstrom was one of Skynyrd's founding members, and played in the band from 1964 until 1971; he died in early October, just a month before the Last of the Street Survivors film's debut.
"When I first joined Lynyrd Skynyrd back in the early '70s, Larry was the bass player. I'd worked with him quite a while," Medlocke recalls. "You know, [the Jacksonville show] was the last time I saw him. When I got word of his passing, I was just kind of like, 'Wow.' I was glad I got to see him that last time. He was happy, you know, being able to be there."
At the end of Skynyrd's show, as the band gears up for "Freebird," a black backdrop appears behind them, adorned with the names of the bandmates they've lost. Ronnie Van Zant's name is right at top, along with a flickering candle. Medlocke says it's always a powerful moment, both for himself and his bandmates, and for the fans watching the show.
"Their faces, and the way the crowd reacted to the end of the show, [was special]," he muses. "There were a lot of tears. There were a lot of smiles, a lot of cheering. That pretty well sums it up, as far as how we felt spending [the show] with the fans."
More than four decades after Van Zant's death, Medlocke says he hopes Skynyrd's legacy has done his old friend and bandmate proud. "Because the music is timeless. It'll be here a lot longer after we're all gone, that's for sure," he relates. "It touches people in so many different ways, and that's what Ronnie was all about. He was a southern poet -- way ahead of his time. And he went through it quick. He passed away at 29.
"But I would hope that he would shake our hands when we cross over and see him," Medlocke goes on to say. "I hope that he shakes our hands and says, 'Job well done.'"
Not that Medlocke is planning on finishing his musical work here on earth anytime soon. On the contrary, he's got lots of irons left in the fire, beginning with another leg of Skynyrd's farewell tour.
"There is no such thing as [retirement] for me," he says cheerfully. "I've got other side projects right now that I'm involved in. And with Skynyrd, we're gonna do a new record. They're talking about us doing residencies at quite a few of the Hard Rocks, in Vegas and elsewhere. So, I mean, there's still stuff on tap."
What would a new Lynyrd Skynyrd album look like, in 2020 or beyond? Not too different from their usual style, Medlocke maintains: "The band is gonna remain as the band it is right now. It's not breaking up," he asserts. "Johnny, Gary and I have formed a little production team, and we're gonna be producing the new record, I think. It'll stay true to form. It'll still be Lynyrd Skynyrd."
For tickets to Lynyrd Skynyrd: Last of the Street Survivors Farewell Tour, visit FathomEvents.com.
Who Else Is on Tour in 2019?