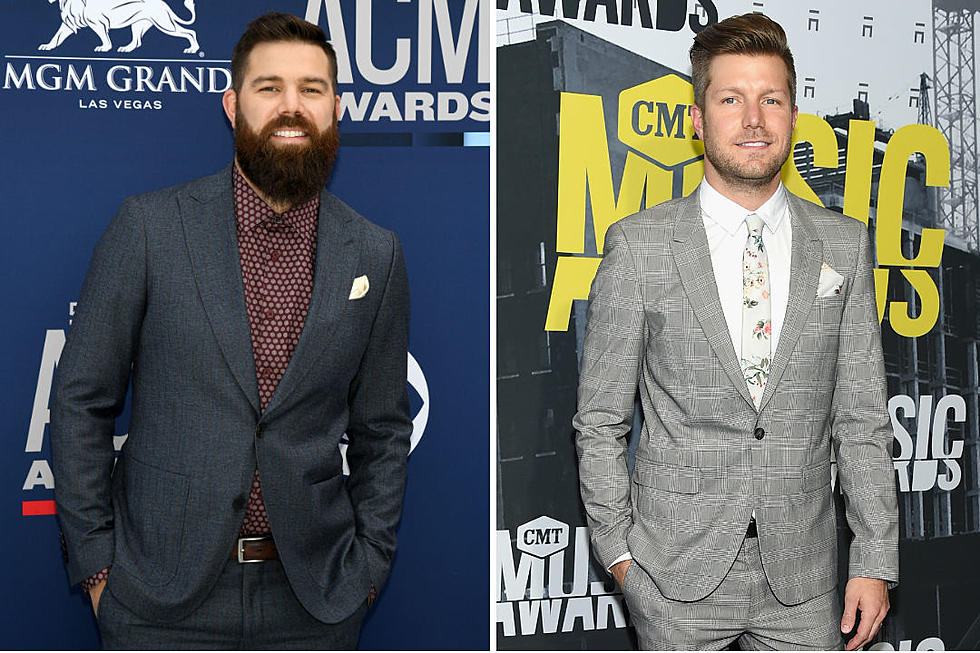 Jordan and Jacob Davis Are Following in Their Uncle Stan's Footsteps
Ethan Miller, Michael Loccisano, Getty Images
On the day that Jordan Davis, his brother Jacob Davis and co-writer Jason Gantt gathered at a No. 1 party to celebrate the chart-topping song "Take It From Me," they were also celebrating an important anniversary. Exactly four years before, the Davises played at Nashville's Bluebird Cafe for the first time ever, in a set that included Jordan Davis' now-hit single.
The Davis brothers share a long history of musical partnership, and their family has an even longer history with the music business. Their uncle, Stan Paul Davis, was a Nashville songwriter who wrote songs such as Tracy Lawrence's "Better Man, Better Off" and "Today's Lonely Fool."
"We had the rare opportunity to hear [those songs] at our grandmother's house on acoustic guitar, before it was a hit," explains Jacob. "He was making a great living making things up, you know? How cool is that? Whenever we were in college, and graduated college, none of our buddies ever though, 'Oh, you go to Nashville and write songs and make a living.'"
Jordan agrees: "Not a lot of times do people know that songwriting is a profession. I still feel like there's a strong part of country music that thinks the if there's an artist up there singing it, at some point in his life, he wrote that song. So having Uncle Stan up here having success was a huge path-starter for me and Jacob ...
"If Uncle Stan wouldn't have moved to Nashville, man -- I could be wrong, but I don't know if this would've ever happened," he adds.
The Davis family already had a precedent of songwriters making it in Nashville before the two brothers decided to take that path, and they both feel that their uncle's success helped their parents come around to the idea of embracing their decision to pursue music.
"I mean, our dad wrote songs and stuff, too. Our mom is musical: [She] played piano in church," Jordan continues. "So I feel like the move to -- whether it be acting, it could be anything -- but when a parent hears that their two kids are gonna move to Nashville and try to be songwriters, a lot of moms aren't super happy about that. So having Uncle Stan up here, and him being successful ..."
"It kind of softened the blow," Jacob interjects with a smile.
"Take It From Me" is Jordan Davis' second No. 1 song as an artist (following 2018's "Singles You Up"), and Jacob Davis' first as a songwriter. The success of the song helped cement each of the brothers' goals, even if -- in Jacob's case -- those goals were changing focus.
"Personally, for me, it helped me with this transition form an artist into 'I'm gonna write songs. This is what I wanna do.'" Jacob relates. "If it means me being there for my little brother, and being able to write songs with my buddies, and my best friends in this town ..."
To that end, he continues, "Take It From Me" has opened several new doors. "As a writer -- and as an artist -- it's a weird town," Jacob goes on to say. "You've gotta get that hit underneath your belt that gets you clout, that gets you into some rooms that you might not have been able to get in before."
Both Jordan and Jacob Davis have been in town long enough to understand how much work goes into every hit song. They know there's an element of sheer good fortune, too. "Man, I say we just got lucky," Jordan says, when asked what it was about "Take It From Me" that hooked so many fans.
"We didn't reinvent the wheel, as far as songwriting, with this one," he continues. "I think the thing with me and this [song] is, this is 100-percent who I am as an artist ... If you don't like "Take It From Me," then you probably aren't gonna be a fan of my stuff. Just the way Paul [DiGiovanni] produced it, it was very R&B-influenced, very much the rapid-fire [style] I like to do. I think that's why I love the song."
Plus, Jordan adds, it's relatable -- maybe even more than he realized it would be when he released it. "I've had a few guys come up to me and be like, 'Man, I get it,'" he says with a grin. "They love the T-shirt line ["Take it from me / If you want a T-shirt to sleep in / It's my favorite, but you can keep it"]. I've come to know that a lot of guys have lost some T-shirts in that situation."
All These Country Stars Have Famous Family Members, Too: