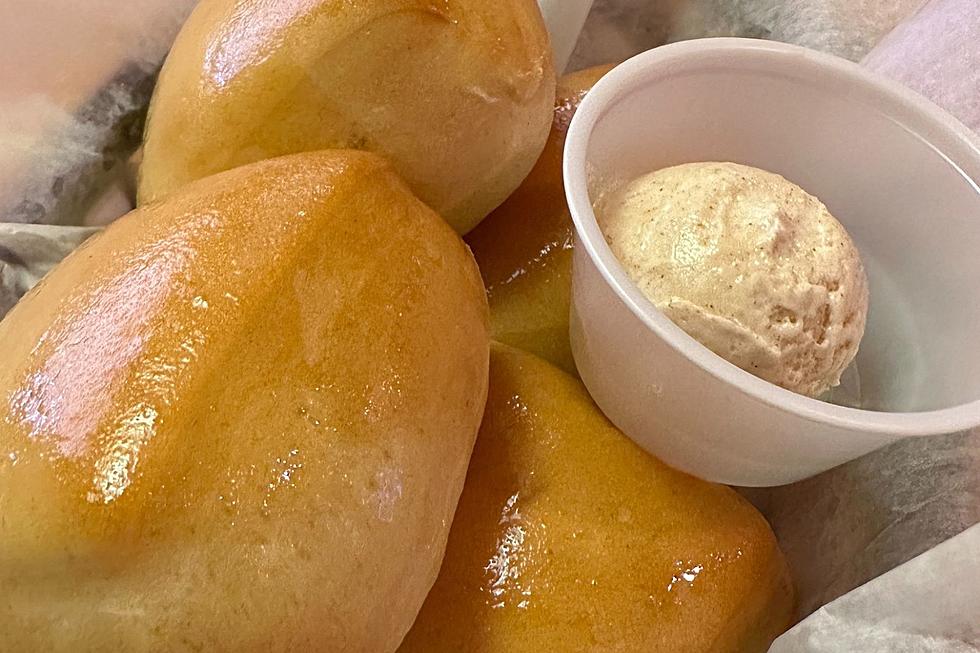 Thanksgiving Hack: Order Frozen Rolls from Texas Roadhouse
Texas Roadhouse Facebook
It's almost like every year I have another Thanksgiving meal to add to my schedule. With multiple Thanksgiving dinners to prepare for, I sometimes don't have the time or kitchen space to bake a pie or prepare a green bean casserole. And I definitely don't have time to make rolls.
But I recently saw a Thanksgiving hack for rolls on TikTok that I just had to share. And no baking is involved!
If you're lucky enough, you have a Texas Roadhouse in town. Obviously their steaks are delicious, but what they're really adored for is their delectable rolls and sweet cinnamon butter. Who doesn't love these rolls?!
I honestly don't think I've ever had a homemade roll as good as a Texas Roadhouse roll. So wouldn't it be crazy amazing if you could have them with your Thanksgiving dinner?? And imagine the day after Thanksgiving turkey sandwich sliders you could make with them. YUM!
Did you know that you can order frozen Texas Roadhouse rolls for Thanksgiving??
Well, you're in luck. TikTok user @perkinsonparkway posted a video about their family's best Thanksgiving hack - FROZEN TEXAS ROADHOUSE ROLLS. She said they order the frozen rolls from their local Texas Roadhouse, let them thaw and pop them in the oven for just five minutes! Plus, they come with the cinnamon butter! Amazing.
Another TikTok user decided to test this hack out and went to their own local Texas Roadhouse. TikToker @jordan_the_stallion8 said the hostess was a bit confused at their request for frozen rolls, but the manager knew exactly what they were talking about.
The manager said Texas Roadhouse does sell frozen rolls to people during the holidays. BUT there is a sign up sheet. And it is not online. The manager said you have to call your local Texas Roadhouse or sign up in person to secure your frozen rolls. And the secret is, you need to get on the list the week before Thanksgiving. So good luck!
Ten Iconic Oklahoma Restaurants You Have To Try
I think it's fair to say that each state probably has its own legends when it comes to restaurants. Pennsylvania has cheesesteaks, New York has wings and pizza, Texas has Franklin BBQ and Tex-Mex, etc...
Oklahoma is no different.
Birthed into statehood as a cattle state, there's no shortage of beef on any menu here, but there's a little room for chicken and fries too. Here are the absolute, hands down, best restaurants, in no particular order, everyone has to try in The Sooner State.
Gallery Credit: Kelso
10 Oklahoma Hallmark holiday hometowns you can visit
Looking for someplace special to spend the holidays? The Sooner State has you covered with some of the best towns and cities to get into the Christmas spirit. If you've ever wanted to visit a place that feels like it came out of a Hallmark movie you're in luck. Check out these ten Oklahoma Hallmark holiday hometowns to experience the small-town charm and friendliness of some of Oklahoma's best-known holiday destinations. Each has its own unique traditions and holiday events that will surely get you into the spirit of the season. From amazing lights and displays to performances and festive family fun you'll find in the Sooner State.
Gallery Credit: Don "Critter" Brown