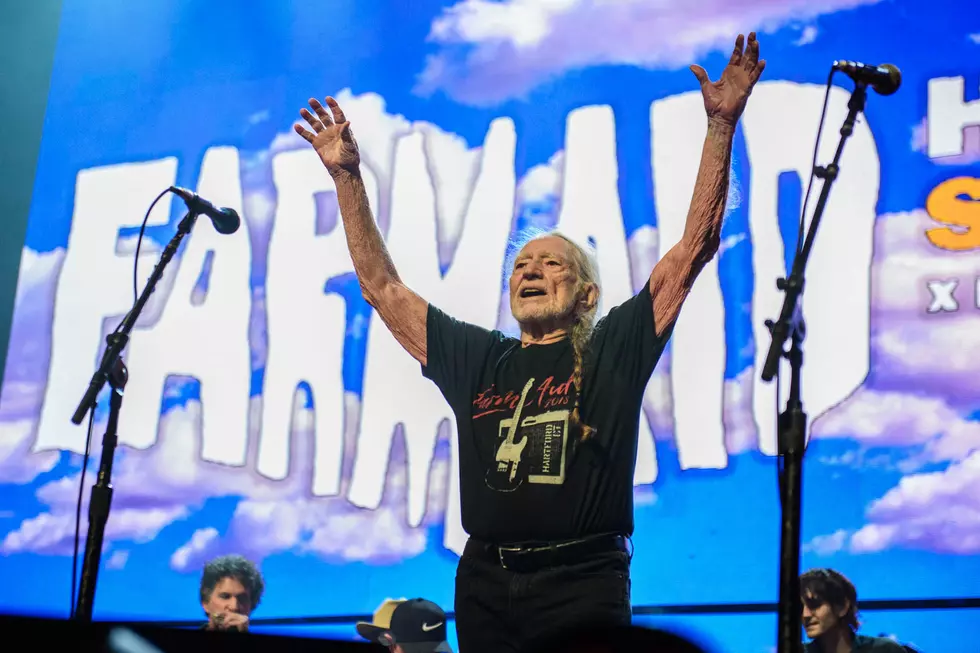 Willie Nelson, His Kids + His Disciples Fight for Family Farms at Farm Aid 2018 [PICTURES]
Maria Ives
"It's been 33 years and things still aren't perfect," Willie Nelson said during a press conference preceding Farm Aid 2018 on Saturday (Sept. 22) at the XFINITY Center in Hartford, Conn. "So, we'll do this until they are."
It was an understatement by Nelson: Things are far from perfect for family farmers. Throughout the day, in addition to performances from the festival's stacked lineup, the audience learned about the importance of supporting local farm, and also about the hardships that non-corporate farmers face via a series of speakers and mini-documentaries.
If Nelson held back a bit during the press conference, his fellow Farm Aid founders -- Neil Young and John Mellencamp -- did not. Mellencamp referred to President Trump as a "madman," and encouraged everyone to "f--kin' vote!" in the midterms. He didn't only take aim at Republicans, though: "I'm not proud to say I'm a liberal," he said. "'Cause liberals are a bunch of cowards!"
Young also referenced Trump during the press conference, calling him "that d--khead in the White House." He said, "If you believe in Trump, vote for Trump. But if you don't believe in Trump, vote him out!"
Once the performances started, most artists stayed on message, referencing farming more specifically and avoiding discussion the Commander-In-Chief. Solo acoustic artist Ian Mellencamp (nephew of John) opened the show, followed by psych-folk band Particle Kid (led by Micah Nelson, son of Willie), then Lukas Nelson and Promise of the Real, whose leader is a powerful artist, equally comfortable as a frontman and a sideman (the band later returned to the stage to back Young). While you can hear echoes of his famous father in his singing voice, Lukas' guitar playing is much more influenced by Jimi Hendrix, Stevie Ray Vaughan and Neil Young.
"My family fell victim to the farming crisis in the 1980s; this cause is near and dear to my heart," said Margo Price, beginning her show behind the piano with "All American Made." Price -- who also joined Promise of the Real for their song "Find Yourself" -- spent most of her show on acoustic guitar, however, leading her great band through a quick set, including "Tennessee Song" and "Don't Say It." Midway through the closer, "Cocaine Cowboys," she put her guitar down and sat behind a second drum kit for an extended instrumental segment. She wasn't done with the stage just yet, though: Later on, during Nathaniel Rateliff & the Night Sweats' set, Price and Lukas Nelson reappeared for a medley of that band's big hit "S.O.B." and the Band's classic "The Shape I'm In."
Jamey Johnson took the stage next, with nothing but his acoustic guitar. "Everyone who stands on this stage has one thing in common: gratitude for you," he said to the many farmers in the audience. Some solo acoustic performances can begin to drag after a while, but Johnson is an underrated guitarist, and his jazz-inflected playing was interesting in its own right; of course, the lyrics to songs such as "In Color" and "High Cost of Living" hit as hard as ever in the acoustic format.
When Kacey Musgraves first hit the Farm Aid stage in 2013, she was a brand-new artist with songs that veered from mainstream Nashville's usual lyrical fare; five years later, those songs aren't as surprising as they were back then, and she's transformed from an upstart to a star. Musgraves' set was unique, and also the most modern-sounding of the day, while still maintaining a vintage vibe.
Sturgill Simpson didn't say much to the crowd, and he didn't need to: He let his guitar, vocals and incredible band do the talking. His five-song set, including "Brace for Impact (Live a Little)" and "It Ain't All Flowers," showed that he's not only a soulful singer but a guitar hero who should be discussed in the same conversations as country's other six-string greats.
Farm Aid features a number of booths and food stands at which fans can learn about and support local agriculture, as well as seminars on "The Importance of Voting Local," "Livestock and Regenerative Grazing" and more. For most of the day, the seated area of the festival grounds was never completely full. That changed the minute Chris Stapleton hit the stage, however. His eight-song set (which Willie Nelson's harmonica player Mickey Raphael sat in for most of) was his first Farm Aid appearance -- but it likely won't be his last.
"I grew up in Kentucky with a lot of family farmers," Stapleton shared from stage. "My buddies are farmers."
As always, Willie Nelson closed out Farm Aid 2018 -- sons Lukas and Micah in tow as part of his backing band -- with a hits-filled set that included "Whiskey River," "On the Road Again" and a number of Hank Williams covers. Lukas took lead vocals for "Texas Flood," a blues song popularized by Stevie Ray Vaughan, while his dad looked on with pride and unleashed his most fiery guitar work of the night. If the elder Nelson ever retires from the festival, it's easy to imagine Lukas taking over his father's responsibilities -- and being one of the festival's perennial draws.
To learn more about Farm Aid, how the organization helps farmers and how that work affects you, visit their official website.