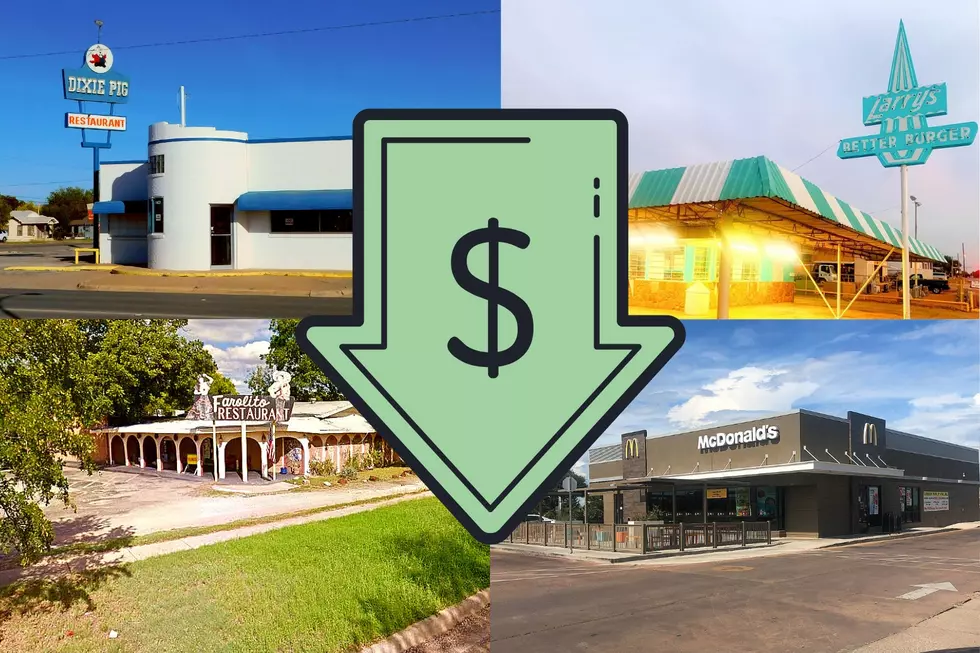 Eating on the Cheap in Abilene and the Big Country My Top 5
Photo by: Rudy Fernandez / Canva
To be perfectly clear when I'm saying "eating on the cheap" I mean "inexpensive". I've got to set up some ground rules, here's why my wife, Donna & I eat for cheap and we have found some awesome places right here in Abilene and the Big Country that offer some pretty good deals on food.
Furthermore, when we go out to eat we sometimes share something, that's because I've noticed that we are both eating less and some restaurants serve enough food to feed an army. Now if one of our kids joins us then there's more food we are putting in the doggie bag. By the way, woof, woof I'm that doggie.
Just the other night we went to the Roadhouse where my wife and I shared the steak and chicken dinner plate. Once again, that plate, in particular, in my opinion, is a lot of food for one person. 6oz sirloin and 8oz of bar-b-qued chicken with two sides and the bread, we both enjoyed a dinner out for less than $12 each.
Okay, on to the other places I've found that are delicious foods around the Big Country and are what I call "eating on the cheap."
1.
Larry's Better Burger takes the #1 spot on my list because he's really never raised the prices much since he opened in 1952. You can still get the 4 large burgers for $9.00 their family value deal. Better yet if you'd like the smaller burger you can get 6 small burgers for only $8.50. Of course, the fries are extra only $1.65. By the way, forget your debit or credit cards and no checks, they are cash only.
Another secret about Larry's Better Burgers is the fact that they have some incredible milkshakes, I know this because every time my wife and I go to Larry's we'll order one and share it on the way home. Yes, we have our dessert before we eat our burgers.
2.
The Dixie Pig Hands down, located at 1401 Butternut, and an Abilene landmark since it opened in 1931. The city of Abilene's Landmarks Commission unanimously added the Dixie Pig to the City's historic register. If you have never eaten at the Dixie Pig then you ain't a West Texan. For starters, they're only open until 2 pm Monday through Saturday. They offer two eggs, hashbrowns, biscuits, and gravy for only $5.95, and yes it's so good you are going to slap yourself for not coming sooner.
The Dixie Pig has been one of my favorite eateries for years, but please be advised they do not accept checks and they recently installed a single standalone teller 24 machine as they only accept cash.
3.
Farolito's Mexican Restaurant has a lot of great values but the one that gets me every time is their awesome fiesta plate because it comes with a taco (your choice crispy or soft) an enchilada, a tamale, rice, beans, chips, and salsa and it only costs $7.95. As one of the longest-standing restaurants in Abilene Farolito's still has the same great food as it did when it opened in 1936.
4.
McDonald's, although the burgers are nowhere near the same caliber as a Larry's Better Burger. The dollar menu brings McDonald's into this list of mine. McDonald's offers a few affordable items. So, what is on the $1 Menu at Mcdonald's? For $1, you have your choice of a McChicken, a cheeseburger, any size soft drink, or a sausage burrito. As for the $2 menu, you can get two buttermilk crispy tenders, a bacon McDouble, a small McCafé; and my favorite the sausage McGriddle.
Now, for $3, you can get a sausage McMuffin with egg, a triple cheeseburger, a Happy Meal, or the brand-new Classic
5.
You pick, Taco Bueno, Taco Bell, or Taco Casa. Again the dollar menu and/or party tacos and burritos get in on price alone. I remember when I moved away to Kansas I had to drive 21 miles on the Kansas Turnpike just to get my Taco Bueno fix.
Now let's transition to the restaurant style of eating out on the cheap. the next two make it because, well let's face it breakfast foods are always inexpensive. This reminds me of what I taught my boys before they ever entered the corporate world. I would advise them "When it comes to buying lunch and or dinner always suggest meeting early and do breakfast before we get to the office and I'll buy". Then let the other schmucks spring for lunch or dinner because they're traditionally more expensive anyway. Good Eating Y'all.
50 Most Popular Chain Restaurants in America
YouGov investigated the most popular dining brands in the country, and Stacker compiled the list to give readers context on the findings. Read on to look through America's vast and divergent variety of restaurants—maybe you'll even find a favorite or two.