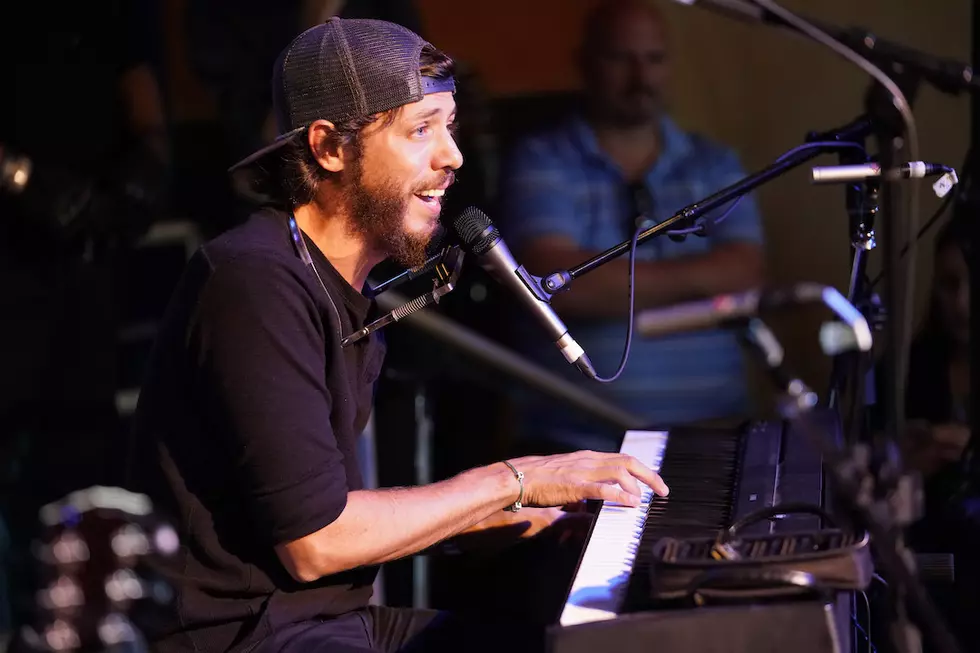 Chris Janson's 'Good Vibes' + 7 More New Country Music Videos
Ed Rode, Getty Images
Country stars released tons of new music videos for fans to jam out to this week, including -- appropriately enough, for International Women's Day -- a broad selection of videos by bada-- female country artists. Read on to check 'em out!
Chris Janson, "Good Vibes":
Chris Janson's "Good Vibes" music video brings sunshine and positivity--something we all need. The video, directed by Michael Monaco of FlyHi Films, features Janson, his wife Kelly and their kids. "Most of it is new footage with us at home and out in the country riding around," Janson tells Billboard. There's some older footage of the family mixed in as well as several random acts of kindness and happiness--and it's not "actors or stock footage" in the video, says Janson . They include a soldier coming home to his family, policemen playing basketball with kids, an older couple walking hand-in-hand and other heartwarming moments. -- CV
Devin Dawson, "Dark Horse":
Devin Dawson's "Dark Horse" music video was directed by Justin Clough and filmed in black and white. He calls it "one of the most amazing experiences I've ever had as a creator" (Facebook). Dawson appears as a criminal in an interrogation room and an artist in a recording studio--and for a reason: "Both places people confess their stories. I loved the grit and honesty to the story & how it related to the song, & my own confession of my truth," he says. -- CV
Runaway June, "Buy My Own Drinks":
Naomi Cooke, Hannah Mulholland and Jennifer Wayne of country trio Runaway June have released the video for "Buy My Own Drinks," and it's a whole lot of fun. The video includes flashbacks to their younger years, when they were each dreaming big: One being a musician, one a dog groomer and one a painter. It's juxtaposed with the now-grown women doing exactly those things and living out their dreams. "The 'Little Junes' were the perfect way to capture that carefree feeling of returning to your inner child and getting a little wild," says Cooke in a press release."In doing that we can find true liberation." -- CV
Thompson Square, "Masterpiece":
Shawna and Keifer Thompson of country duo Thompson Square give fans a look at personal childhood memories, their wedding day and current life with their three-year-old, Cooper, for their "Masterpiece" music video. New footage of the couple singing was filmed in Keifer's hometown of Miami, Okla., and interspersed with the various older footage--some of it shot on eight-millimeter film. Kiefer sorted through film reels from 1973 to 1985 to help create this video, which was directed by Evan Kaufmann.
"There's nothing cooler to me than that old eight-millimeter look," Shawna tells Taste of Country. "We wanted to tell a story of a generational kind of thing with 'Masterpiece,'" Keifer adds. "About how Cooper is our masterpiece, and how I and my sister were my parents' masterpiece and so on, and we thought it would be a really cool way to do it, by incorporating some of that eight-millimeter footage and shooting it in my hometown." -- CV
Lucie Silvas, "Black Jeans":
The music video for Lucie Silvas' mid-tempo love song,"Black Jeans," opens up in a black and white world. Silvas gets out of bed and makes her way to the kitchen for a wake-up shot of whiskey, curlers and all, where the world becomes colorized. Silvas wanders around the house, moving from kitchen to bathroom for a bath, and finally back to the bedroom, where she gets dressed, all the while singing about what makes her feel alive: Namely, how a certain someone sees her once she dons her black jeans. "It's just a girl at home, obviously, in hair rollers and a vintage-style nightgown, a bit of a throwback," Silvas tells Billboard. "I appear in a blond wig, trying out a bunch of different personas, and it comes back to that very simple thing in the end, just being myself and being casual." -- LS
Ingrid Andress, "Lady Like":
Ingrid Andress kicks the girl power up a notch in the music video for "Lady Like," where all the shades of pink, posture exercises and domestic activities don't make Andress as "lady-like" as her rule-bending, etiquette-violating style does. Backed by ballet dancers in pink pant suits, the artist is unapologetically feminine in her own wild way... she's a lady like that. -- LS
Jade Bird, "I Get No Joy":
Jade Bird is creating a mini-movie in the music video for her song, "I Get No Joy." The video adopts a gritty retro feel, set in on a muddy demolition track where the singer careens around in a battered vintage Trans Am, plowing through props and rocking her battle wounds with indifference. With each take of the scene, she gets a little more bloodied, only to be cleaned up by the makeup crew and sent back for another round. On the final take, she spins out and takes off on her own cross country adventure, leaving the joyless set behind her. -- LS
Della Mae, "Bourbon Hound":
Della Mae has said their mission is to showcase female musical talent and "to improve opportunities for women and girls through advocacy, mentorship, programming, and performance," and the video for "Bourbon Hound" seems to accomplish that, as a houseful of talented girls gather for a good old fashioned drink and jam session, featuring some of the finest female string musicians in the industry today. -- LS