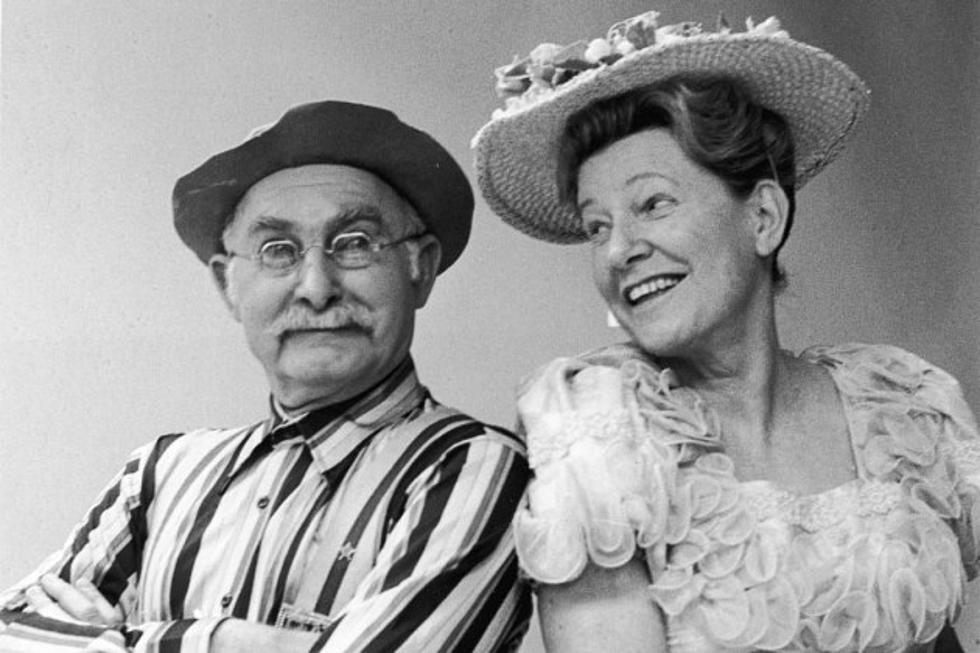 'Hee Haw' Highlights: The Country Variety Show's 10 Best Moments
NBC Television
Set in the fictional Kornfield Kounty, Hee Haw was a TV show unlike any other. Part variety show, part sketch comedy show and part musical performance show, the program was known for getting the biggest stars in country music to don a pair of overalls, slap on a straw hat and tell unbearably corny jokes on live television.
A total of 655 Hee Haw episodes were produced over the show's 26-season run. Hosted by Buck Owens and Roy Clark, the show featured a few guest celebrities, who would star in sketches and perform live music, on each episode. Loretta Lynn was the show's first guest star, followed by Tammy Wynette; in the years that followed, guest stars who appeared on the show included George Jones, Merle Haggard, the Oak Ridge Boys, Johnny Cash, Tanya Tucker, Randy Travis, Dolly Parton, Marty Stuart, Wynonna and Naomi Judd, Glen Campbell, Garth Brooks and many, many more.
In the time that it was on the air, Hee Haw featured countless memorable performances and recurring sketches, still beloved by audiences. Read on for what The Boot thinks are the most memorable moments in Hee Haw history:
10

George Jones Performs "White Lightning"

Jones gave countless performances of the song "White Lightning," but few were as memorable as his performance of the song on Hee Haw. Jones first released the track as a single in 1959; it became his first No. 1 single and was considered his signature song by the time he performed it on the third episode of Hee Haw's debut season. His rousing, upbeat rendition brought the crowd to its feet.

Roy Clark would later take a crack at the track, performing "White Lightning" on Hee Haw in 1971.

9

Tammy Wynette Sings "I Don't Wanna Play House"

Wynette's performances of her ahead-of-its time hit "I Don't Wanna Play House" were always electric, and the moment she stepped on the Hee Haw set wearing a glittering red dress in 1969 is no exception. She carried herself like a seasoned pro: Staring straight at the camera, she delivers a simple, powerful, straightforward performance. When she sings the final lines -- "I don't wanna play house / It makes my mommy cry / 'Cause when she played house / My daddy said goodbye" -- the audience response is huge, immediate and enthusiastic.

8

Charley Pride Sings "All I Have to Offer You (Is Me)"

When Pride performed his song "All I Have to Offer You (Is Me)," on the Hee Haw stage, it was a big moment for a big song. "All I Have to Offer You (Is Me)" was the first single off of Pride's 1969 album, The Best of Charley Pride, and it became his first No. 1 hit on the country charts. Until that moment, it had been 25 years since a black artist had topped the country charts (the last person to do so was Louis Jordan, with his song "Is You Is or Is You Ain't My Baby" in 1944). Pride would go on to appear on 14 episodes of Hee Haw.

7

It says a lot about Hee Haw that the best-known recurring song on the show -- "Pfft! You Was Gone" -- featured its singers blowing raspberries. One particularly special performance of that track took place during the show's 10th anniversary episode: Writer Bix Reichner penned a new version especially for the episode, and Gordie Tapp and Archie Campbell performed it. Dressed in straw hats, checkered shirts and overalls, the two gave a hammy performance, trading lines until they reached the chorus together: "Where, oh where, are you tonight? / Why did you leave me here all alone? / I searched the world over and thought I'd found true love / But you met another / And pfft! You was gone."

6

Loretta Lynn Performs With Conway Twitty

Lynn and Twitty were two of Hee Haw's most beloved guest stars, so when they joined forces on a 1973 episode, it was a particularly special treat. Both decked head to toe in green, they launched into a duet of "Never Ending Song of Love,"written by Delaney Bramlett and recorded by artists including John Fogerty, Earl Scruggs, Ray Charles, George Jones and Tammy Wynette, and more. Lynn would go on to appear on Hee Haw 24 times between 1969 and 1990, and Twitty would guest star eight times. Their recording of "Never Ending Song of Love" appears on their 1971 album of duets, Lead Me On.

(Editor's Note: To see their performance, skip ahead to 36:36 in the video below.)

5

One of Archie Campbell's continuing bits -- both on and off Hee Haw -- was to tell stories with the first letters of words and phrases intentionally flipped. That habit brought viewers "Rindercella," a re-telling of the fairy tale Cinderella, and one of Hee Haw's most popular sketches. Campbell plays a barber cutting the hair of a client (played by Roy Clark) who complains that his kids don't pay attention to his stories. Campbell recommends telling stories backwards: Rindercella, he explains, is the story of a girl who "slopped her dripper" ("dropped her slipper"), and the tongue-twisting tale continues from there.

4

Hank Williams Jr. Channels His Father

Hank Williams Jr. was always game to goof around on Hee Haw, whether it was by telling jokes in the cornfield, joining in on "Pfft! You Was Gone" or performing on the music stage. Throughout his appearances, he sang plenty of his own hits, including "I'm for Love," "This Ain't Dallas" and "Ain't Misbehavin'." One of his most memorable performances, however, came when he covered one of the songs his father made famous, "Mind Your Own Business." Wearing his signature cowboy hat, beard and sunglasses, Williams Jr. created an electrified version of the classic, and the crowd loved it; in fact, his version of his dad's 1949 song hit No. 1 on the charts for two weeks in 1986.

3

Hee Haw was hosted by Roy Clark and Buck Owens for most of its time on television, with the two sharing hosting duties, interacting with the guests, helming sketches and performing songs together. They performed together so frequently, in fact, that it's hard to pick their most memorable performance, but it may well have occurred on Hee Haw's 10th anniversary show. After all of the cast members are announced to applause, Owens and Clark appear onstage and lead them all in a rousing rendition of "You Are My Hee-Haw," a song put to the tune of "You Are My Sunshine." It's ridiculous, silly, entertaining and fun to listen to -- in other words, a pure distillation of everything Hee Haw.

2

Grandpa Jones Can't Remember Who Garth Brooks Is

He would eventually become one of Hee Haw's most beloved guests, and one of its biggest proponents, but Garth Brooks was a brand-new country star when he first appeared on Hee Haw in 1990. Perhaps that explains why, during the "Comedy in the Cornfield" segment, Grandpa Jones absolutely cannot remember Brooks' name. Brooks is giggly from the outset, barely making it through a single joke, but no moment is better than when Grandpa Jones looks at Brooks, fully draws a blank and decides to call him "Clint" -- as in Clint Black, a man who was, at that time, a much better-known artist than Brooks. No one in the studio, Brooks and Grandpa Jones included, could keep it together after that.

1

Roy Clark Butchers "Folsom Prison Blues"

One recurring gag on Hee Haw involved Roy Clark and his inability to play the song "Folsom Prison Blues" accurately. For example, Clark would start playing the opening guitar licks, sing the word "Well," and then pause indecisively before singing it over and over again while the audience laughed and laughed. The most memorable of those performances came in 1973, though, when Johnny Cash himself joined Clark to perform "Folsom Prison Blues" live on Hee Haw. Clark's antics throughout -- from making his guitar sound like a gun to ad-libbing lines in silly voices to an impressive trick where he plays the song's guitar solo by turning a glass cup into a makeshift slide -- showed off Clark's sense of humor and his genuine talent, and had Cash laughing the entire time.