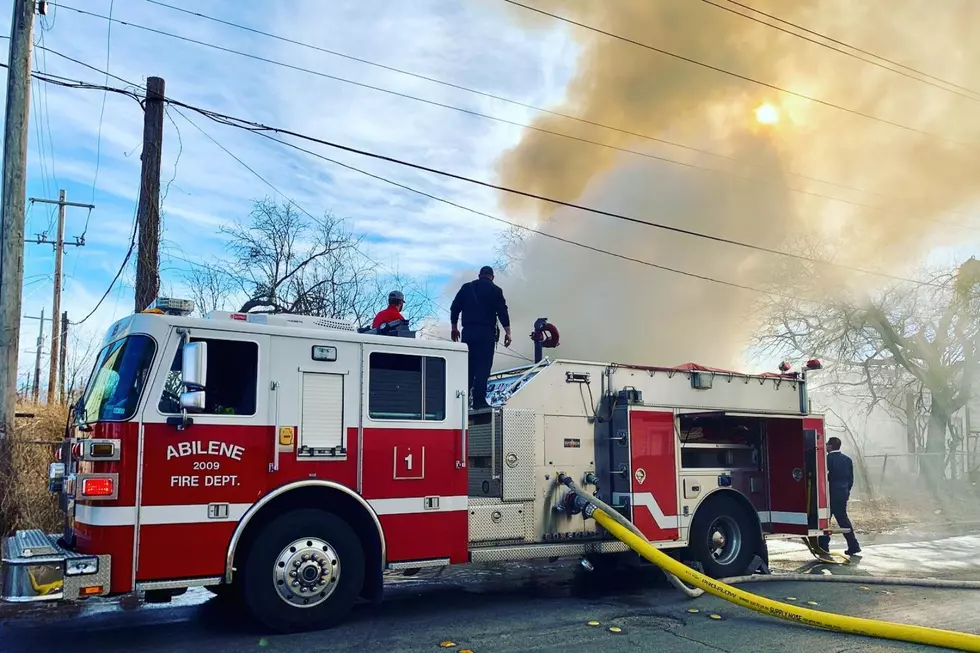 Abilene's Fire Marshall and Fire Department Ain't Playing Anymore
Photo by: Facebook/AFD/Alise Roberts
Due to the extreme dry season, we're having this summer, fires are popping up everywhere in and around Abilene. The Abilene Fire Department issued a statement saying they will NOT be issuing "warning citations" but will issue actual citations for any burn ban violations or for those burning recklessly. It's a Class-C misdemeanor with a fine up to $500.
On my way into the office yesterday I sat in the parking lot and watched two fire trucks and a fire pumper rushing eastward on South 1st St. Then two hours later I hear the sirens from the studio only to see three fire trucks rushing in the opposite direction. While I was driving home I had to pull to the side of the road to allow three fire trucks that were headed to yet another fire call.
The extremely hot temperatures and the dry season have turned Abilene into a hotspot for all types of fires. So, it's no surprise that I received a press release from Abilene's Fire Marshall stating that the Abilene Fire Department (AFD) will now be issuing citations for anyone caught to be in violation of the burn bans that are currently in effect in Abilene.
The excessive temperatures this summer, coupled with a lack of precipitation, have created ideal conditions for grass fires to initiate and quickly grow into large events. In order to minimize the potential for hazardous fires, the Abilene Fire Department will strictly enforce the Abilene Fire Code, Section 307, as it relates to outdoor illegal burning. Personnel from the Fire Marshal's Office will issue citations to any individuals participating in illegal burning within the city limits of Abilene. Outdoor cooking fires are still permitted as long as they are contained and monitored. Source: Abilene Fire Dept.
Abilene city officials from the Public Relations Director to the AFD's Public Information Specialist have all told me that the fire department writes a lot of warning citations. However, due to the dangerous situation, AFD says "we're NOT writing any more warnings citations and we WILL be writing citations from here on out.
The AFD's Public Information Specialist Elise Roberts told me that "cooking fires are not on the burn ban and they're not illegal at this time. Propane or charcoal barbeque grills with a grate over the top are considered cooking fires." However, one must monitor all flames at all times, and extinguish them once done.
LOOK: The most expensive weather and climate disasters in recent decades
Stacker
ranked the most expensive climate disasters by the billions since 1980 by the total cost of all damages, adjusted for inflation, based on
2021 data from the National Oceanic and Atmospheric Administration (NOAA)
. The list starts with Hurricane Sally, which caused $7.3 billion in damages in 2020, and ends with a devastating 2005 hurricane that caused $170 billion in damage and killed at least 1,833 people. Keep reading to discover the 50 of the most expensive climate disasters in recent decades in the U.S.