'The Expendables 3′ Won't Have Steven Seagal, Needs "New Blood"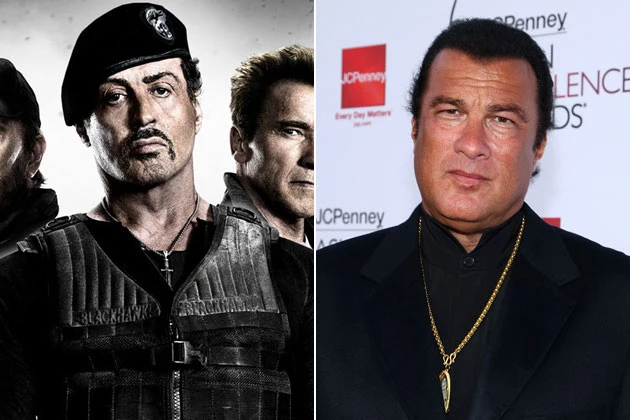 The last we heard on 'The Expendables 3' front was that Sylvester Stallone was looking for some new blood to join the team, along with mainstays like Arnold Schwarzenegger and Dolph Lundgren. And here's an update…he still is!
Just the other day, Sly Stallone sent out a couple updates on his upcoming 'Expendables 3′ via Twitter, the first of which announced that he's in the middle of writing the script and that there will be "mountains of surprises." For one:
EX3 needs NEW blood and more humor…. The films were always meant to be more on the humorous side with moments of drama

— Sylvester Stallone (@TheSlyStallone) March 13, 2013
This bit isn't new news, and for a while, we thought some of this new blood might include the likes of Nicolas Cage and Jackie Chan. While the Cage rumor was quickly debunked, apparently the Chan report, which seemed quite solid, is now unofficial. Oh, and if you were hoping Steven Seagal would be suiting up too…
No S. Seagal, sorry ,but maybe we get lucky with J. Chan! And some young bloods!!!

— Sylvester Stallone (@TheSlyStallone) March 13, 2013
By young I mean 22 to 27. Not big bruisers but tech wizard, super brains and a young woman who is not a sex symbol but funny ,tough,REAL

— Sylvester Stallone (@TheSlyStallone) March 13, 2013
Another member of the 'Expendables' team who won't be returning is Chuck Norris, who expressed disinterest in returning for a third installment. With him gone, might they need another big-name veteran action star? Say…Wesley Snipes? Lundgren previously stated that he's being eyed for a role, though time will tell who exactly will make up this "new blood."
First things first, thought, let's finish that script, Sly!

Source:
'The Expendables 3′ Won't Have Steven Seagal, Needs "New Blood"