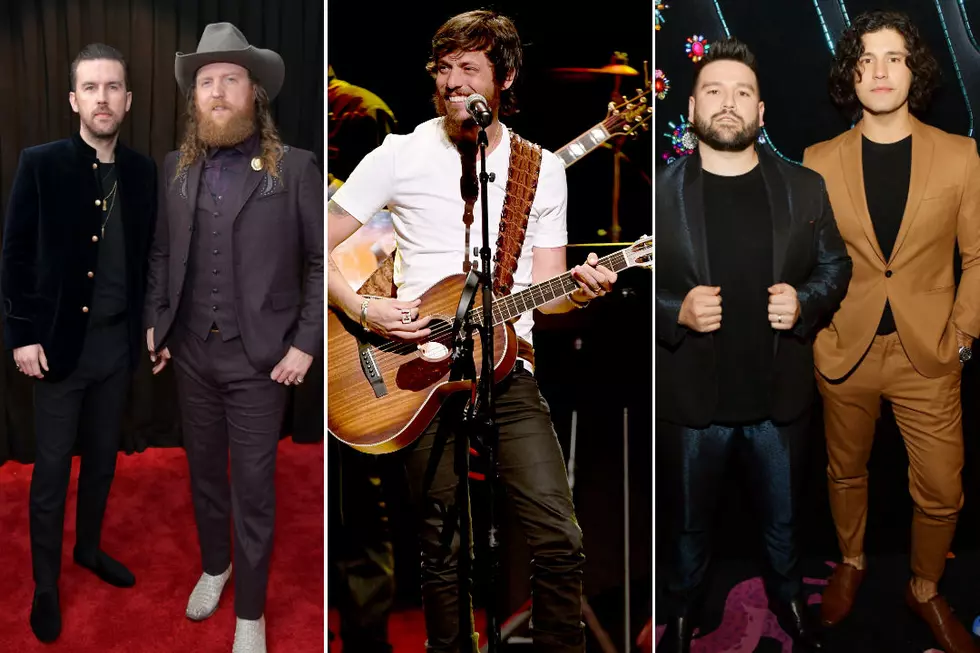 POLL: Who Should Win Video of the Year at the 2019 ACM Awards?
Neilson Barnard / Jason Kempin / Matt Winkelmeyer, Getty Images
The ACM Video of the Year trophy is awarded to the producer(s), director(s) and artist(s) behind the winning music video. In 2018, Brothers Osborne's rowdy, Point Break-esque clip for their single "It Ain't My Fault" took home the prize, and in 2019, there's a stellar lineup of entertaining and moving videos nominated.
Sugarland's retro-inspired "Babe" music video, featuring the song's co-writer and harmony vocalist, country-turned-pop superstar Taylor Swift, was produced by Roger Hunt and directed by Anthony Mandler. It captures all the glam and drama of the mid-century middle class, while Midland's honky-tonk-set "Burn Out" video, produced by Ben Skipworth and directed by TK McKamy and the trio's Cameron Duddy, throws back to a different era social class.
"Burning Man" is Dierks Bentley's soaring anthem, and its music video is set against a desert backdrop and features last year's category winners, Brothers Osborne, who collaborated with Bentley for the track. The video was produced by Nate Eggert and directed by 2018's Video of the Year-winning winning director, Wes Edwards. BROS are also nominated in this category for their "Shoot Me Straight" video, another madcap comedy, which was produced by April Kimbrell and directed by Edwards along with Ryan Silver.
Chris Janson shot his music video for "Drunk Girl," produced by Ben Skipworth and directed by Jeff Venable, on Nashville's Lower Broadway, in the wee hours of the morning. Dan + Shay's award-winning song "Tequila," meanwhile, has a sweeping music video to match; it was produced by Christen Pinkston and directed by Patrick Tracy.
Who do you want to see win Video of the Year at the 2019 ACM Awards? Make your pick by voting in the poll below; you can vote as often as once per hour through 11:59PM ET on April 4. We'll share the results, along with our staff predictions, prior to the 2019 ACM Awards on April 7.
The 2019 ACM Awards will be broadcast live from Las Vegas, Nev., beginning at 8PM ET. Reba McEntire will host the show.
2019 ACM Awards: 7 Ways the Nominations Surprised Us
How Well Do You Know the ACM Awards?