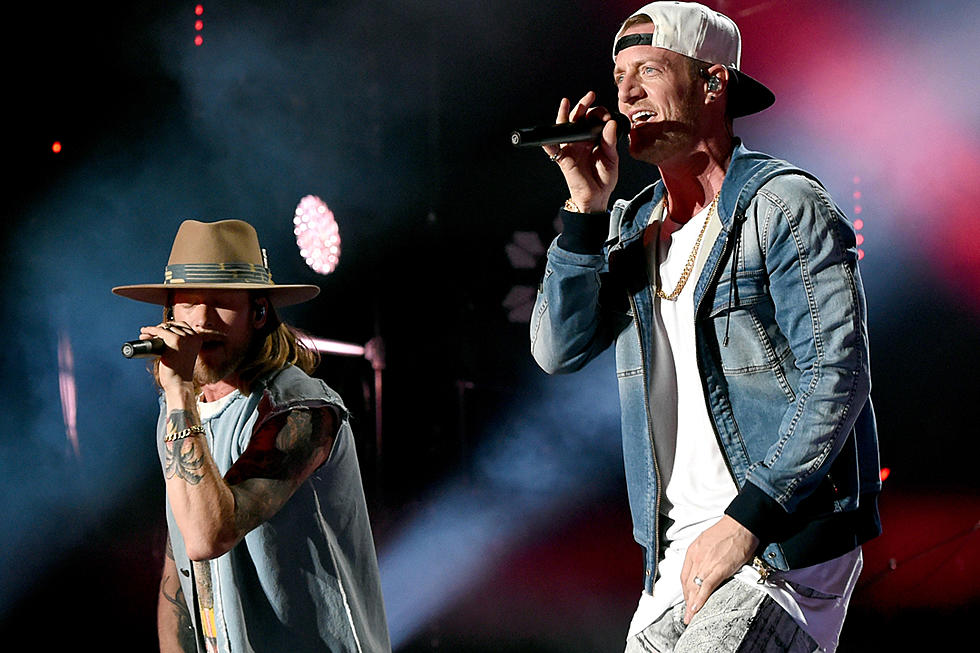 Florida Georgia Line's Tyler Hubbard's Daughter Makes Stage Debut [Watch]
Rick Diamond, Getty Images
From their music to their personal life, Florida Georgia Line's Brian Kelley and Tyler Hubbard have been on quite an emotional journey since bursting onto the country music scene back in 2012. The latest chapter of that journey was shared with fans on the night of April 4, as the country music duo played a show in downtown Nashville as part of the unveiling of the Tennessee Titans' new jerseys for the upcoming season.
Before tearing into their heartfelt ballad "H.O.L.Y.," Hubbard took the time to make an emotional introduction.
"Look at this little angel," he told the crowd, as his wife Hayley walked onstage with their baby daughter Olivia cradled in her arms. "This is her first concert. That makes me feel kind of weird inside, kind of emotional and grown up." Click above to watch.
Kelley's wife Brittany also made an appearance at the all-white piano; stealing a few kisses from her hubby, much to the crowd's delight.
"BK and I are two of the luckiest guys in the world to have these ladies by our side—day in and day out, and on and off the road," Hubbard continued. "We wouldn't be here tonight without these girls in our life. Nashville, can we sing a love song together?"
Does it get any sweeter? Of course it could! All of these ladies (and then some) will be rooting for the duo come April 15, as Florida Georgia Line is up for ACM Vocal Duo of the Year at the 53rd annual Academy of Country Music Awards in Las Vegas.
Test Your Florida Georgia Line Knowledge!