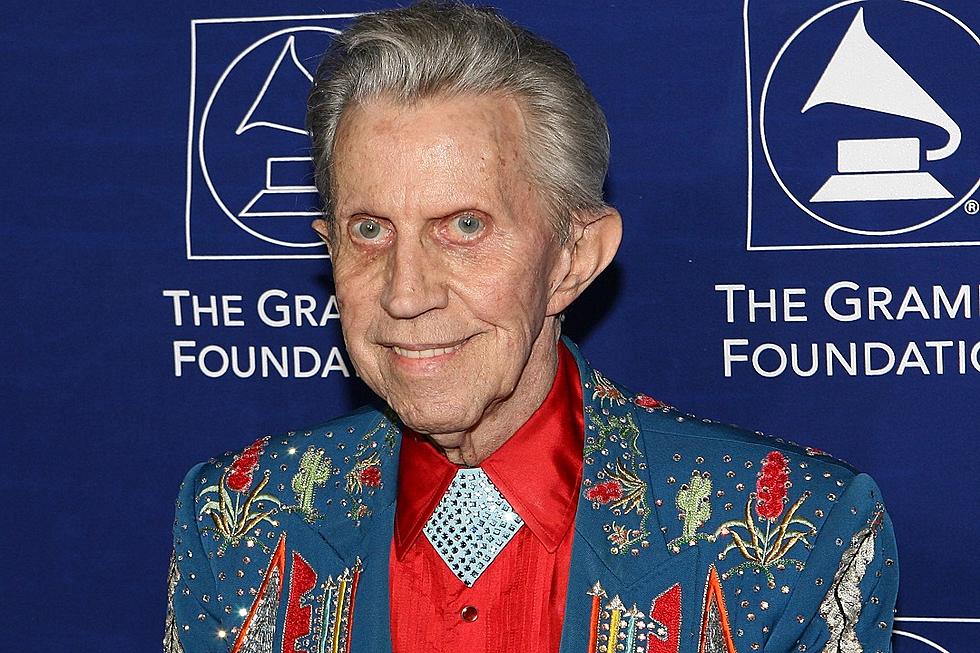 Top 10 Porter Wagoner Songs
Ryan Miller, Getty Images
Few country stars in the 1950s sounded or looked cooler than Porter Wagoner. "The Wagonmaster" stuck with his blond pompadour, flashy Nudie suits and distinct honky-tonk sound in the '60s as the business changed around him. Staying the course earned Wagoner an honored spot as the longtime second-in-command and eventual heir apparent to the heart and voice of the Grand Ole Opry, Roy Acuff.
Wagoner, born on Aug. 12, 1927, in West Plains, Mo., turned his success as the writer of Carl Smith's 1953 hit "Trademark" into a long solo career. His run of charted singles began in 1954 with the Top 10 hit "Company's Comin'" and lasted all the way through 1983's Top 40 entry "This Cowboy's Hat."
He's just as well-known for his long-running television program, The Porter Wagoner Show, which lasted from 1960 to 1981. A huge part of the syndicated show's legacy first unfolded in 1966, when Dolly Parton replaced Norma Jean in the "girl singer" role featured on most television programs of the time. Parton's growing fame positioned her and Wagoner to become a popular duo with their own albums and singles, including the 1974 No. 1 hit "Please Don't Stop Loving Me." Eventually, Parton left the show for greener pastures, prompting her to write the song "I Will Always Love You" to thank Wagoner.
Until the end, Wagoner remained a larger-than-life star. In the months before he died on Oct. 28, 2007, the 80-year-old celebrated 50 years as an Opry member and became one of the first country legends honored by Jack White when he opened for the White Stripes at Madison Square Garden.
Read on to find out how The Boot ranks 10 of the best songs from Wagoner's catalog as a solo artist and duet partner:
10

"The Rubber Room"

From 'What Ain't to Be, Just Might Happen' (1972)

You need to hear the most bizarre single by any Country Music Hall of Famer to wrap your head around its existence. Wagoner's interpretation of a mental breakdown tops the unease chased by many of the prior decade's proto-punks and garage rockers.

9

"I've Enjoyed as Much of This as I Can Stand"

From 'The Porter Wagoner Show' (1963)

Wagoner and songwriter Bill Anderson made a great team, as proven by this list's No. 1 pick (no peeking yet!). In this instance, Wagoner brings almost a crooner-like vocal quality to this Anderson-penned blend of a love song and a smart-aleck retort.

8

"Sorrow on the Rocks"

From 'The Thin Man From West Plains' (1964)

This unlikely pick was the B-side to the equally great "The Life of the Party." It's an upbeat drinking song penned by Tony Moon, the longtime music director for Brenda Lee and the writer of the Beatles deep cut "Soldier of Love."

7

"Green, Green Grass of Home"

From 'On the Road: The Porter Wagoner Show' (1966)

Wagoner made this often-covered song a Top 5 hit. It quickly entered others' country repertories, including the songbooks of Bobby Bare and Jerry Lee Lewis, before transcending genre classification.

6

"A Satisfied Mind"

From 'Satisfied Mind' (1957)

Wagoner's first No. 1 hit helped introduce a future standard to not just country music but also pop and the folk revival. It later became a title track of a Glen Campbell album and cover material for the likes of Joan Baez, the Byrds and Bob Dylan.

5

"Just Between You and Me" (with Dolly Parton)

From 'Just Between You and Me' (1968)

The title track of Wagoner and Parton's first collaborative album may not have been a single, but it exemplifies so many of the era's bright spots. Beyond a strong vocal performance by both stars, you get a song written by Cowboy Jack Clement and a crew of backing musicians highlighted by Pete Drake's steel guitar mastery.

4

"Misery Loves Company"

From 'A Slice of Life: Songs Happy 'n' Sad' (1962)

Wagoner's second chart-topper came from the pen of future Nashville star Jerry Reed. While prior picks crossed pop barriers, this song about drinking to forget heartbreak was destined to remain a sad country song.

3

"Skid Row Joe"

From 'Confessions of a Broken Man' (1966)

A Great Depression-era lyrical trope about downtrodden vagrants, exemplified by Hank Williams' definitive cover of the country-gospel standard "The Tramp on the Street," provided Wagoner with both a definitive hit and a stage alter ego.

2

"The Carroll County Accident"

From 'The Carroll County Accident' (1969)

Wagoner was so traditional in the days of Nashville Sound studio trickery that he successfully brought back the classic folk disaster song. Songwriter Bob Ferguson ("Wings of a Dove") even throws in a swerve about the narrator's tie to the deceased driver.

1

'The Cold Hard Facts of Life"

From 'The Cold Hard Facts of Life' (1967)

It's hard to imagine a better singer for this textbook example of Anderson's narrative-based, reality-driven songwriting. Plus, its story of betrayal and murder inspired the best of Wagoner's iconic and less than subtle album covers.