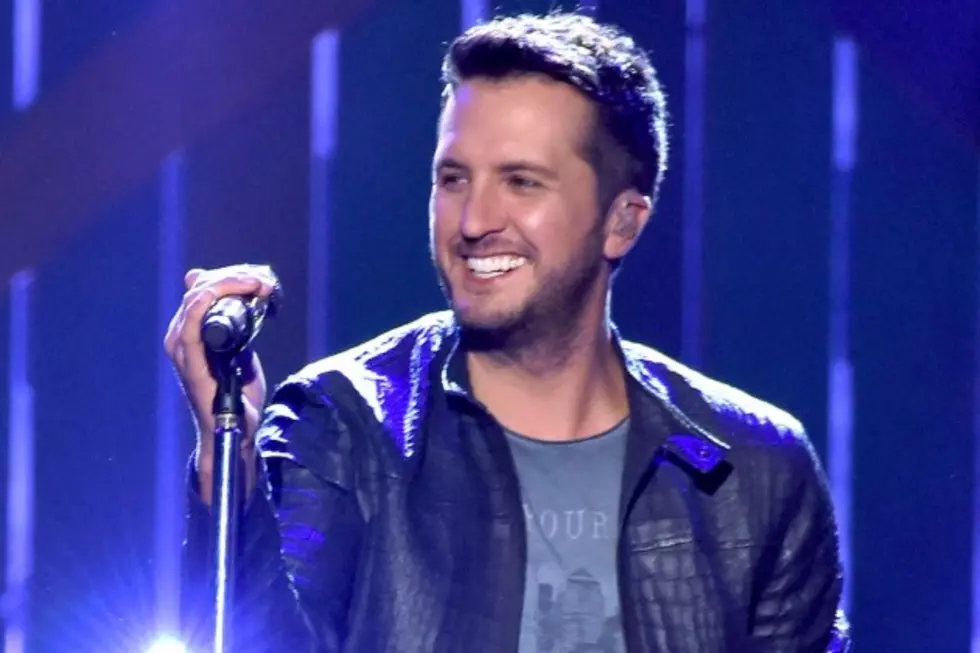 Top 5 Luke Bryan Music Videos
Kevin Winter, Getty Images
Luke Bryan is quite the entertainer. He's one of country music's funnymen and certainly knows how to have a good time both on stage and off. But he also has a soft side; he rarely shows it, but he's revealed it enough for us to know it's there. Bryan is the whole package: good looking, entertaining, sweet, hilarious and ultra-talented.
The Boot's picks for Bryan's Top 5 music videos capture the talented singer's personality and experiences as a whole. There's a clip that nods to his farming roots; one that shows how much of a good time he has on the road; a startlingly moving performance paying tribute to his late brother and sister; and other videos that range from simply entertaining to those with a bigger agenda.
5

There are several reasons we love this video: Bryan's gorgeous wife Caroline, makes an appearance; the entire video is based on a storyline; and a simple bouquet of flowers makes a huge difference in a couple's relationship.

In the beginning of the clip, two girlfriends are discussing a party, but one of them is afraid of going and running into her ex. Simultaneously, Bryan is prepping for a date with his wife: He's stringing twinkly lights, setting the mood and even stopping to pick a bouquet of wildflowers. But as Bryan backs his truck up to go get the flowers, his bumper hits the arrow pointing toward the party, sending the girl in the opposite direction ... and acting as an intervention of sorts. It's a super-sweet storyline, and the fact that Bryan's wife makes an appearance makes "Crash My Party" an extra-special video.

4

Every country fan knows Bryan's love of the farming community. He grew up as the son of a peanut farmer in rural Georgia and has always made it a point to proclaim his respect for farmers. This song -- his first No. 1 -- was born from a phrase Bryan and co-writer Dallas Davidson said when they were bummed about the rain: "Rain makes corn, and corn makes whiskey."

The music video, filmed at Hurricane Plantation in Claxton, Ga., features several farmers explaining their thoughts on rain and their dependence on it before "Rain Is a Good Thing" begins; interspersed throughout the clip is footage from Bryan's 2009 Farm Tour. It's a music video that pays homage to the country superstar's humble roots and casts a spotlight on some of the country's hardest workers: farmers.

3

This video, released in 2008, shows Bryan in all his baby-faced fineness, and it gives fans a hilarious look into life on the road with the singer and his band. "Country Man" was filmed over three show dates, and there are not one, but two special guests: One is Bryan's pal Dierks Bentley, and the other is a little less mainstream ... a pig named Squigley. The self-directed video shows Bryan and his band jamming from their bunks, lifting weights, dancing around, meeting fans and having a whole lot of fun. And, of course, it wouldn't be a Bryan video without a few of his booty-shaking dance moves.

2

Bryan's debut single, "All My Friends Say," is a song anyone who's had a little too much to drink can relate to. And the music video is even more relatable, bringing the lyrics into action.

In the video, the main male character wakes up in the front yard of his frat house, sleeping in a recliner and wearing nothing except his boxers, an empty beer bottle in hand. Clearly, he remembers nothing, as a college girl walks up and slaps him in the face. But, he must have done something right because two other girls walk up and kiss him on the cheek, much to his surprise. He flashes back to taking shot after shot -- and soon it's clear why he's drinking so much: He sees an ex-girlfriend getting cozy with another guy.

Fans can appreciate this video and song because it happens to the best of us. From waking up with a pounding headache, to not remembering the party the night before, to feeling angst when seeing your ex with someone else ... Bryan gained a lot of fans with this video's relatability and rockability.

1

There were lots of tears shed when Bryan sang "Drink a Beer" at the 2013 CMA Awards, especially because it was in memory of and a tribute to of his late siblings, Chris and Kelly, who passed away in 1996 and 2007, respectively. The touching video simply captures Bryan during that moving performance, sitting on stage on a stool, against a backdrop of trees and foggy mist.

The music video doesn't have any special effects, an entertaining storyline or elaborate staging -- and it doesn't need to. The song and Bryan's emotions are on point and captivating. At the end, a photo of his siblings appears, and a subdued Bryan turns around, stares at the picture and raises his beer can to them. It's easily one of the most honest and vulnerable performances we've ever seen -- and we salute Bryan for baring his heart and grief.