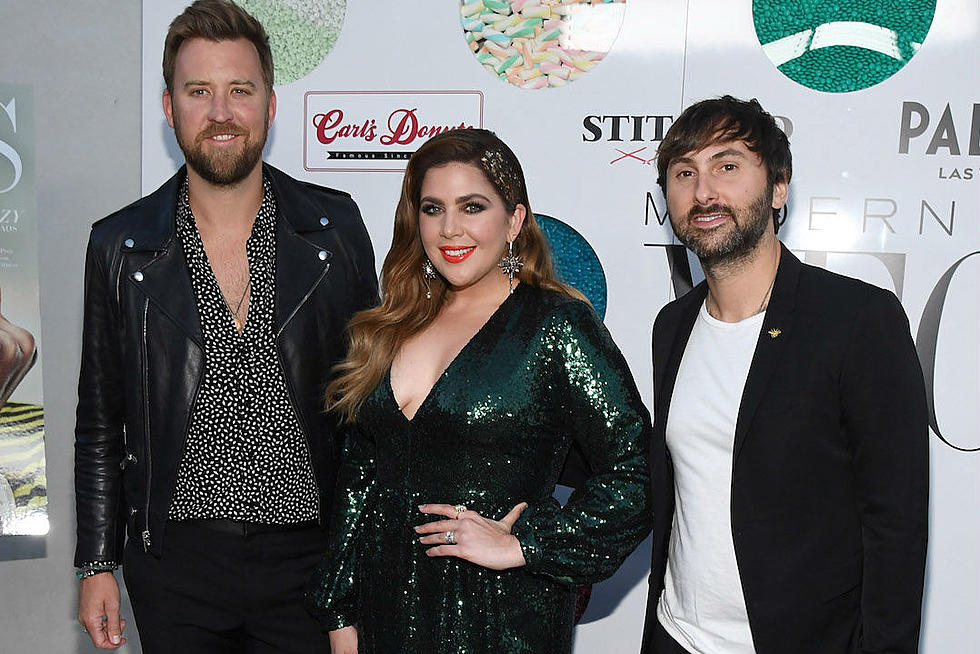 Top 5 Lady A Music Videos
Ethan Miller, Getty Images
Hillary Scott, Charles Kelley and Dave Haywood of Lady A are a trio made in country music heaven.
Since their debut in 2007, the threesome has nabbed seven Grammy Awards, released six records and won millions of country fans' hearts thanks to their catchy hits and supreme harmonies. They're also known for their always-interesting, highly entertaining, diverse range of music videos. The following are The Boot's five favorites.
5

"Lookin' for a Good Time"

This video is a barrel of fun, in which Lady A act as a singing group in a '70s variety television show. At the beginning, each trio member walks out onto the stage amidst screams from the audience (mostly women). As they perform the song, there's a couple sitting in front of them on a couch, presumably watching the show. Lady A invite them onstage to dance, and soon, the audience joins them, turning the music video into one massive dance party. One of the best parts of the clip? Scott's flirty, flapper-style dress, perfect for dancing all night long. This music video helped put Lady A on the map thanks to 2009 CMT Music Awards nominations for Video of the Year and Group Video of the Year.

4

For Lady A's "Bartender" music video, they called on several celebrities including Sports Illustrated model Kate Upton and actor Tony Hale. The video begins with Upton getting ready in front of her vanity when her friend, Scott, calls. They both hit the bar with friends, as Scott is ready to "forget his name." Their bartender happens to be Hale, who is downright hilarious in his role, daring the friends to complete different challenges and acting oh-so-psycho. Lady A's performance of the song is interspersed throughout the video, which was nominated for a 2014 CMA Award for Video of the Year. With two unforgettable guest actors and a hilarious treatment, it's easy to see why it garnered a nod.

3

If any of Lady A's music videos can evoke a waterfall of tears, this clip is the one. Directed by Roman White, it debuted in October 2010 and tugged at the heartstrings of, well, everyone. The music video features a harried-looking man, frustrated with traffic and the demands of life, when he sees a sweet little girl leaning out of her car window, eating an ice cream cone; her smile and wave melt his heart. Sadly, as he makes his way down the road, he gets stuck in traffic -- and soon realizes that the traffic jam is due to a car accident that involves the little girl. Be prepared to cry your eyes out as the paramedics close around her, trying desperately to save her life.

2

This video is emotional to the max, and with over 100 million views on YouTube, it's obvious that fans can't get enough of it. Director David McClister only needed 10 minutes to write the treatment, which flows beautifully with the song. It begins in the hallway of the King Edward Hotel in Toronto, Ontario, where Kelley is sitting against the wall while Scott is in a hotel room, alone. A feeling of loneliness is present throughout the video as Kelley goes to an empty cafe for a cup of joe and Scott hails a cab. Haywood plays the piano during the video and is the only trio member in a happy relationship during it. The video ends at a masquerade -- and on a happy note. This video earned Lady A a nomination at the 2009 ACM Awards for Video of the Year. They were also up for Video of the Year and Group Video of the Year at the CMT Music Awards, and they won the latter.

1

Why do we love this video? Let us count the ways: It depicts Kelley and Haywood as two donut-loving police officers; it co-stars Beth Behrs from the hit television show Two Broke Girls; and it shows Scott and Behrs getting into a whole lot of trouble with the law. Shoplifting? Check. Harassing police officers? Check. Smashing a police car's windshield? Check. "Downtown" is Lady A's goofiest music video and shows off their diverse personalities and willingness to laugh at themselves in a huge way.