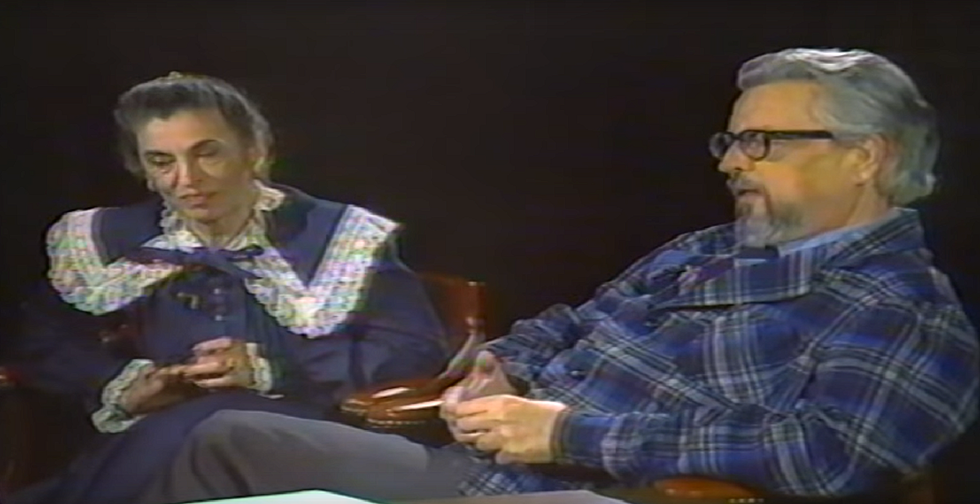 Top 5 Songs Written By Felice and Boudleaux Bryant
YouTube
Over the course of their marriage and career together, husband-and-wife songwriting duo Felice and Boudleaux Bryant wrote somewhere in the neighborhood of 6,000 songs together, penning cuts for A-list performers of a wide variety of genres and styles. While they found plenty of success in the pop world, penning songs for acts such as the Beach Boys, the Bryants had their first tastes of success in Nashville, writing for country stars.
After meeting in Milwaukee, Wisc., in 1945, the young couple moved to Georgia, where they began collaborating on musical projects. "We started writing for the hell of it, for fun," Boudleaux once said, according to Performing Songwriter. "And after about 80 songs, we thought, 'This looks like it could be a good thing.' But we originally wrote them for our own amusement, and we would show them to our friends."
Read on to learn The Boot's picks for the Top 5 songs Felice and Boudleaux Bryant ever wrote.
5

"Country Boy"

Performed by Little Jimmy Dickens, 1949

Felice and Boudleaux Bryant may have produced bigger hits than "Country Boy" over the course of their career, but this song was still integral to the duo for one very important reason: It was their first major cut. Before placing the song with Dickens, the pair were strictly amateur songwriters, who were working hard to circulate their name in the Music City songwriting community. "Country Boy" cracked the Top 10 on the country charts, cementing the Bryants' status in the industry and opening the doors that led to many of their most beloved hits.

4

"Wake Up Little Susie"

Performed by the Everly Brothers, 1958

For a musician or songwriter, there's no milestone quite like getting your song banned. That happened to the Bryants with "Wake Up Little Susie," a song recorded by the Everly Brothers and banned by some radio stations for its suggestive lyrics. Despite getting pulled from the air, the song hit No. 1 on the pop, country and R&B charts and was certified gold.

Even decades after its release, the subject matter of "Wake Up Little Susie" remained a subject of scrutiny. A 1992 article in the Chicago Tribune discusses a feminist analysis of the text, which examines the guilt that a couple feels after accidentally falling asleep at a drive-in movie theater. This reading portrays the grim realities that came along with being a sexually active, but unmarried, woman in America at the time.

When a reporter brought that analysis to Felice Bryant (the only member of the songwriting team still alive at that point), she initially scoffed at the idea that the song had political undertones. "It was a song we wanted kids to dance to at sockhops," she replied. After a little rumination, however, she allowed that she could understand a deeper meaning of its lyrics, though she maintained that no undertones went into the writing of "Little Susie."

"Sweetheart," she added, "it was just a song."

3

"Love Hurts"

Performed by Nazareth (and others), 1960

This perennial breakup anthem, one of just a few items in the Bryants' catalog to be credited solely to Boudleaux, has proven its staying power in the more than 60 years since it was written. "Love Hurts" has been covered in a wide variety of genres and styles, from Nazareth's hard-rock power ballad, to Cher's jangly interpretation, to Gram Parson and Emmylou Harris' sparse, folky duet. Few songs better exemplify Felice and Boudleaux Bryant's musical versatility and ability to write enduring hits, than "Love Hurts," which remains a mainstay of breakup scenes in movies and crowd-pleasing live covers to this day.

2

"Rocky Top"

Performed by the Osborne Brothers, 1967

This finger-blazing bluegrass tribute to the Tennessee hills was popularized by Lynn Anderson in the early '70s, but before that, the Osborne Brothers cut the tune. The Bryants wrote "Rocky Top" in the mid-'60s, while staying at an inn in Gatlinburg, Tenn., and working on a batch of slow songs for Hee Haw star, comedian and musician Archie Campbell.

According to American Songwriter, the Bryants' heavy focus on balladry was causing a drag in morale one day, when Boudleaux had an idea: "[He] grabbed the guitar and gave it a real strong strum and said, 'How's this?' And then he breaks into [the] "Rocky Top" melody," Felice Bryant recalled. "I said 'You know, that sounds pretty good.' He said, 'And what do you think we ought to call it?' I said, 'Well, I don't know.' He said, 'How about "Rocky Top"?' I said, 'That's pretty.'"

The state government thought so, too: After Anderson released her version, the state of Tennessee adopted "Rocky Top" as an official state song in 1982. It is currently one of the Volunteer State's 10 (yes, 10!) state songs.

1

"Bye Bye Love"

Performed by the Every Brothers, 1958

It's easy to understand why Felice and Boudleaux Bryant had such a lasting relationship with the Everly Brothers, and why the duo cut so many of the writers' songs. The songwriting pair had an uncanny knack for tapping into an artist's voice, producing a classic hit that felt so natural to that performer it seemed as if no one else would ever be able to cut it. So it is with "Bye Bye Love," the late-'50s Everly Brothers hit that sees the Bryants at the top of their songwriting game.

Though "Bye Bye Love" was a signature tune for the Everly Brothers, many more artists recorded their own versions of the track in the decades that followed. Simon & Garfunkel's is perhaps the best known of these cover versions, though Ray Charles, Hank Williams Jr. and more also recorded the song.