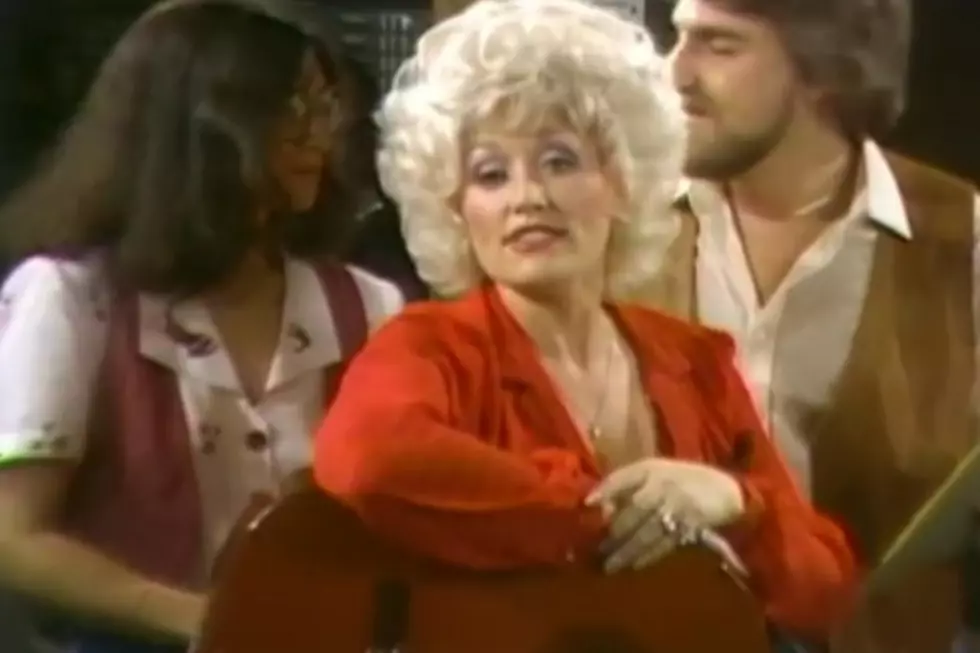 Top 5 Dolly Parton Music Videos
YouTube
Dolly Parton's influence on country music is legendary. Songs such as "Islands in the Stream," "I Will Always Love You" and "Jolene" will forever be played and loved, and no one can think about country music without picturing the buxom blonde and Country Music Hall of Famer.
Parton's music videos are also something to be proud of, and they range from heartwarming and sweet to knee-slapping funny. While there are many clips to choose from, the following are The Boot's picks for Parton's Top 5 music videos.
5

Parton's "Home" video is as playful and bright as the star herself. The clip captures her as she sits in her dressing room, picks gorgeous (and colorful) dresses out of a massive selection and goes through a photo shoot. In the video, Parton plays the banjo, banters with the photographer and has a grand old time. The backdrops to the video -- bright-colored daisies in front of a farm, a sunset over the Smokey Mountains -- create a vibrant visual and nod to Parton's small-town upbringing, juxtaposing the country star with her humble roots. "Home" is the second single from Parton's 42nd solo studio album, Blue Smoke, her highest-charting and first-ever Top 10 solo album.

4

"You Can't Make Old Friends"

Parton and Kenny Rogers have a storied history together, and their friendship is celebrated in the "You Can't Make Old Friends" video. It begins in black and white, as Rogers and Parton reminisce about their relationship over the years (which includes the massive hit "Islands in the Stream"), and soon cuts into old footage of the two performing together throughout the past decades. Their long-lasting friendship, a special performance and the obvious respect that Parton and Rogers have for one another make this a must-see music video.

3

"Silver Threads and Golden Needles"

The "Silver Threads and Golden Needles" music video begins with a suited man arguing with a security guard.

"I'm here to see the Honky Tonk Angels," he says.

"Everybody's here to see the Honk Tonk Angels," the guard replies, adding, "I don't care if you're Chet Atkins --" before he is interrupted by the man declaring, "I am Chet Atkins."

Still, Atkins is denied entry into the Honky Tonk Angels' dressing room -- which houses Parton, Tammy Wynette and Loretta Lynn.

Throughout the video, many suitors come a'knocking, including Ricky Skaggs, Rodney Crowell, Charlie Chase, Ralph Emery, Bill Anderson, Jim Nabors, Little Jimmy Dickens, Marty Stuart and Ronnie Milsap -- but only one man is allowed into the girls' closely monitored dressing quarters.

2

This video for Parton and Ricky Van Shelton's duet "Rockin' Years" will make you say "awwww" more than once. It chronicles the relationship between a man and a woman, starting when they were just kids and the little girl stole a kiss from her crush. Their years as high school sweethearts, their wedding day, their experiences as first-time parents, their sweet embraces and more are depicted. Of course, lots of rocking in rocking chairs is shown as well -- and the couple's love is still so strong in their rockin' years that it will make you want to go out and buy two rocking chairs for the front porch.

1

"9 to 5" is one of Parton's most recognizable songs, partially because she originally performed it in her film debut, for the 1980 comedy of the same name. The music video pays homage to Parton's talent with featured footage of the singer and her band performing, as well as clips from the film, which starred Jane Fonda, Lily Tomlin and Parton, interspersed throughout. The No. 1 hit song appeared on the film's soundtrack and Parton's 23rd studio record, 9 to 5 and Odd Jobs, released in late 1980. This clip is, undoubtedly, one of Parton's most popular music videos, with humor and gorgeous ladies lighting up the screen, and a popular song to top it off.