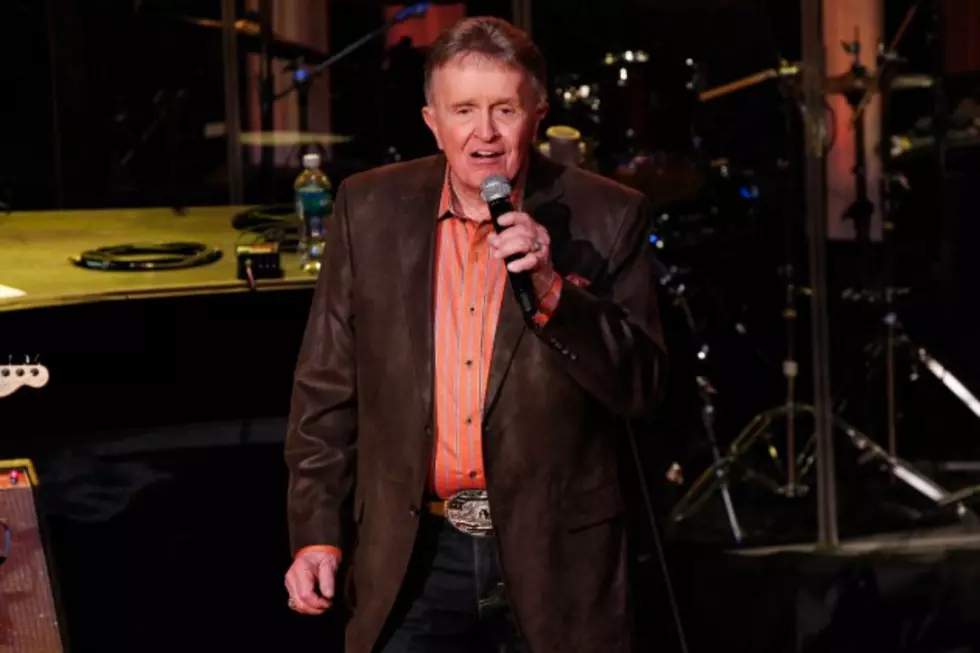 Top 10 Bill Anderson Songs
Terry Wyatt / Stringer, Getty Images
Bill Anderson is a legend, plain and simple. The 84-year-old singer-songwriter, sometimes known as "Whisperin' Bill," has done it all during his long career.
Since the early 1960s, Anderson has released more than 40 studio albums, recorded seven No. 1 songs and written or co-written countless hits for other artists. In fact, one of the most impressive things about Anderson is his versatility: He's the soft voice behind many classic country songs, but he's also the writer or co-writer of plenty of your current favorites (songs from Brad Paisley, George Strait and Kenny Chesney, to name a few).
The Boot's list of Anderson's best songs includes a little bit of both Anderson the songwriter and Anderson the recording artist (and sometimes both). From 1961 until today, these are his Top 10 songs.
10

"Po' Folks"

From 'Country Heart Songs' (1962)

If you've ever dined at the Po' Folks restaurant chain, then you have Anderson's 1961 single of the same name to thank. One of Anderson's earliest singles, "Po' Folks" helped establish him as both a singer and a songwriter with an eye for detail, an ear for melody and a sense of humor.

"We was po' folks living in a rich folks' world / We sure was a hungry bunch," sings Anderson in this track. "If the wolf had ever come to our front door / He'd've had to bring a picnic lunch."

9

"Sometimes"

From 'Sometimes' (1976)

Anderson enlisted Mary Lou Turner as duet partner for the recording of this song, a playful, back-and-forth duet. "Sometimes" opens with Anderson speak-singing questions such as "Hello, beautiful, are you married?" and "Tell me, are you happy?" with Turner responding each time, "Sometimes." With lines like "But you haven't thought of cheating, have you? / Yes, sometimes," the track was fairly risque for the mid-'70s -- but not risque enough to stop it from becoming a No. 1 hit.

8

"For Loving You"

From 'For Loving You' (1968)

Anderson teamed up with Jan Howard on four studio albums, and several of their duets became Top 10 hits. "For Loving You," their 1967 single from the album of the same name, was their most successful song. A track about the strength of love (even in the face of loss), "For Loving You" states its thesis in the chorus: "Never once will I ever regret having had the chance of loving you." It spent four weeks in the No. 1 spot on the charts.

7

"I May Never Get to Heaven"

From Conway Twitty's 'Cross Winds' (1979)

Anderson and Buddy Killen wrote "I May Never Get to Heaven," and a number of famous names cut it. Conway Twitty released his version in 1979, and it went to No. 1 -- but it was originally recorded in 1960 by Don Gibson, and then memorably covered by Aretha Franklin in 1967. Your taste in music might determine which recording you prefer, but the song's decade-spanning popularity is entirely thanks to the songwriting team of Anderson and Killen.

6

"The Guitar Song"

From Jamey Johnson's 'The Guitar Song' (2010)

There's no doubt that Anderson is an incredible songwriter … but with "The Guitar Song," he proved that he and co-writers Jamey Johnson and Vicky McGehee might also be able to predict the future. This song tells the story of an old guitar hanging forgotten in a pawn shop ... and, in a twist of fate, shortly before a 2015 Grand Ole Opry performance, the owner of an Arizona pawn shop contacted Anderson to let him know that he had found a guitar belonging to Anderson -- one that had been missing for 50 years. The pawn shop owner returned the guitar to Anderson, and he used it to perform "The Guitar Song" at the Opry in an especially emotional and memorable performance.

5

"Mama Sang a Song"

From 'Country Heart Songs' (1962)

Anderson's "Mama Sang a Song" was his first No. 1 hit. The song (also written by Anderson) tells a story about growing up with a mother who was poor in material things but rich in her faith, her family and her love of hymns. Appropriately, the song is peppered with hymn titles and features a backing choir that incorporates actual hymns throughout the song. Several artists have covered the song since Anderson first released it, but the original is beloved; it stayed at the top of the charts for seven weeks.

4

"Whiskey Lullaby"

From Brad Paisley's 'Mud on the Tires' (2003)

Brad Paisley and Alison Krauss deliver an incredible performance with "Whiskey Lullaby," but so much of what gives this song its emotional staying power is the writing of Anderson and Jon Randall. The song is a dark, haunting story about heartbreak, addiction and loss, and Anderson and Randall packed it full of unforgettable images, starting with the opening line to each chorus: "He put that bottle to his head and pulled the trigger." The song went two-times platinum and was nominated for Song and Single of the Year at the ACM Awards and Single of the Year at the CMA Awards.

3

"Still"

From 'Still' (1963)

The 1963 single "Still" gave Anderson his second No. 1 country hit, and was a crossover success on the pop charts to boot: Bing Crosby recorded his own version of the Anderson-penned song that same year. "Still" plays up the persona of Anderson as a crooner, with the sound of the song resting somewhere between doo-wop and country. It was one of the earliest songs that established Anderson as a long-term power player in country music.

2

"Give It Away"

From George Strait's 'It Just Comes Natural' (2006)

George Strait's 2006 single "Give It Away" was penned by Anderson, Jamey Johnson and Buddy Cannon. The No. 1 hit was an instant classic, a breakup song anchored to a chorus that says, "There ain't nothin' in this house worth fighting over / Oh, we're tired of fighting anyway / Just give it away." The song won the ACM Awards' Song of the Year and Single of the Year trophies, and the CMA for Song of the Year.

1

"My Life (Throw It Away If I Want To)"

From 'My Life / But You Know I Love You' (1969)

Even though 1969 was a year rich with country hits (Johnny Cash's "Daddy Sang Bass" and Merle Haggard's "Okie from Muskogee," to name a couple), it was Anderson's "My Life (Throw It Away If I Want To)" that was the No. 1 song of that year. The tune was Anderson's fourth chart-topping hit, and the harmonica-fueled kiss-off was a career-defining song for Anderson.