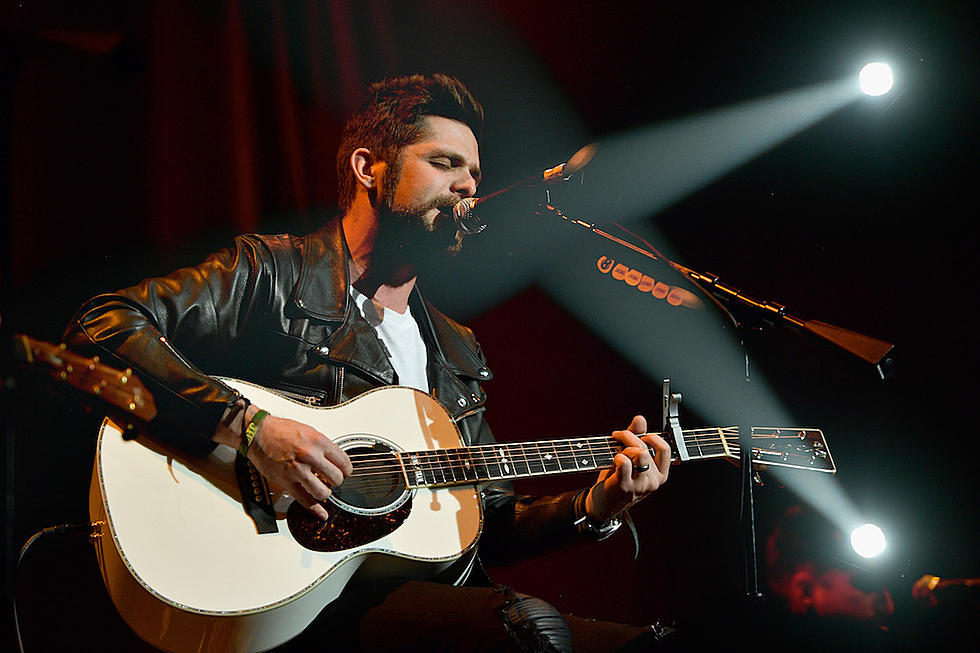 Watch New Music Videos From Thomas Rhett, Sugarland and More Country Artists
Matt Winkelmeyer, Getty Images
Country stars offered behind-the-scenes glimpses into their lives this week in their newest videos: Sugarland showed some backstage footage of their C2C performances earlier this year, and Jimmie Allen shared some of his adorable childhood home videos. Read on to get caught up on all the latest music videos in the country world!
Thomas Rhett, "Leave Right Now"
In Thomas Rhett's music video for "Leave Right Now," the singer steps out of a cab in front of Nashville's Frist Art Museum in smartly dressed in a suit. He enters the impressive building, which is crowded with party attendees--and a woman with a red dress and long blond hair catches his eye. The video, directed by Justin Clough, follows Rhett throughout the night as he searches for the woman. Does he find her? Watch to find out. This electronic version of "Leave Right Now" features Danish DJ Martin Jensen, and it was born   out of demand from his European fans. "Our fans are everything," Rhett says in a press release. "It's unbelievable to be able to continue to release music that inspires me and be embraced by fans not only at home but overseas too." The remix is part of Rhett's April release of Leave Right Now (The Remixes) EP. -- CV
Sugarland, "Still the Same"
Jennifer Nettles and Kristian Bush of Sugarland have released the music video for "Still the Same," their first single in five years. It features the much-loved duo's foray back to the country music stage at C2C: Country to Country Festival in the U.K. and Ireland in March of this year. Fans will see behind-the-scene moments, live performances, interactions with fans and lots of screaming crowds in the music video. And if you haven't already bought a ticket to Sugarland's Still the Same Tour, it will whet your appetite for more of the "Babe" singers. --CV
Jimmie Allen, "Best Shot"
There's no question country newcomer Jimmie Allen was an adorable kid--the evidence is in his music video for "Best Shot," which features personal photos and home movies of his childhood. It's the Delaware native's first-ever music video. Directed by Ford Fairchild, viewers watch a young Jimmie in clips throughout the music video juxtaposed with the now-grown country singer as he realizes his music dreams. "To me, 'Best Shot' is about accepting that we all have flaws, we all make mistakes, and we'll all experience a few bumps in the road, but all of those hardships lead us to where we are today, so at the end of the day, what really counts is that you're trying your best and giving life your all," says Allen in a press release. "My family has always been such a large part of my journey, so it was incredibly special for me to incorporate them into my first-ever music video. It's a really cool full circle moment to be able to share with them." -- CV
Kenny Chesney, "Get Along"
Kenny Chesney says that making the music video for the lead single "Get Along" off his upcoming album was a bit of a time crunch, filmed in the first few days of his Trip Around the Sun Tour, but the result was worth it. Images of his fans lined up ahead of shows for tailgate parties are mixed in with glimpses of Chesney and his band performing on various stages and locations.
"It takes a lot to try to keep up with the No Shoes Nation," Chesney says in a press release. "With their rolling tiki bars, tons of sand, Blue Chair Bay cocktails and wading pools, they have as much fun waiting to get into the show as they do at the concerts, and I love that!" His intention with the video was to capture all the things his fans share: Their common ground.  "I wanted this video to be a mix of how their world works and the way their passion inspires all of us up onstage. It made for a couple long days, doing a video the same time we were starting a tour … But I wouldn't have changed anything for the world!" -- LS
Danielle Bradbery, "Worth It"
Danielle Bradbery gives an intimate glimpse of her own struggles with self-acceptance in the music video for her single "Worth It." The video opens with Bradbery's explanation of the process this song was for her and the realization that her fans could relate and grow with her.
"The whole video is based on personal feelings and that's why we included a little story in the beginning — a story of thinking about myself on stage picturing this big performance," Bradbery shares with People Magazine. The artist stands center stage in an empty theater during the video, wearing an elegant gown, as she delivers the powerful message that she's "Worth It." -- LS