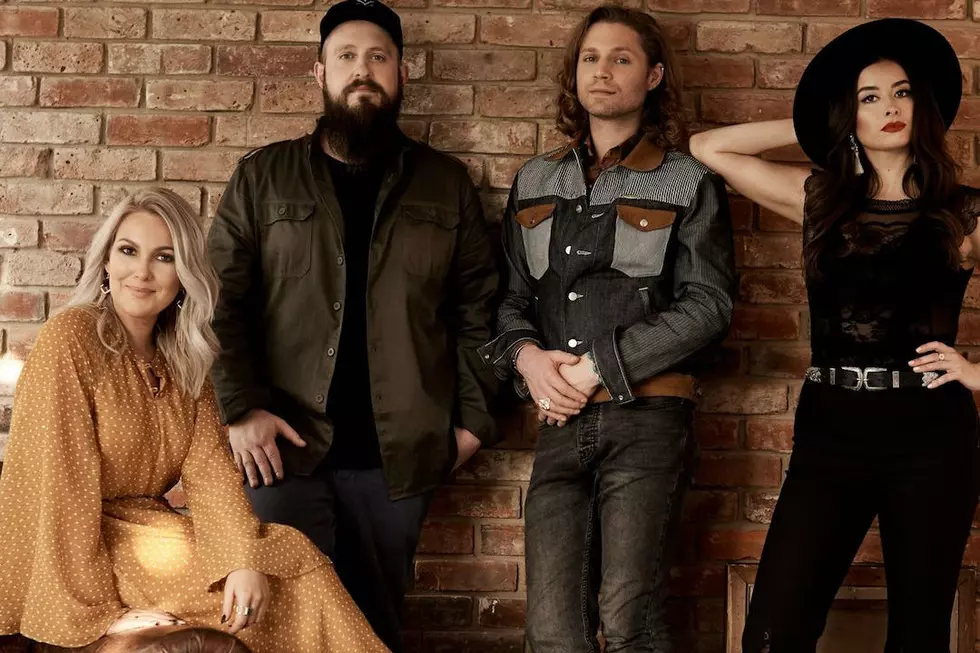 Interview: The Wandering Hearts Talk Paying Their Dues, Reveal How Nashville Surprised Them
D Digital PR
In the three years that the British Americana group the Wandering Hearts have been a band, they've experienced several of the milestones that artists dream of for a decade or more.
After they served as a supporting act for Marty Stuart during a string of UK shows, the country star saw promise in the up-and-coming foursome and encouraged them to come to Nashville. They arrived in June, and they -- in the span of just one week -- performed at the Grand Ole Opry and the Bluebird Cafe, and as part of Stuart's annual Late Night Jam at the Ryman Auditorium.
To the crowds in attendance at their first U.S. shows, it seemed as if the Wandering Hearts had materialized out of nowhere, crash-landing onto Nashville's most prestigious stages. Like any other group, however, the four musicians -- AJ Dean-Revington, Chess Whiffin, Tara Wilcox and Tim Prottey-Jones -- have paid their dues, and put on their share of shaky gigs when the band was first starting out.
"It's all been a learning lesson, but there have been some awful ones," Wilcox admits. "There was, at one point, on YouTube, some pretty dodgy footage of one of our early gigs."
"AJ had started playing "Wish I Could," and I don't come in with the mandolin until our verse. And AJ was playing a semi-tone lower [than usual]," Whiffin chimes in, recalling one coffeehouse gig very early in the band's career. She adds with a laugh, "So when I came in with the mandolin, I might as well have smashed the mandolin on the floor. It sounded so bad."
Despite these early misadventures, the Wandering Hearts knew there was something special about their musical chemistry right from the beginning. "We've definitely got a collective consciousness about some things," Prottey-Jones explains. "Like, how we've streamlined our writing, for example, or the way we perform, or that extra sixth sense we get around each other."
The four band members agree that the magic of the Wandering Hearts is a combination of that intuition as well as the four separate identities they bring to the group. "It was obvious [at the beginning] that we were four very different individuals, and I think it's maintained that way," Whiffin reflects. "We've all been influenced by very different people, but we also have some big crossover. And I think that's why the music works so well.
"If we were all brilliant at this one thing, then that would be what it was, and that's cool, but for this group, what we like is that you can't quite put your finger on what our music is," she continues. "It's a bit country, it's a bit Americana, it's a bit pop, it's a bit folk. It's got all these elements, and that's a product of our four individual tastes and influences."
By the time the group came to Nashville, they had already worked hard to nail down their identity and pay their dues. Playing the city's most sacred venues was surreal enough, but one aspect of being in Music City that the group didn't expect was the sheer number of talented musicians they found there.
"You walk around and you hear all these amazing musicians, and you go, 'Wow, I can't believe we're playing [here]," Whiffin shares. "We really appreciated how lucky we were to have that opportunity."
Adds Prottey-Jones, "You can't help but feel -- not fraudulent, but for all the other amazing people you see on Broadway and on the street corners. We just wanted to come here and not let anyone down, including ourselves -- particularly Marty [Stuart], just because of what he did for us. But I think we all knew deep down that we deserved to be there."
Dean-Revington clarifies that while competition amongst artists can be healthy and inspiring, the band is careful not to compare themselves to others from a negative standpoint. "Creative people compare themselves to creative people all the time, and sometimes that's a really good thing, because it encourages you to improve your craft," he says. "But it can be detrimental on occasions where you compare yourself something when it isn't relevant."
Bolstered by the new fanbase they found in Nashville, the Wandering Hearts are gearing up for a headlining winter tour in the UK, during which they'll be joined by Ruston Kelly, and then heading back into the studio to record their sophomore album.
"We're so excited to get back into the studio," Whiffin gushes. "We love performing so much, but there's something so cool and special about being in a studio and creating all these visions and things we've talked about."
Still, the group says they're never finished writing a song until they've taken it out on the road. "It's like stand-up comedy," Dean-Revington adds with a laugh. "Comedians write some new material, take it on the road, try it out on audiences, refine it, just make it as slick as they possibly can. It's the same thing with songwriting. You wanna know how it's gonna land on people, and how they're gonna react."