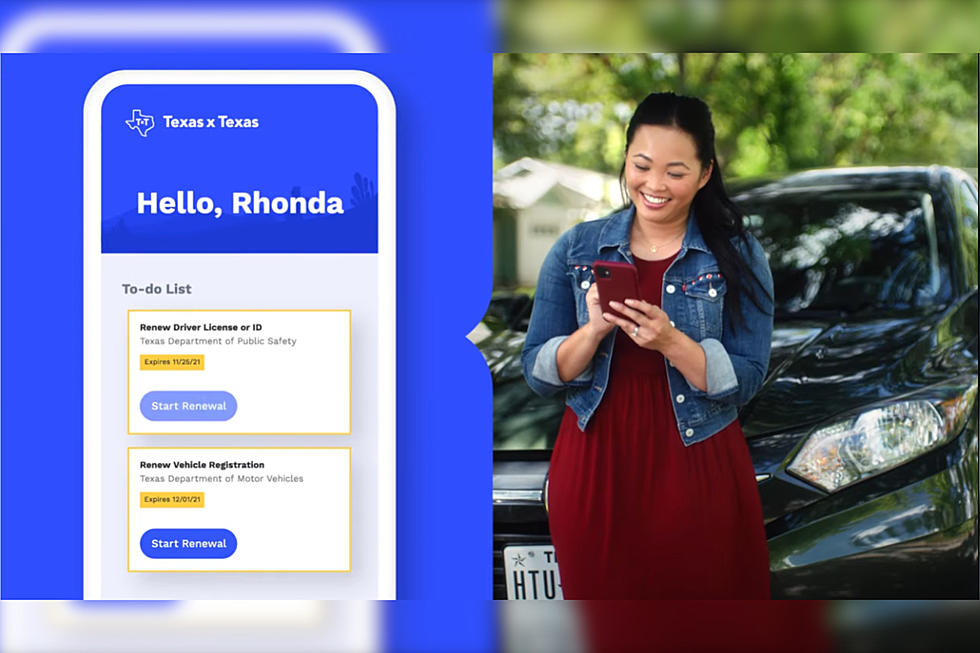 Sweet! TX Launches New App for License, ID Renewal and More
TexasGov, YouTube
Renewing your Texas drivers license just got a whole lot easier with the launch of the Texas by Texas (or TxT for short) app.
---
---
The TxT app is designed to make it easier, faster, and more secure for you to go online and take care of your Texas government business. It's designed for things like driver license renewal, identification card renewal and replacement, vehicle registration renewal, and so much more.
Convenience in Your Palm
The TxT app will also remind you of upcoming deadlines, like registration renewal for example. The best part is you can take care of all of these to-do's with the tap of a screen. Imagine not having to go to the DMV and wait for your turn just to handle an issue that can be solved in just a few clicks.
Get Signed Up
Getting signed up is quick and easy. You just need to provide an email address and either a Texas drivers license or ID. Once your identity is confirmed, you'll be linked to several Texas government agencies like the Texas Department of Motor Vehicles, Texas Department of Public Safety, and Texas Department of Licensing and Regulation, with more coming soon.
Limited Availability
Currently the TxT app is only available for the IOS, and you can download it in the Apple Store. The Android version will be available soon. Once you have the app, go to txt.texas.gov to create your account.
Finally, a way to handle my business without the hassle of going to the DMV.
10 "Outside the Box" Ideas for Valentine's day
Celebrating Valentine's Day can be as simple as a nice card, flowers and a box of chocolates but if the expectation is for something bigger, and more creative, this list might help.
Although there is nothing wrong with dinner and a movie, let's take that idea a little further. Keep in mind, some pre-planning may be in order here but literally the sky is the limit.
There are so many ways to say "I Love You" to that special someone and for the sake of the "Outside the Box' definition, let's go with anything other than dinner and a movie.
Bet You Didn't Know: 10 Bizarre Texas Laws Still on the Books
Many states still have strange laws on the books that aren't enforced or taken seriously anymore, and Texas is no exception.
Most of these laws are just funny now, but at one time, there was a valid (or at least somewhat valid) reason for them to exist.
Let's take a look at 10 of the weirdest ones in the Lone Star State.
8 Souvenirs Under $80 to Gift Someone Who Loves Texas
If you have someone in your life that loves the Lone Star State, these are some great gifts that won't break your budget!