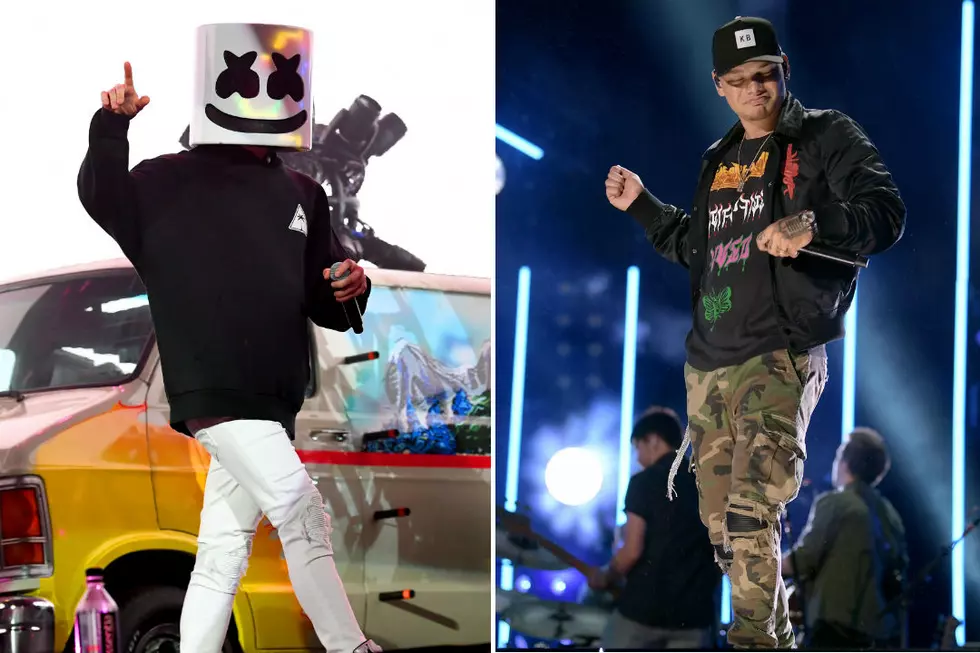 Marshmello and Kane Brown's 'One Thing Right' + 5 More New Country Music Videos [WATCH]
Kevin Winter, Jason Kempin, Getty Images
Kick off your weekend with this batch of new country, Americana and bluegrass music videos, which tell stories ranging from high-speed police chases to psychedelic spirit quests and beyond. Read on to get all caught up on the latest clips from your favorite artists!
Marshmello Feat. Kane Brown, "One Thing Right":
Country artist Kane Brown and acclaimed DJ and producer Marshmello teamed up for "One Thing Right," released one month ago. Now, they're unveiling the music video, where they team up again -- this time, in a getaway car. In the clip, Marshmello is released from prison, Brown picks him up and they stop at the DJ's girlfriend's house. Soon, however, a police chase ensues.
Brown co-wrote "One Thing Right" with Marshmello, Jesse Frasure, Josh Hoge and Matthew McGinn, and it's the EDM artist's first collaboration with a country artist. Brown explains the song, saying, "It just … tells you everything that I've done wrong growing up and it's saying that the one thing I did get right was you, talking about my wife," he explains. -- CV
Tyler Childers, "All Your'n":
Tyler Childers' Country Squire album will release in a little over a week, and until then, fans can satiate themselves with his new music video for "All Your'n." The one-word descriptor is "trippy." The video begins in the woods, empty beer bottles strewn across the forest floor -- but it's not a typical drunk/hangover/trying to remember the hazy details-type clip. Plenty of psychedelic effects are on display, with Childers' hilarious acting on point for this wacky video.
Country Squire was created with the singer's old stomping grounds (eastern Kentucky) in mind. "I hope that people in the area that I grew up in find something they can relate to. I hope that I'm doing my people justice and I hope that maybe someone from somewhere else can get a glimpse of the life of a Kentucky boy," he reflects. The album was produced by Sturgill Simpson and David Ferguson, and drops Aug. 2. -- CV
Jordan Davis, "Slow Dance in a Parking Lot":
Jordan Davis' music video for "Slow Dance in a Parking Lot" begins in a supermarket parking lot, as a young boy watches his parents share a loving kiss, and it just gets sweeter from there.
While a simple parking lot doesn't evoke much emotion, the video, directed by Patrick Tracy, combines a parking lot with memorable experiences, big and small. It follows the young boy through various memories that take place in a parking lot: playing hockey, glimpsing his crush's smile, dancing with his high school girlfriend, getting into a "just married" car, cradling his newborn baby...and, well, let's just say the video comes full circle. -- CV
The Lumineers, "It Wasn't Easy to Be Happy for You":
The Lumineers tell the story of the youngest generation of the Sparks family in the music video for "It Wasn't Easy to be Happy for You." The melancholy video depicts the youngest Sparks' first romance and subsequent loss.
"We try to speak kindly after a breakup, but sometimes the truth is a different story," Lead vocalist Wes Schultz says of the song. "This is the introduction to Junior Sparks, through his eyes and first-love heartbreak."
The song is included in the second part of a three-part series, which chronicles the lives of Gloria Sparks (in the song "Gloria"), her grandson Junior and her son Jimmy, all encompassed in the band's upcoming album, III, which will be released September 13. -- LS
Rhonda Vincent, "Like I Could":
Bluegrass legend Rhonda Vincent plays the heartbroken lover of a man with a wandering eye in the music video for her brand new single, "Like I Could." Filmed in Music City Bar & Grill in Nashville, Vincent's real-life husband and manager Herb Sandker plays opposite the singer in the role of the flirtatious partner. The rest of Vincent's backing band, The Rage, rounds out the cast of this dimly-lit showcase of the artist's melancholy bluegrass heart ache. Vincent ends the video by making her way -- in spite of the betrayal of her man -- as a successful performer. -- LS
Paul Cauthen, "Holy Ghost Fire":
Paul Cauthen goes full-on "wild west preacher" in the music video for his song "Holy Ghost Fire." Filmed at California's Whitehorse Ranch Movie Set, the frontier town is populated with Los Angeles area actors, and the video is directed by Drunk History's Eric Edelstein, who also appears as the bartender in the theatrical role play. Cauthen stars as the circuit-riding evangelic, preaching fire and brimstone to sinners in the dusty town, who partake in all manner of transgression as the preacher delivers judgement. -- LS