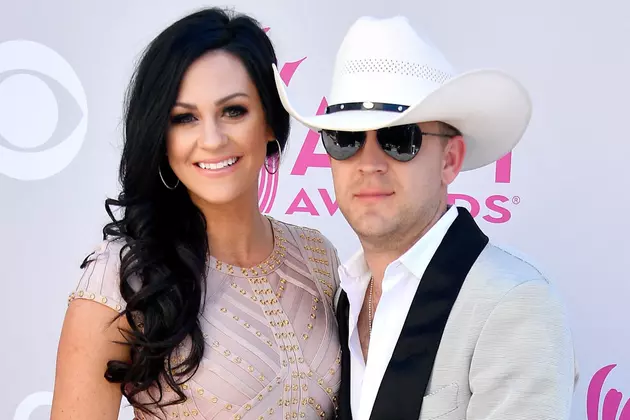 Justin Moore Pays Tribute to the True Rock Star of the Family
Frazer Harrison, Getty Images
Today, fathers around the country are enjoying Father's Day with a slew of activities such as a trip to the golf course, breakfast in bed or maybe even a much-deserved nap. Yet, country star Justin Moore is spending the holiday much like every other day, honoring the 'true rock star' of his family - his wife.
"As a husband and a father, I get to go out and play music and jump on a tour bus and have fans sing to back to me, but I really have the easy job," Moore says in a new interview with Taste of Country. "It takes a special type of individual to watch their husband go out and do what I do as a career, and that's exactly what my wife Kate does. She is so amazing. I couldn't ask for a better partner in this crazy life. She has always been beyond supportive."
In fact, that support came long before the big hits and the big record deals: "She always knew about my aspirations and she always wanted me to go out there and try to reach them," says Moore, who married Kate back in 2007. "I mean, back when I was making $20,000 a year, she was there always lifting me up. I'm indebted to her."
Moore is equally indebted to his and Kate's four children, who have grown up with Daddy being a big country music superstar. "Their whole life has been this way," says Moore, who in his (limited!) spare time serves as a coach on a number of his daughter's sports teams.  "I do think though that it gets harder as the kids get older—because as a dad, I don't want to leave them. It's better now though than it was when I was doing 220 or 230 shows a year."
He's currently looking at a summer in which much time will be spent on the road, but Moore says he tries to bring the kids out with him as much as possible. "Our three-year-old is a character and she will sing with me," laughs Moore, who recently shared a video of him learning how to take a selfie from his little one. "The two older ones have grown out of it and don't really want to come out on stage with me, but that's okay."
The kids may be growing up, but there are still plenty of sweet moments in the Moore household.
"The sweetest moments have to be these those times where they tell you that they love you for no reason at all or before you tell them that you love them," says Moore. "Or when I am out working with them in the yard and helping them hit, and they say 'thank you' out of the blue. Or when they are out fishing or hunting and you didn't have to force them to go…those are the moments I love."
And then there is his new son, who was born in June of 2017. "South has inspired some songs for sure," said Moore, whose been busy working on music for a brand-new album. "All the kids have inspired songs, along with becoming a father and getting older and learning more about fatherhood. Eventually, it all falls into my music somewhere."
Country Music Is In Good Hands With These 18 Singers!