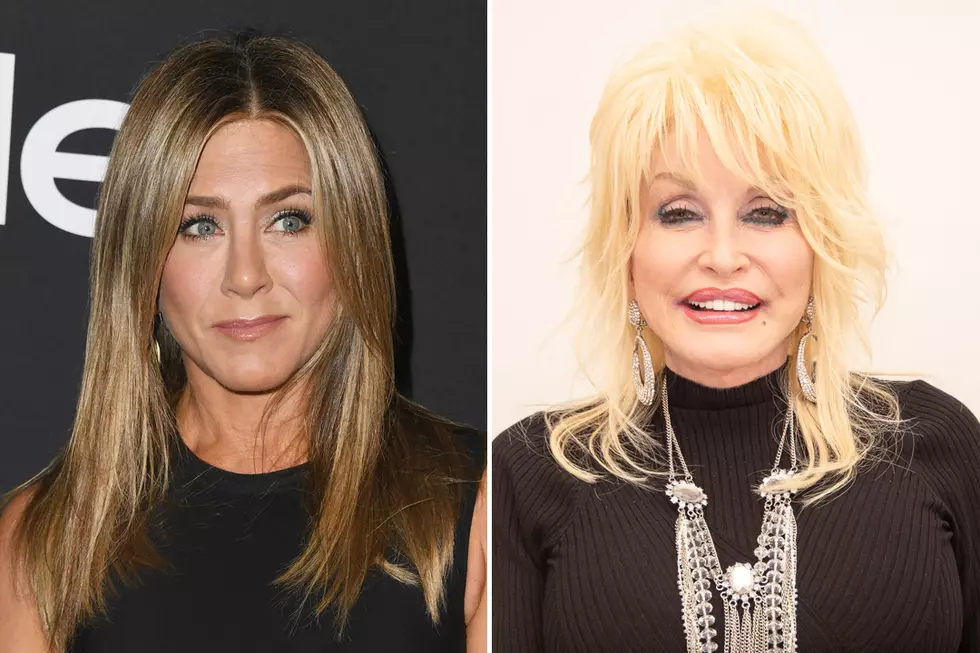 Jennifer Aniston Responds to Dolly Parton's 'Threesome' Comment on 'Fallon'
Jon Kopaloff / Vera Anderson, Getty Images
Dolly Parton made Jimmy Fallon fall out of his chair when she appeared on The Tonight Show on Nov. 30 and spilled that her husband of 52 years, Carl Dean, has a crush on actress Jennifer Aniston.
The country music icon joked (we think) that Dean even fantasizes about a threesome with his wife and the Hollywood actress.
"He was more excited that I was going to do a movie with her than he was that I got the chance to write all this music. I think he fantasizes, like, a threesome," she said. Fallon literally fell out of his hosting seat.
Aniston's reaction was similar.
"My mouth just dropped,"  she tells USA Today. "And then I laughed my (butt) off. That's Dolly. It was hilarious, I think it's flattering. And that's Dolly's sense of humor. No one in the world can get away with saying anything like that about their partner on live television, except Dolly. I mean, that is a quote."
Sexiest Female Voices in All of Country Music
The growing friendship between Aniston and Parton since working together on the new Dumplin' film is heartwarming. The "Jolene" hitmaker even sends Aniston letters!
"They're beautiful, all on stationary with this Dolly (letterhead). She's so old-fashioned," Aniston says. "I give her a phone call back after she writes. I like talking to her on the phone." In Dumplin', out Dec. 7, Aniston plays a former beauty queen mother whose plus-size daughter enters a pageant.
As for that threesome? Aniston assures, "That was just talk-show fodder."
See Dolly Parton Through the Years