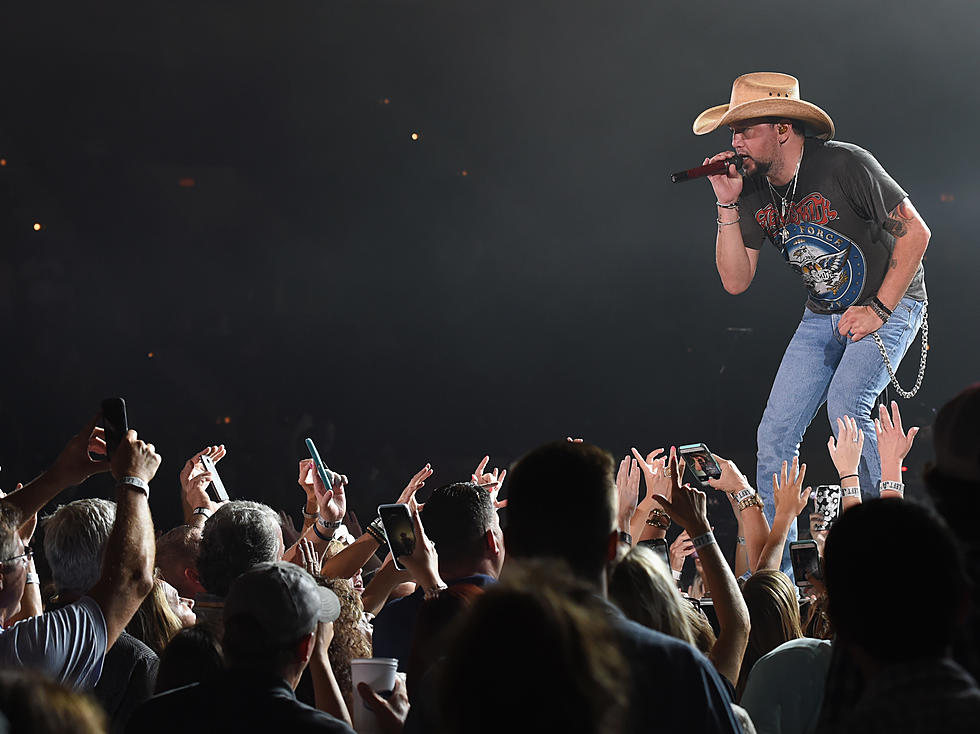 Story Behind the Song: Jason Aldean, 'Any Ol' Barstool'
Rick Diamond, Getty Images
Jason Aldean's chart-topping hit "Any Ol' Barstool" was his third single from his seventh studio album, They Don't Know. Written by Josh Thompson and Derric Ruttan, the song was, perhaps surprisingly, not originally intended for Aldean; however, as soon as the Georgia native heard it, he rightfully predicted that it would be a hit, even though it is a bit different than the other songs he's released.
Below, Aldean, Thompson and Ruttan share with The Boot and other reporters the story behind "Any Ol' Barstool."
Josh Thompson: Derric and I were at a writing appointment; it was our very first writing appointment. We were just throwing out titles, and I had the "Any Ol' Barstool" title for a while, and he loved it.
We wrote the song relatively fast. And it actually stayed there, without being demoed, for quite some time. It was a while. And then we demoed it, and it wasn't too long after that before Jason heard it through [producer] Michael [Knox], and the rest is history.
I wish it happened like that all the time.
Derric Ruttan: When we wrote "Any Ol' Barstool," it was our first time writing. And I thought we were writing for Josh when we went in ... We got in there, and he threw out that title.
Josh is from Wisconsin; I'm from Canada. I think initially we bonded over our love of snow tires, and the fact that we know how to drive in the snow. But as a Canadian, I really felt like a song about being drunk for multiple days in a row -- I just really bonded with that idea, and I identified with it, culturally, as a Canadian, because we drink a lot. [Laughs]
I think [Aldean] has always been a fan of traditional country music, and I think this is one of those songs that kind of spoke to him. It had those elements, but still, with the chorus the way it is, to me, it always kind of had that angst and a little bit of aggression that also suits his sound, sonically. To me, I think that's why it was a great marriage of song and artist.
Jason Aldean: "Any Ol' Barstool," to me, I think, is one of the most well-written songs on the album. That's a side of what I do that we don't put out there a whole lot. We've had a couple songs like that, like "[The] Truth" and things like that. I grew up on songs like that and that sort of more traditional country sound. That was a big influence for me. We don't put those songs out a ton.
I told Michael and the label, "If we're going to put one out, a more traditional-type song, this is the song." It's very well-written and just really cool. And even now, that song, surprisingly, at my shows, gets one of the biggest reactions of anything we play now, and I would have never thought that with a more mid-tempo ballad kind of thing, but people freak out about it. And I think it's just because it's a great song.
Learn Jason Aldean + More Country Stars' Real Names
Test Your Jason Aldean Knowledge!