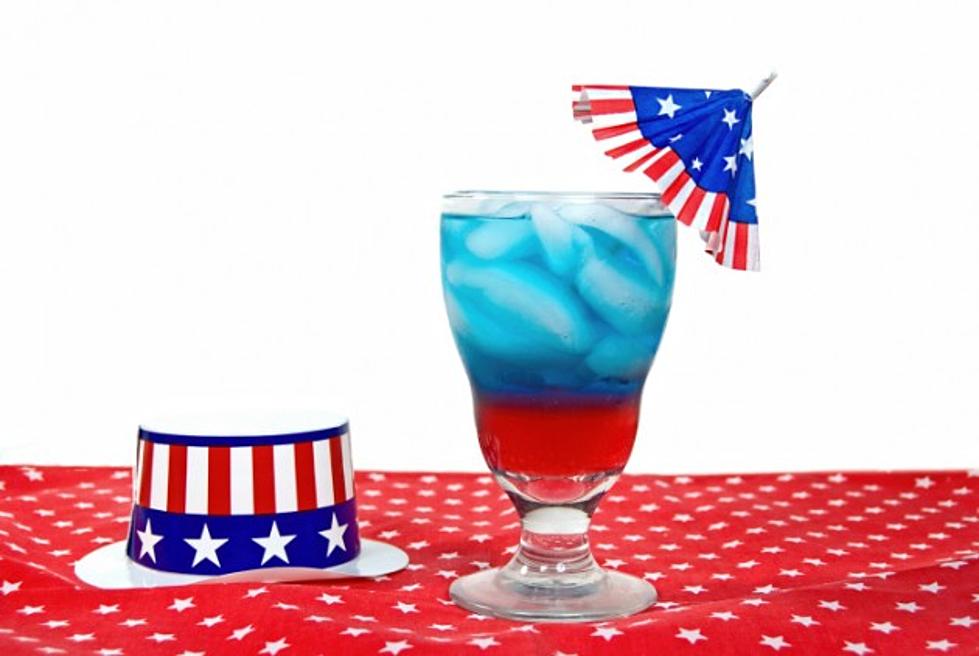 Independence Day Alcoholic Drink Recipes
liveslow
If you plan on throwing a BBQ party for Independence Day, we have some tasty Fourth of July themed drink recipes to consider, to really add the fireworks to your party.
1 oz bourbon whiskey
1 oz Southern Comfort peach liqueur
2 oz Coca-Cola

This recipe is about as easy and American as you can get. Just serve with ice and you have a delicious drink to celebrate the Fourth of July.

1/3 oz grenadine syrup
1/3 oz creme de cacao
1/3 oz Blue Curacao liqueur

Show America's colors off with this little diddy. If you mix this right, your shot will look red, white and blue. First poor in 1/3 grenadine, followed by the White Cream de cacao. Make sure you pour each over a bar spoon. Finally add the Blue curacao and enjoy.

3 oz Champagne
2 oz orange juice
2 oz lemonade

This is pretty much just a Mimosa with a lemonade. Just add ingredients to a frosted ice-filled glass and enjoy.

2 oz Flor de Caña 7 Year Rum
.5 oz simple syrup
3 dashes Peychaud Bitters
Dash Lucid Absinthe
Grapes

This drink will have your party going off with a bang. Salt the rim of small rocks glass. Then add Flor de Caña, simple syrup, Peychaud Bittes, and Lucid to shaker with ice. Strain into glass and garnish with red grapes.

½ oz Framboise (raspberry) liqueur
½ oz half and half
½ oz blue Curaçao

Here's another cool drink that mixes our flags colors together. Starting with the Framboise, layer each ingredient into a shot glass using the back of a spoon. If it all mixes together, you've done it wrong. There should be a layer of red, white and blue.

2 parts Kilbeggan Irish Whiskey
1 part DeKuyper Apricot Brandy
1 part Cranberry Juice
2 parts Champagne
Lemon Wheel (thinly sliced)

There are two different ways to enjoy this recipe.

To Serve As A Cocktail: Build all ingredients over ice in a glass. Garnish with a lemon.

To Serve As A Punch: Double the recipe and multiply by the number of people that will be drinking. Add Kilbeggan Irish Whiskey, DeKuyper Apricot Brandy and cranberry juice to a punch bowl, stir and refrigerate. When you are ready to drink it, add champagne and lemon wheels. Serve over ice.

1 ounce watermelon schnapps
1 big splash cranberry juice
1 very thin slice jalapeno or serrano pepper
1 slice lemon
1 slice lime
1 1/2 ounces tequila
1/4 ounce blue curacao
1/2 ounce simple syrup

You'll have to be careful with this recipe, because it's very tasty. Mix the schnapps and cranberry juice in a shaker; pour into an ice-filled glass. Mash the jalapeno pepper, lemon and lime slices at the bottom of the shaker. Then add tequila, blue curacao and simple syrup (water and sugar) in the shaker. Slowly strain into the glass over the red layer. Garnish with watermelon.

4 cups water
4 cups lemonade
4 black tea bags
1 cup fresh basil leaves
1/2 cup Wild Turkey Bourbon Whiskey
1 1/2 cups American Honey Liqueur

In a large saucepan, boil 2 cups water. Remove from heat; add 4 teabags of black tea. Steep for about 8 minutes and throw away teabags. Add 2 cups cold water and lemonade, then pour into a pitcher and chill. Add fresh basil leaves. Using a wooden spoon, crush basil. Then, stir in Wild Turkey Bourbon and American Honey. Serve over ice.

1 ½ oz Skyy Infusions grape vodka
1 tsp raw sugar
4 slices of fresh-peeled ginger
5 large green grapes
Top with soda

If you like the taste of grapes, this is the drink for you. Mash grapes, ginger, and sugar in pint glass. Add ice and SKYY Infusions Grape Vodka. Shake vigorously and strain into cocktail glass over fresh ice. Top with soda and garnish with raspberries & blueberries!

1 ½ oz Malibu rum
3 oz lime juice
1 ½ oz 7 Up
1 tbsp grenadine

For you rum drinkers out there is this very simple patriotic drink recipe.Fill a highball glass with ice. Pour in Malibu lime juice and grenadine. Top with 7 Up, Sprite, or other lemon-lime soda. Stir well.