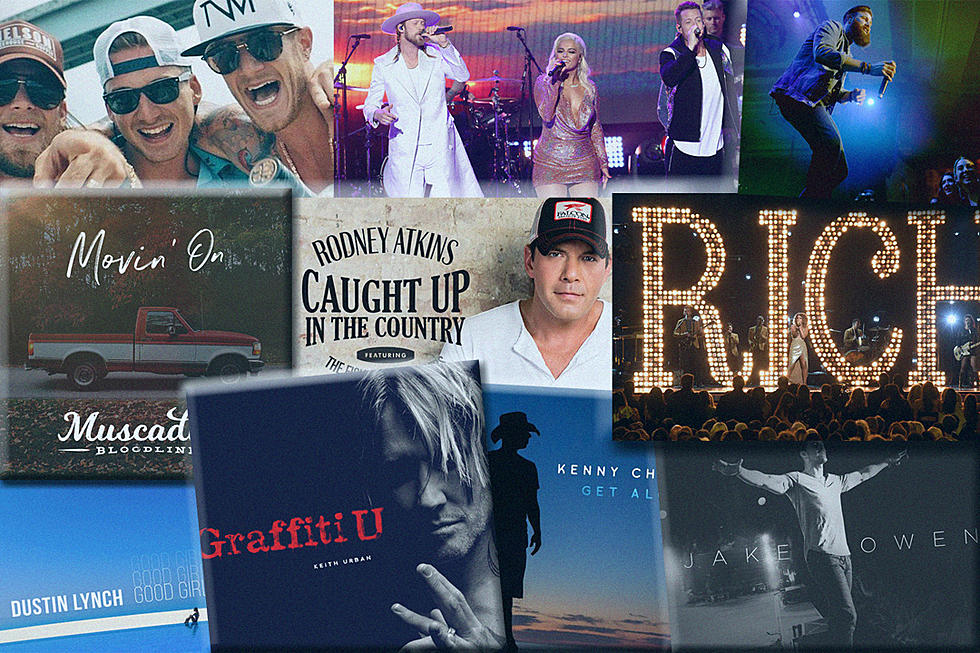 10 Hottest Summer Songs of 2018
Taste of Country
Heartbreak and summer are two things country music does better than any other genre. This year's crop of great summertime jams is mixed with a tinge of sadness and some much-needed nostalgia. If you're living it, these 10 country singers are singing it.
Kenny Chesney, Jake Owen and Florida Georgia Line can pretty much be penciled in for summer songs every year, and 2018 is no different. "Get Along" starts our yearly Hot Summer Songs list, while Owen's "I Was Jack (You Were Diane)" nearly finishes it. A newcomer knocks him down to the No. 2 slot. Do you think you know who?
You've Never Seen "Up Down" Singer Morgan Wallen Like This: 
Last summer Maren Morris proved she had an ultimate summer concert jam, and her kind of swagger needs to be on this list. Two sleeper tracks you may not know make the cut as well, including a brilliant album track from Keith Urban's Graffiti U album and a rambling, road-tripping song about lost love by a country duo named Muscadine Bloodline. Hey, summertime isn't all about sun tans, boozy beach trips and hedonism — some of us fall in and out of love and we need a song, too!
Did we miss something? What's your summertime jam this year? The yearly Taste of Country Hot List takes a look at all of the hottest trends in country music every summer. Hot tours, newcomers, men and women will be revealed this week. Let us know how you feel about any and all of these rankings in the comment section below.
10

Kenny Chesney is synonymous with summer, and even though his newest hit comes with a little bit of a non-summerlike, thought-provoking message, it's wrapped in breezy guitars, the singer's warm voice and sunscreen. Maybe we're imagining the sunscreen, but soon enough we won't have to!

9

The best summer songs don't require a whole lot of brain-bending. Dustin Lynch's new single "Good Girl" is as accessible as the ocean in August, with languid guitars complementing the singer's shuffling vocal style.

8

"Take It From Me"

Jordan Davis

Think of Jordan Davis' "Take It From Me" as your summertime club jam! There's some beachy swag amplified on this sneaky, hot love song. We could seriously dance to this groove until Labor Day.

7

"Movin' On"

Muscadine Bloodline

It's easy to imagine yourself ticking off mile marker signs during this country rambler from new independent country duo Muscadine Bloodline. "Movin' On" is a great road trip song for anyone looking to run from a bad memory.

6

Morris' final single from her Hero album is arguably the best moment from her summer live show. "Rich" quickly becomes a massive singalong with fans, with an ever-increasingly confident Morris leading a generation of country women toward dominance.

5

"Drop Top"

Keith Urban (Feat. Kassi Ashton

If there's a song on this list of Hot Summer Songs that's going to result in the most speeding tickets, it's this banger from Keith Urban's Graffiti U album. Newcomer Kassi Ashton adds swagger to this "show him what he lost" party jam.

4

"Caught Up In the Country"

Rodney Atkins

Summer sounds better with Rodney Atkins on the radio. The "Take a Back Road" singer recalls that spirit of outdoor freedom with a new song from an upcoming studio album. It's just an easy song to fall for without any effort. Isn't that "summer" defined?

3

"Meant to Be'

Florida Georgia Line + Bebe Rexha

This earworm reached its peak on the country charts before summer began, but much like "Body Like a Back Road" in 2017, it's going to be several months before you have a chance to forget about it. Not that we're complaining! There may not be a better song for the beach — a place where you just let life kind of happen.

2

"I Was Jack (You Were Diane)"

Jake Owen

Jake Owen's new single adds nostalgia to your summer mix to create a brilliant addition to this summer playlist. His remix of the John Mellencamp hits a warm spot in our evolution as music junkies. Plus, if it's Jake Owen, it's probably pretty great for summer!

1

Morgan Wallen had the song of summer 2018 before Florida Georgia Line even joined him on the recording. It's a drinking song at a slow and easy summer beat, which is pretty much the formula for great summer music.