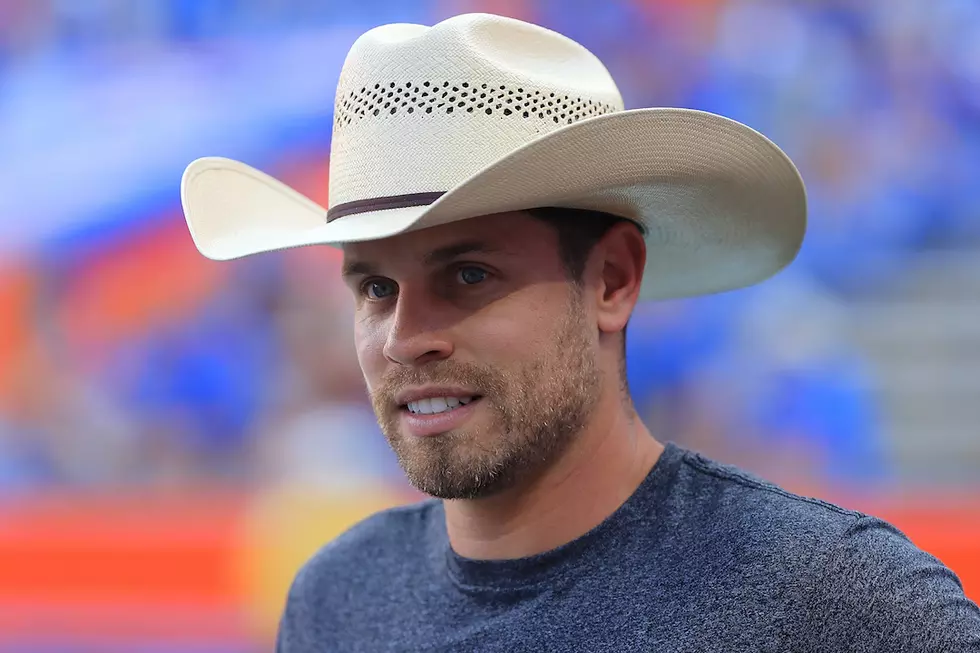 Watch New Music Videos From Dustin Lynch, Lee Brice and More Country Artists
Sam Greenwood, Getty Images
It may be after Labor Day, but it seems some country artists didn't get the memo: Country music videos were as hot as ever this week! Read on to get to know all your new favorites.
Dustin Lynch, "Good Girl":
Dustin Lynch finds himself caught up in a Bonnie & Clyde-inspired, cinematic romance in the music video for his new song, "Good Girl." As  a fugitive Lynch and his leading lady whip through the Mojave desert in a series of stolen cars, the cops are hot on their heels, but the pair foil them time and time again. "It adds a tougher side to this song," Lynch explained to Esquire, who premiered the video, adding that the storytelling element of the performance gave him a chance to sharpen his chops as an actor. "I didn't have to just sing the song 796 times into a camera," he goes on to say, "It was a new challenge -- trying not to look like an idiot when I'm acting in a scene." Lynch co-starred with actor Angie Simms in the video. --CL
Lee Brice, "Rumor"
Lee Brice's music video for new song "Rumor" features someone very special: His wife of five years, Sara. (You may remember that Brice wrote his hit, "I Don't Dance," for her.) Brice's friend Ryan 'Spidy' Smith shot the video in Nashville, and the couple looks more in love than ever as they separately get ready for a romantic night out. And, as any couple with kids knows, those nights can be hard to come by.
"The idea behind the video was essentially us making the 'Rumor' true," Brice tells People. "One area of our lives that we have to work so hard at is 'us time.' Between three children, and me being on the road so much, it's important that I show Sara she's loved and appreciated as much as I possibly can. So this is a video romanticizing about a special night out together — just us." Brice is quick to call out his gorgeous wife in the video, saying, "And tell me … how freaking breathtaking is Sara?!" --CV
Heather Morgan, "Your Hurricane":
Singer Heather Morgan has been in the country music business for a while now, writing for stars such as Brett Eldredge and Keith Urban, and now she's emerging as a country solo artist in her own right. Her single, "Your Hurricane," is the first song from upcoming record Borrowed Heart, and its accompanying music video brings viewers back to where she wrote the track: Joshua Tree.
At the time, she'd just attended the 2016 ACM Awards in Las Vegas. A trip to the national park was impulsive, spurred by heartache and the need to for release. "I was just so frustrated that (the relationship) was still there and I couldn't get it out of my head," she tells Billboard. "The only thing I could think about was, 'I've got to write this song. I've got to write it out of my system.' So I did, and I'm not in that place anymore but (the song) reminds me of how painful it was, and how good it felt to be in Joshua Tree. When I finished it I knew I'd really gotten the emotion of what I was feeling." The video shows off Joshua Tree's stunning and sparse landscape, while the song offers fans a taste of Morgan's ability to turn powerful emotions into lyrical poetry. --CV
Steve Martin and the Steep Canyon Rangers, "Always Will":
The Steep Canyon Rangers don't always get to share the stage with the legendary comedian and banjo prodigy Steve Martin, but whenever he makes an appearance with the band, live or recorded, it's an event worth capturing. The music video for "Always Will" is no exception. Martin's resonant banjo solo features the good-natured actor/musician perched on a stool in an otherwise empty studio as he plucks out the haunting melody of the eighth track on Steve Martin and the Steep Canyon Ranger's 2017 project, The Long-Awaited Album.--LS
Delta Rae, "Do You Ever Dream?":
Delta Rae hopped an ocean to make the visually stunning video for "Do You Ever Dream." The plot follows singer Brittany Holljes as she questions whether her lover has a vision for a future together, and then emerges into her own dream of a breathtaking landscape, where she learns that what she's been chasing won't be leading her to the happily ever after she'd envisioned. Filmed in Iceland, the video is the perfect backdrop to Delta Rae's ethereal harmonies and clever lyrics. --LS