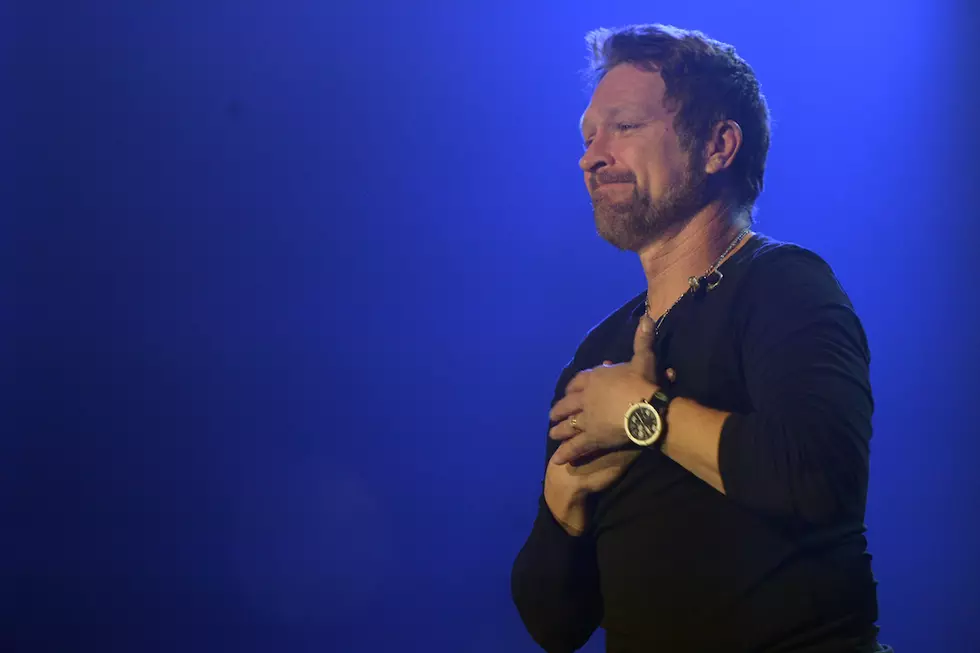 Craig Morgan Shares 2017 American Stories Tour Dates
Rick Diamond, Getty Images
Craig Morgan will hit the road this fall with his intimate song- and storytelling-filled experience, the American Stories Tour, through partnership with the non-profit organization Operation Finally Home. Morgan's previous American Stories Tour took place in the fall of 2016. This time around, it's a little longer, however: The trek kicks off in late September in Virginia and concludes on Veterans' Day in Nashville.
The shows are always unscripted and include friends of Morgan's from both military and music; together, they celebrate American values through song and story. Guests joining Morgan for select shows include songwriter Marla Cannon-Goodman, best-selling author  and veterans' family activist Taya Kyle, songwriter/multi-platinum selling producer Phil O'Donnell, Christian band Third Day's frontman and "Hearts I Leave Behind" duet partner Mac Powell, Medal of Honor recipient and author Clint Romesha as well as Morgan's singer-songwriter daughter, Aly Beaird.
"I've been fortunate to have had the opportunity to play massive arenas in front of thousands upon thousands of people but there is something really special about these smaller, intimate shows where I'm sitting onstage with my guitar and sharing stories from my heart,"says Morgan. "I'm bringing out guests and we're talking and singing and telling stories about our country and God and family and all the things that are important to us."
The 52-year-old released his record A Whole Lot More to Me in 2016. It showed a different side of the artist.
"This record shows them a side of me that I think a lot of people haven't heard," Morgan tells The Boot. "I think some of my long-term fans that have been around me for a long time, they've heard this side of me; they've seen it. They've come to know me, so they know that I'm capable of doing something different than "Redneck Yacht Club" and "International Harvester.""
Morgan is Operation Finally Home's 2017 ambassador. He partners with the organization to provide mortgage-free homes to veterans and their families during the tour. Tickets go on sale Friday (June 16) on his official website. Additional dates and guests to be revealed in the coming weeks.
Craig Morgan, American Stories 2017 Tour Dates:
Sept. 29 – Hopewell, Va. @ Beacon Theatre
Sept. 30 – Frederick, Md. @ Weinberg Center for the Arts
Oct. 6 – Knoxville, Tenn. @ Bijou Theatre
Oct. 7 – Louisville, Ky. @ Kentucky Center for the Performing Arts, Brown Theatre
Oct. 8 – Saint Charles, Ill. @ Arcada Theatre
Oct. 12 – Redmond, Ore. @ Bank of the Cascades Event Center
Oct. 13 – Everett, Wash. @ Historic Everett Theatre
Oct. 14 – Boise, Idaho @ Revolution Center
Oct. 15 – Red Bluff, Calif. @ State Theatre for the Arts
Nov. 9 – Atlanta, Ga. @ Buckhead Theatre
Nov. 10 – Birmingham, Ala. @ Lyric Theatre
Nov. 11 – Nashville, Tenn. @ City Winery