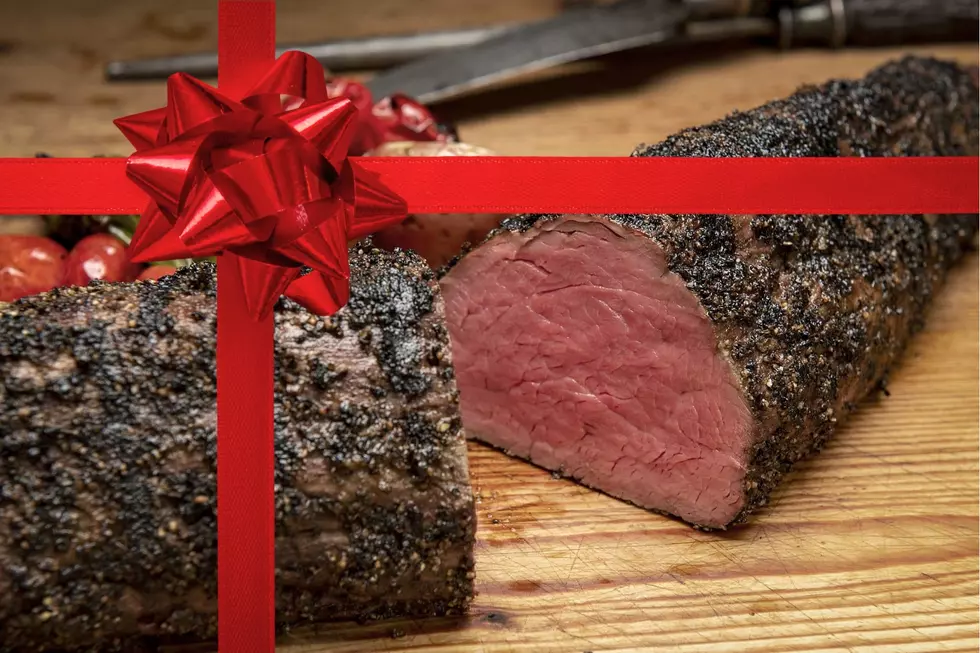 This Christmas Give the Gift of Meats From Right Here In Abilene
Perini Ranch Steakhouse Flyer
Have you decided what you're doing for Christmas dinner this year? Well, If you're like me I'm already trying to pick what I'll be serving (mainly the meats) to my family and our guests that come to the little church on the hill where I'll be serving Christmas dinner.
I made plans last year to serve only smoked meats from all our local restaurants but ran out of time and money, so I ended up being gifted two different smoked briskets last year and fried a half dozen turkeys.
This year, while working on my Christmas meal plans, out of nowhere, I get an e-mail from the Perini Ranch Steakhouse about this awesome-looking piece of meat (photo included below). So I thought "why not try something new." Then I took a look at the Peppered Beef Tenderloin and thought that is more of a gift item for the meat lover in your family.
LOOK: These Incredible Foods Will Make great Gift Ideas
While looking at that peppered beef tenderloin photo, I got the idea of why not give the gift of food this year to our loved ones and meat lovers on our Christmas lists. So, where, how, and who do I turn to? I called a few places and came to find out, there are several places selling "food gift items" or complete family/group meals to go.
Furthermore, while looking for places that are selling gift meats I settled on one I'm gonna serve for Christmas this year I didn't find many smoked hams so I'm gonna try my hand at (yes I'll be trying to copy Mr. Perini) a peppered smoked ham and serve it to our friends at the church on Christmas Day.
Now, if you're still trying to figure out what exactly to get me for Christmas this year. That Perini Ranch Steakhouse peppered beef tenderloin, Logan's Smoked Primerib Tenderloin, Sharon's Smoked Rib Racks, Joe Allen's smoked brisket, United/Market Street Ready Meats, you get the idea.
You know, when it comes to Christmas dinner you have to make sure things come out perfect. So this holiday season I'm going to show the love through food gifting. Say "I love you" with a peppered smoked piece of meat. However, if you are vegan, Sharon's BBQ on Antley has an incredible, super delicious, and I love it, Jalapeno Corn casserole and yes I asked the sell it by the gallon.
Let us not forget that all of the above-mentioned offer gift cards as well. So, who are you going to turn to?
KEEP READING: 3-ingredient recipes you can make right now