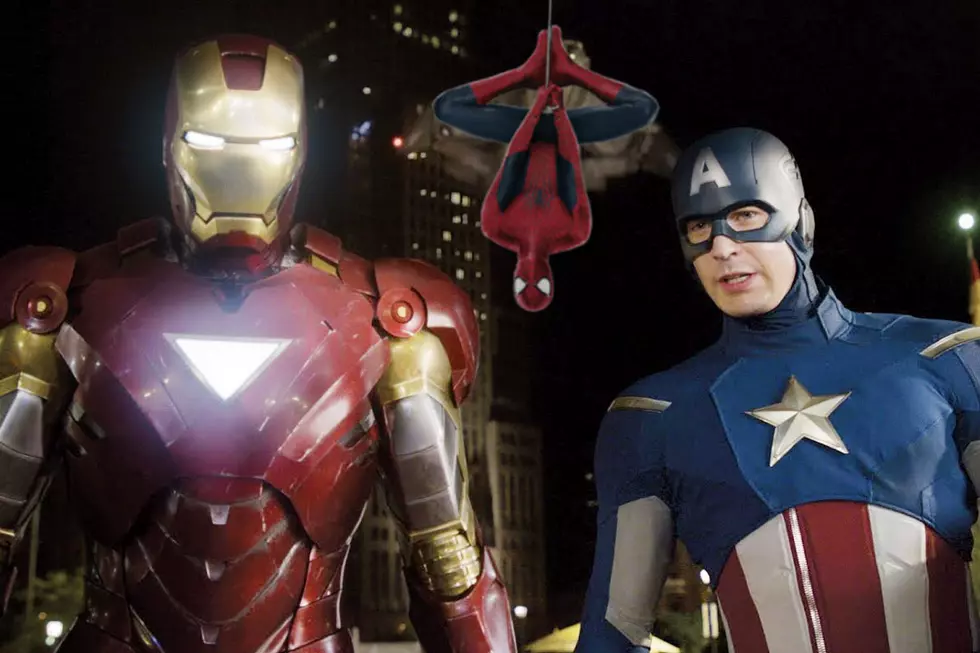 Did Robert Downey, Jr. Accidentally Reveal That Captain America and Iron Man Will Appear in the New 'Spider-Man' Movie?
Marvel
Robert Downey, Jr. and Chris Evans appeared on Jimmy Kimmel Live last week to debut the first Captain America: Civil War trailer. And, if the internet rumormongers are to be believed, they also did something else: revealed they would be making appearances in Marvel and Sony's new Spider-Man movie.
First, let's watch the clip of their appearance and the "reveal" in question:
Did you catch that? Yeah, neither did we on our first watch. But, apparently one theory, first floated by ComicBook.com, is picking up on Downey saying to Evans, "By the way, we are going to shoot in Atlanta again, you and I," and Evans' response of, "I know, I'm ready, I'm ready." Most of us took that to mean the already announced Avengers: Infinity War, which would be the next time Captain America and Iron Man would share screen time. But, what if they were referring to Spider-Man, which has been confirmed to shoot at Pinewood Atlanta Studios next summer?
This is a stretch — there is literally no other evidence other than this quote and the hopes and dreams of a bunch of Marvel geeks — but it doesn't necessarily mean it's not true. Part of the appeal for Sony making that deal with Marvel was to be able to have their universe intersect with the Marvel Cinematic Universe. That intersection is already in motion as Spider-Man will be appearing in Marvel's Captain America: Civil War. It would only stand to reason that Sony would want some tit for their tat, and what better way to help launch yet another Spider-Man reboot, than with an appearance by Captain America and Iron Man (who we hope will have kissed and made up following their Civil War spat).
We reached out to Marvel Studios for comment, but have yet to hear back with a response.
Spider-Man is set to open in theaters on July 28, 2017.
A Gallery of Every Iron Man Armor From Mark I to Mark XLV