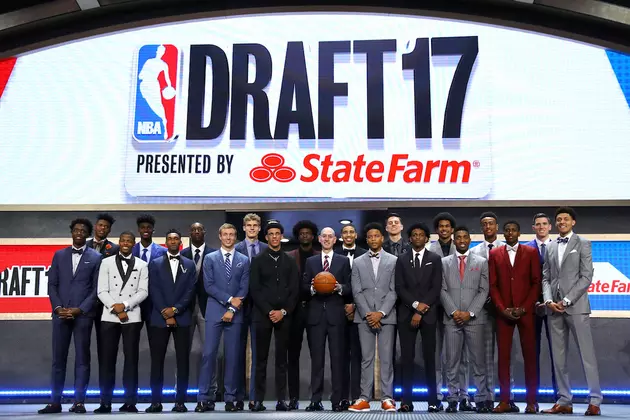 2017 NBA Draft Recap: Markelle Fultz & Lonzo Ball Go 1 & 2
Getty Images
Most NBA teams spent Thursday night in Brooklyn trying to add firepower to their roster. Here's a recap of the players and teams that made headlines at the 2017 NBA Draft.
Biggest Winners
'The Process'
Not known for their patience or lack of negative opinions on team personnel moves, Philadelphia fans rejoiced when the Sixers traded up to the first-overall spot and landed point guard Markelle Fultz of Washington. An accomplished scorer, smart passer and electrifying court-presence, Fultz will join Ben Simmons, Joel Embiid and Dario Saric in a young and talented lineup made possible by former general manager Sam Hinkie's "Trust The Process" tanking scheme. The Sixers also added lots of depth with small forwards Jonah Bolden (Australia) and Mathias Lessort (France) and guards Jawun Evans (Oklahoma State) and Sterling Brown (SMU). Philly may not be ready to take over the East yet, but it might just be a matter of time.
Los Angeles Lakers
Ultimately, the Lakers decided they needed more Balls to win. Los Angeles chose UCLA guard Lonzo Ball — and his father, LaVar — with the second-overall pick. Even if you'd rather see Lonzo firing basketballs at his swaggy dad's noggin instead of the rim, the uncanny passer should help the Lakers stop a string of four consecutive dreadful seasons. For good measure, L.A. added All-American shooting guard Josh Hart of Villanova at the end of the first round to help fill out the backcourt. With Julius Randle, Brandon Ingram and newly acquired Brook Lopez in the front court, the Lakers have enough stars to reboot the team into a playoff contender.
Sacramento Kings
Despite having no chance to select blue chip studs like Fultz, Ball or Josh Jackson, the Sacramento Kings left Brooklyn with arguably the best draft haul. They nabbed exceptional guard De'Aaron Fox of Kentucky at No. 5, then traded the No. 10 pick to get the No. 15 and No. 20 selections from Portland: Justin Jackson (North Carolina) and Harry Giles (Duke), respectively. That's an incredible value for the Kings. Giles could be the steal of the draft if he can recover from his second knee injury. Sacramento also added guard Frank Mason III of Kansas in the second round.
Minnesota Timberwolves
Already blessed with first-round talent like Andrew Wiggins and Karl Anthony Towns, Minnesota decided to add star power to its roster by sending 2016 first-round pick Kris Dunn, high-flying guard Zach LaVine and the seventh pick (Lauri Markkanen of Arizona) to Chicago for all-star guard Jimmy Butler and the No. 16 overall pick. The Timberwolves then added Creighton center Justin Patton to give them depth. Minnesota might not be a full-fledged Western Conference power now, but their fans won't have to wait very long for a postseason push.
Biggest Losers
Chicago Bulls
This can't be what Dwyane Wade had in mind when he chose to play in Chicago. The Bulls traded all-star guard Jimmy Butler and the No. 16 pick to Minnesota for Kris Dunn, Zach LaVine and seventh-pick Lauri Markkanen of Arizona. That might give Chicago a good shot at contending … in the Pac-12 conference. Coach Fred Hoiberg better have a plan that uses the athleticism of his new charges, because they aren't good defenders.
New York Knicks
Someone wake up Phil Jackson! The Knicks team president was unable to deal Kristaps Porzingis for a reasonable return, so he decided to reach at No. 8 on French guard Frank Ntilikina, a raw prospect who almost certainly won't be a better NBA player than Malik Monk (Kentucky) or Dennis Smith (N.C. State), both of whom were available when New York drafted. Ntilikina is a project, which is a pretty good way to describe the organization that selected him. Maybe he can develop quickly and feed Carmelo Anthony and Porzingis the ball? Don't count on it happening this season.
Oklahoma City Thunder
In the past year, former Thunder forward Kevin Durant got an NBA title and the NBA Finals MVP; Oklahoma City got 21st-overall pick Terrance Ferguson of Australia. CRIKEY! Sure, maybe someday Ferguson will team with Russell Westbrook and Victor Oladipo in an indefensible trio, but right now OKC fans are looking at a long road back to the NBA Finals.
Cleveland Cavaliers
Perhaps it's hard to argue that Cleveland "lost" with zero picks in this year's NBA Draft, but the Cavaliers will eventually need something besides LeBron James' reputation to re-stock talent. Most NBA teams would trade all their picks for three consecutive finals appearances, but it probably would have felt better with two rings instead of one.
Biggest Steals
Malik Monk, G, Charlotte Hornets
One of the best pure scorers in this year's draft, guard Malik Monk of Kentucky fell all the way to 11th before Charlotte scooped him up for their backcourt. He's a much better bet to be a star than Duke's Luke Kennard or Louisville's Donovan Mitchell, each taken after him. Monk and lead guard Kemba Walker give the Hornets lethal sting from outside, while recently acquired center Dwight Howard adds interior might.
Ivan Rabb, PF, Memphis Grizzlies
Last year, forward Ivan Rabb of California would have been a lottery pick. This year? A lackluster sophomore season drove him into the second round, where Memphis nabbed him at 35th overall. Don't be fooled. The Grizzlies are a great fit for Rabb, who could be a double-double machine in the NBA once he adds more muscle and technique. If his shooting touch develops, Memphis may have landed an all-star in the second round.
Biggest Reaches
Luke Kennard, G, Detroit Pistons
A classic Duke player with shooting skills, court-sense and intangibles, Luke Kennard's sophomore season in Durham (19.5 points and 5.1 rebounds per game) convinced the Pistons to reach for him with the 12th-overall pick. While he's efficient both scoring and passing the ball, Kennard figures to be more of a role player in the NBA. That's not exactly the best use of such a high draft pick.
Terrance Ferguson, G, Oklahoma City Thunder
A former blue-chip NCAA recruit, Terrance Ferguson bypassed college hoops to rain jumpers over undersized opponents in Australia. Despite his remarkable shooting skills, Ferguson is a raw, undeveloped player that could take years to make an impact in the NBA. The Thunder need to hope that Russell Westbrook is still in OKC if this huge reach at No. 21 pans out for them.