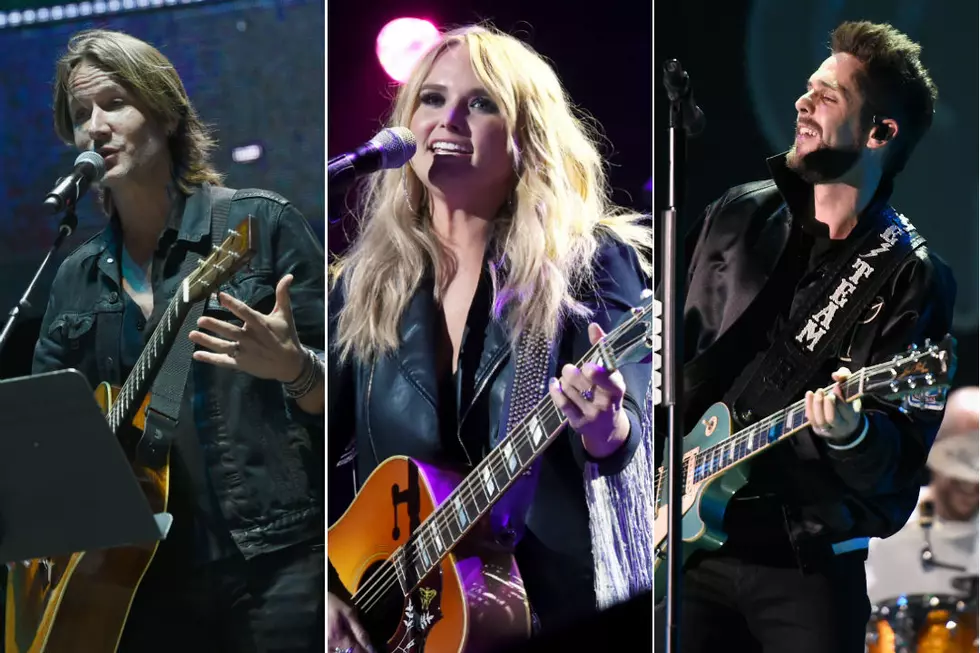 POLL: Who Should Win Music Video of the Year at the 2017 CMA Awards?
Rick Diamond (2) / David Becker, Getty Images
The 2017 CMA Awards will take place on Nov. 8, but before the stars align at Nashville's Bridgestone Arena for the 51st annual event, The Boot wants to know who our readers think will go home with the awards in each of the show's 12 categories. We've rounded up the details on all of the nominees, from Musician of the Year to Entertainer of the Year, and we want your input.
The year 2017 was a banner one for music videos in the country music world.
The Brothers Osborne's song "It Ain't My Fault" takes a lighthearted but poignant turn in the brothers' fun-loving music video for the song,  which plays like a robbery scene from the original Point Break movie (presidential masks and all). The Osbornes drew help for the clip from Wes Edwards and Ryan Silver. The music video for Miranda Lambert's vulnerable song "Vice," meanwhile, paints a pretty picture of how everyone's returned to something they shouldn't at one time or another. Directed by Trey Fanjoy, the video is visually stunning, equal parts cautionary tale and relatable predictability.
The music video for "Better Man" by Little Big Town is another reflective look at the consequences of choice; the video was directed by Becky Fluke and Reid Long and follows lead singer Karen Fairchild through an adjustment to solitude following a recent breakup. Keith Urban also makes the list of CMA Music Video of the Year nominees in 2017, along with director Carter Smith, for "Blue Ain't Your Color," a film noir-esque clip set in a smoky bar.
The final 2017 Music Video of the Year nominee, "Craving You," by Thomas Rhett featuring Maren Morris plays out like a trailer for an action movie. Directed by TK McKamy, the clip was shot in Nashville and features Rhett and Morris as the villains (or are they?), as well as Rhett's wife-in-real-life Lauren, then pregnant with one of their daughters. The video ends with a plot twist, making it a solid candidate for this award (if the action scenes and humor weren't enough reason already).
Who do you think should win Music Video of the Year at the 2017 CMA Awards? Vote in the poll below as often as once per hour through the end of the day on Nov. 5; The Boot will use the answers in our readers vs. staff predictions a few days prior to the ceremony.
Top 10 CMA Awards Moments
Test Your CMA Awards Knowledge!