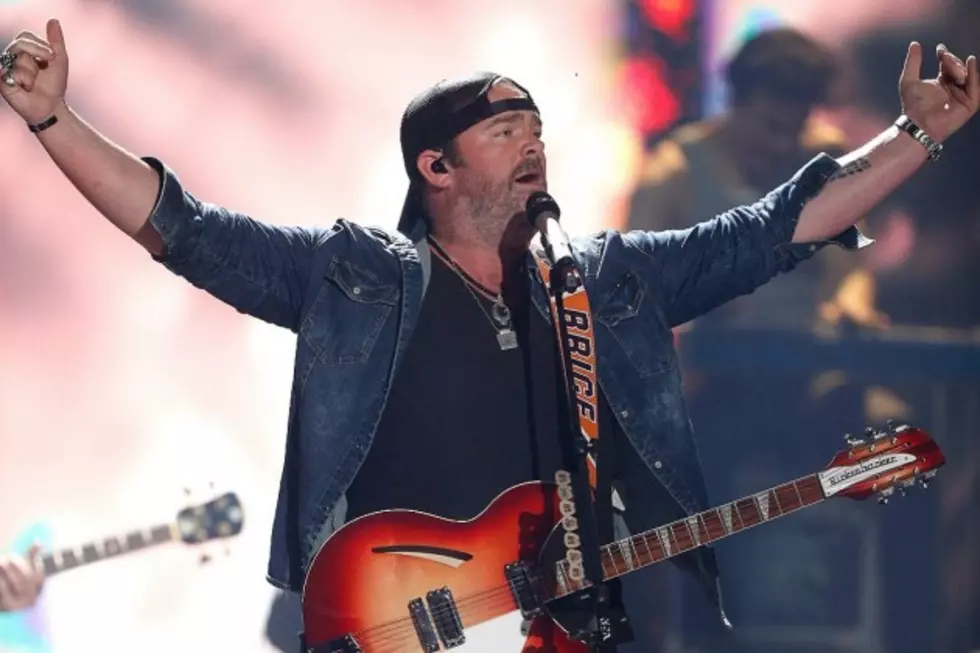 Getty Images for iHeartMedia
Lee Brice has released four albums with Curb Records, each one as good as the last. The country singer has seen five of his 15 singles reach No. 1, and he's closing in on a sixth chart-topper: "I Hope You're Happy Now," his duet with Carly Pearce.
The Boot's picks for the Top 5 Lee Brice songs run the gamut from songs that broke records to songs that might break your heart. Read on to see if your favorite is on the list!
5

"Boy"

From 'Lee Brice' (2017)

Brice and his wife Sara welcomed their third child, a baby girl, in 2017, but his single from that year, "Boy," is for his two sons. The artist began playing the song live before releasing it as a single, prompting fans to hold up photos of their sons -- and prompting Brice to realize how lucky he was to have two beautiful, healthy boys at home.

Nicolle Galyon and Jon Nite co-wrote "Boy." The song landed in the Top 20 (No. 3) at country radio.

"[T]hat song reminded me of my daddy. And now, as a daddy, I realize how hard he was trying to teach me things that he wanted me to learn for me, not for him," Brice reflects. "So now I'm trying to teach my kids, and they aren't listening to me. They don't know that I'm trying to help -- [that] it's all about them. So the connection between my daddy and myself, and now myself and my sons, that is what makes "Boy," the song, so special."

4

"Hard to Love"

From 'Hard 2 Love' (2012)

"Hard to Love" was Brice's second single from his Hard 2 Love album, and his second No. 1 hit on the Billboard Country Airplay chart. The song finds Brice listing his flaws -- he's insensitive, he's got a short fuse, he drinks too much -- and then wondering why someone "like a Sunday morning / Full of grace and full of Jesus" would love him. We applaud his honesty.

3

"Love Like Crazy"

From 'Love Like Crazy' (2010)

The first single from his album of the same name, "Love Like Crazy" is one of Brice's biggest hits so far. The song tells the story of a man who has been called "crazy" for the choices he's made throughout his life: getting married at 17, raising a family of eight on $67 a week, quitting his job for an unlikely startup. Things worked out, though: The man sold his company to Microsoft and has been married to his wife for 58 years.

Things also worked out well for Brice with this song: "Love Like Crazy" broke the record for longest chart run in the Hot Country Songs chart's history. It also earned ACM Awards nominations for Single Record of the Year and Song of the Year.

2

"I Don't Dance"

From 'I Don't Dance' (2014)

Seemingly tailor-made to be played during first dances at weddings, "I Don't Dance" features a narrator who claims that he once thought that he would "never settle down" … until he met the right person.

"No, I don't dance," Brice sings. "But here I am, spinning you around and around in circles."

For its straightforward tough guy-meets-true love sentimentality, "I Don't Dance" won the ACM Awards trophy for Single Record of the Year.

1

"I Drive Your Truck"

From 'Hard 2 Love' (2012)

With a title like "I Drive Your Truck," listeners might expect a macho-country song centered on nothing more than how cool a pickup is. This song, however, is anything but. Co-written by Jessi Alexander, Connie Harrington and Jimmy Yeary, "I Drive Your Truck" is a heartbreaking ballad, featuring a narrator who drives his late brother's truck to feel close to him. The lyrically rich song is based in reality: Its co-writers were inspired to write it after hearing the story of Paul Monti, a father who lost his 18-year-old son to the war in Afghanistan and coped with his death by driving his late son's truck.