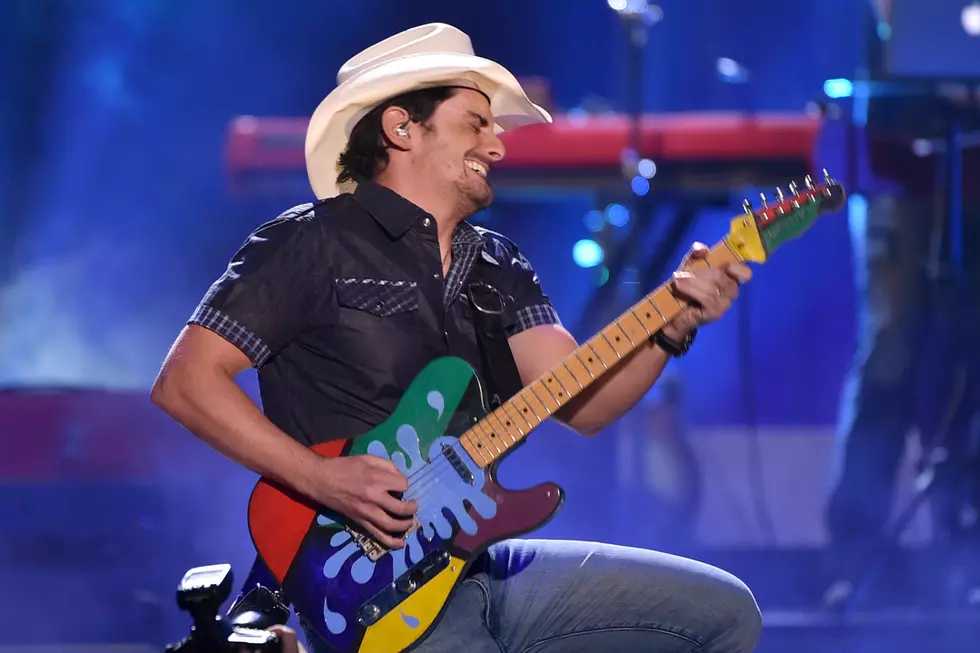 10 Best Brad Paisley Songs
Rick Diamond, Getty Images
Brad Paisley is a staple in country music with more than a dozen No. 1 songs to choose his best from. Solo efforts and collaborations with some of country music's hottest female artists make this Top 10 Brad Paisley Songs list. What's your No. 1?
With countless studio albums under his belt buckle and a notoriety for being the biggest prankster in the industry, fans and artists alike know two things: To respect Mr. Paisley and to watch out for him, because he'll prank you when you least expect it. There are a few unexpected songs on our list of his greatest hits, although it's difficult to argue any don't belong.
10

This track, the namesake of Paisley's 2003 album, was a headliner when it dropped as the fourth and final single from the record in 2004. Not only did it chart at No. 1 on Billboard, but it rang true with so many redneck country lovers. As Paisley sings about breaking in his brand new Chevy truck by goin' muddin' down by the lake, fans everywhere rev their engines in unison, longing for a soft pallet of wet dirt.

9

At 17, we were all a bit reckless, and every downfall felt like the end of the world. This Brad Paisley song captures the sentiment of wishing we could go back in time to offer some advice to our younger selves so that they would be confident enough to march forward towards the best years of their lives. The nostalgic track "Letter to Me" was the third single from Paisley's 2007 album, 5th Gear, and another No. 1 on the charts.

8

Hey country music fans, this is real. This is your life in a song! "This Is Country Music," the title song of Paisley's May 2011 album, acts as an identifier for twang lovers everywhere and pulls bits from famous country singalongs before it. Paisley dropped this catchy tune as the first single from the album back in December 2010.

7

In 2003, Brad Paisley was still very much a newcomer looking for an identity. "Celebrity" proved he was one of the more clever singers and songwriters in the music business. The Top 5 hit cleared space for songs like "Online" and "Ticks" to follow. Plus, it had a great music video!

6

"She's Everything" was a co-write between Brad Paisley and Wil Nance that was actually penned with Nance's wife in mind. However, our country hero crept in and owned the sweet love song with his comforting, soothing sound. Good thing he did — this 2006 single was one of three Paisley songs to reach platinum status. Needless to say, it was also a No. 1 chart-topper.

5

Paisley has said that "Alcohol" is one of his favorite songs to perform live, and it's easy to see why. This Top Brad Paisley Songs list is a mix of sweet and silly, with this 2005 gold-certified hit being among the silly. Clever lyrics help turn the song into an anthem when he performs it.

4

"I'm Gonna Miss Her (The Fishin' Song)"

Brad Paisley had scored four Top 5 hits when "I'm Gonna Miss Her" was released in 2000. A superstar-studded music video helped push the song to No. 1. That's the video that co-starred Kimberly Williams, the future Mrs. Paisley. Like "Alcohol," this is a massive singalong that will forever be among the first songs mentioned in a conversation about Paisley's top songs.

3

"When I Get Where I'm Going"

This single is a no-brainer for a top Brad Paisley songs list, because it features the vocal harmony of the legendary Dolly Parton, and you just can't go wrong there. Thanks in part to Dolly, the 2005 release of "When I Get Where I'm Going" meant a fifth No. 1 single for Paisley, and a 25th for the blonde 'Backwoods Barbie' of country. We think this song marks Paisley reaching his destination, which is a place as one of the most successful, notable and respected faces in the industry.

2

"Remind Me" (Feat. Carrie Underwood)

Paisley's 2011 hit "Remind Me" is as hot of a duet as you'll ever hear between friends. The singer and his frequent CMA Awards co-host share a passionate performance of a truly wonderful song. It's hot, it hurts and it has to be on this list of the best Brad Paisley songs.

1

Sure, "Whiskey Lullaby" isn't exactly the drinking party song it appears to be, but we need a look at reality every now and then. In this tune — No. 1 on our list of top Brad Paisley songs — the hitmaker harmonizes with Alison Krauss as he sings about a man who died of a broken heart and a bit too much to drink. The 2004 release of "Whiskey Lullaby" earned Paisley another platinum spot, and though it never reached No. 1 on the charts, it struck enough of a chord with us to earn the front-running spot on our list.