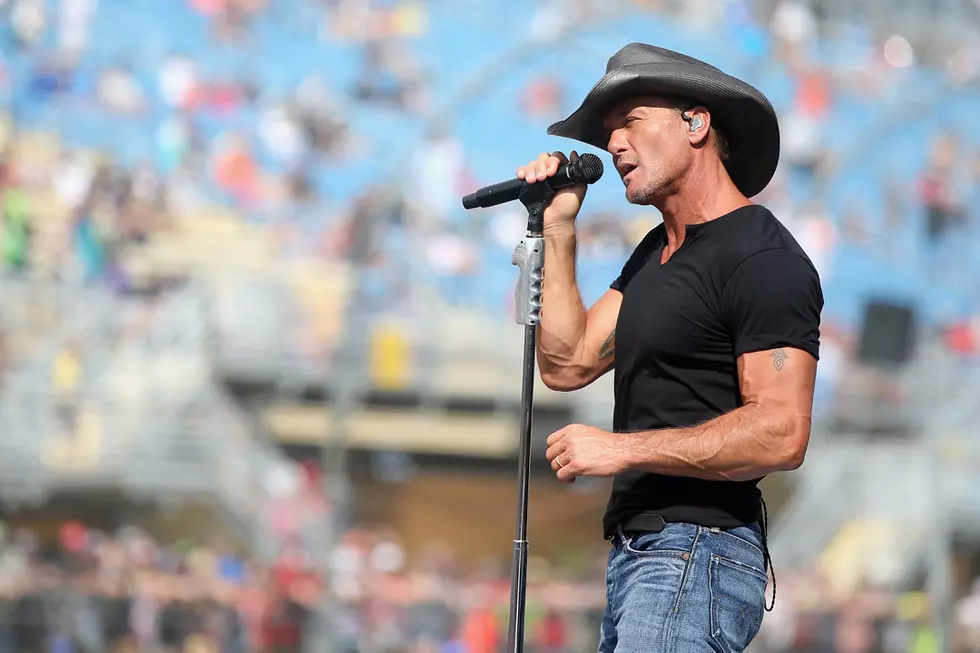 10 Best Songs to Say Thanks
Sean Gardner, Getty Images
Country artists are great at writing thank you songs. They're a naturally humble bunch, always careful to show appreciation to the people that have guided them along life's path. They thank God, husbands, wives, kids, bosses and even ex-lovers who stay out of our lives. There is plenty of gratitude to go around, and those on this list are the best at recognizing the important people or events in life.
A deep cut from Keith Urban ranks high on the list, as do classic country hits from the Oak Ridge Boys, John Denver and the Statler Brothers. Find out who took the top spot on our list of the 10 Best Thank You Songs.
10

"Thank God for the Radio"

The Kendalls / Alan Jackson

Alan Jackson covered this No. 1 hit for the Kendalls on his 1994 album Who I Am but never released it as a single. Quite literally, this thank you song features the singer thanking God for a radio that keeps him connected to family and friends back home. Each song is a memory that brings him a little closer to his love. "Thank God for the radio / When I'm on the road / When I'm far from home / And feelin' blue / Thank God for the radio / Playin' all night long / Playin' all the songs / That mean so much to me and you," he sings.

9

"Thanking the Good Lord"

Merle Haggard

This album cut from Merle Haggard's Chill Factor album shows unobstructed gratitude for someone special in the singer's life. Much like Keith Urban's song that's seen later on this list, Haggard is aware of how a patient and loving hand can help guide a troubled soul through life's rocky moments. "Yeah, I'm thanking the good Lord for you / I'm thanking the good Lord for you / Let the power that made you / Help me to prosper and be fair in all things that I do / The love I've been needin' I just found in your heart / And I'm thanking the good Lord for you," Haggard sings.

8

"Thank You for a Life"

Kris Kristofferson

This track from Kristofferson's 2006 The Good Life album was praised for its spirituality. Indeed it's an honest and open show of gratitude that comes off feeling a little bittersweet. "Thank you for that burning sun that's rising / Golden in the air that smells so sweet / Thank you for that empty far horizon / That opens to a new eternity," Kristofferson sings to God in this thank you song.

7

"Thank God I've Got You"

Statler Brothers

This song was a Top 10 hit for the Statler Brothers in 1976. Thanking God is a popular theme within lyrics of country songs, and plenty of those found on this list of the 10 Best Thank You Songs are of that variety. This song is one a man can recite to his woman when life's lumps start adding up. "When things start gettin' tough, it seems like you do too / When there just ain't enough, you always make due / When it gets more than I can handle, and I don't know what to do / I just stop and thank God I've got you," they sing.

6

"Thank God for Kids"

Oak Ridge Boys

Kenny Chesney covered this song on his 2003 Christmas album All I Want For Christmas Is a Real Good Tan but the early '80s version by the Oak Ridge Boys still stands alone as one of the top thank you songs of all time. It's the quartet's father-like charm that makes this song work so well for them. "Do you ever stop to think or wonder why / The nearest thing to heaven is a child," they sing. This song, while not necessarily a Christmas tune, also finds its way onto country radio during the holidays.

5

"Thank God for Believers"

Mark Chesnutt

Mark Chesnutt's Top 5 hit from 1997 is one many country fans can relate to. The singer tells the story of a man who makes nothing but trouble, yet his lover still stands by his side. The lyrics could almost be a Thanksgiving day prayer for some husbands, and maybe a few will change their ways. "I don't know why she even hangs around / After all the hell I've put her through / And the times I've let her down / She has more faith in me than I have ever found / Heaven knows how much I need her / Thank God for believers," Chesnutt sings.

4

"Thank God and Greyhound You're Gone"

Roy Clark

The title of this Top 10 hit for Roy Clark says it all. While it begins with the tone of another country weeper, Clark's pitiful delivery turns to celebration halfway through the song. It's a song that anyone who's been on the receiving end of a lousy relationship can relate to. "Thank God and Greyhound you're gone / That load on my mind got lighter when you got on," Clark sings. The irony of this songsending up on our 10 Best Thank You Songs list is noticeable, but it's such a classic "thank you" song that we overlooked the sarcasm.

3

It's hard to find a Keith Urban song that's more autobiographical. His love letter and thank you note to wife Nicole Kidman is uncompromising. While the singer rarely talks about his pre-marriage personal struggles, he does all but spell out his troubles with drugs and alcohol in this epic song. "And I thank you for my heart / I thank you for my life / And I thank god for grace and mercy / And that you became my wife," Urban sings, reminding us that the best way to speak what's on your heart is to avoid clever metaphor.

2

"Thank God I'm a Country Boy"

John Denver

This song came during the peak of the late John Denver's career in 1975. It was a No. 1 hit not only on country charts, but on the all-genre Billboard Hot 100. For over 35 years, it's not only persevered -- it continues to become popular with new generations of country music fans as soon as they're old enough to begin dancing. "Well I got me a fine wife, I got me a fiddle / When the suns comin' up I got cakes on the griddle / Life ain't nothin' but a funny funny riddle / Thank God I'm a country boy," Denver sings. It's one of the all-time great country songs and an easy choice for our 10 Best Thank You Songs list.

1

"Thank God for You"

Sawyer Brown

Sawyer Brown had a two-week No. 1 in 1993 with this hit from their 'Outskirts of Town' album. While the lyrics are meaningful and sincere, they're also a whole lot of fun and easy to remember. "I got to thank Mama for the cookin' / Daddy for the whoopin' / The devil for the trouble that I get into / I got to give credit where credit is due / I thank the bank for the money / Thank God for you," Mark Miller sings. For a great trip in the way back machine, watch the music video for this song. They sure don't dance like that anymore.